I've been trying to think of new ways to use our black light since it was such a hit with the girls when we did our glowing shaving cream activity.  We've been doing a lot of counting activities lately so I decided to combine the two and put together this black light counting activity for the girls.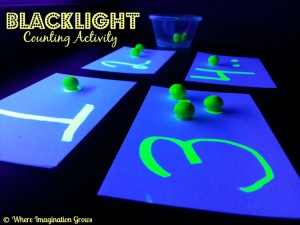 This post may affiliate links for your convenience
This activity is simple, I just used at yellow highlighter to write the numbers and corresponding dots onto a note card.  For the counters I used the birch buttons that I had left over from our Autumn Nature Table and colored them with the highlighter.
I set them up on the table and turned on our black light so when the kids got up from nap they could check it out! 🙂
The girls though this was so fun
If you have a black light you should totally do this!