Alright you busy builders! It's time to check out a new construction themed book for kids! If you are always on the look out for new picture books for kids then you need to keep reading. This new picture book from Jean Reidy is a fun way to learn about the days of the week with a construction theme. Plus you can enter to win a free copy below.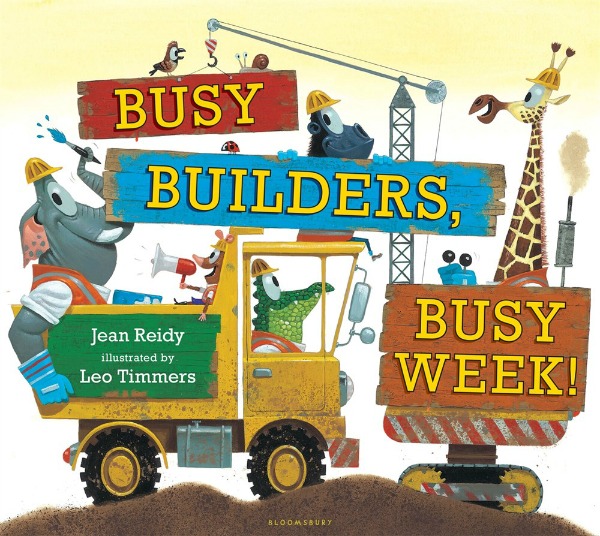 by Jean Reidy and illustrated by Leo Timmers
In this bright, bold picture book, a cast of animal characters are building a brand-new playground in a local park for their community! Each day of the week contains a different construction plan as the steam-rolling, digging, and planting gets underway.

Tuesday! Mix day!
Pipe and boards and bricks day.
Stack, spin, pour it in.
Give the fence a fix day.

The construction project comes together for a joyful, rhyming walking tour of a neighborhood, where young readers can learn the days of the week while watching everyone work as a team!
This books is so fun! The text is a simple but silly rhyming story that keeps the kids entertained and asking to read it over and over. The story flows through the days of the week, starting on Sunday and continuing throughout the week. Each day has a different set of tasks for the animal construction workers to complete. Kids love big machines and this book has them all working hard, from bulldozers and fork lifts to cranes and more!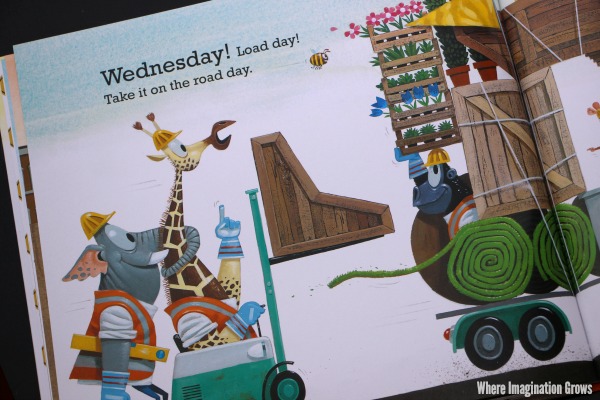 My girls loved the illustrations. They spent several minutes on each page checking out everything that is going on. My daughter loves to pull the book out and look through the images. They have so much detail and there is a lot for the kids to explore. It's great for preschool kids because the art and colors really grab their attention. The colors are bold and bright, the book is very visually appealing for kids.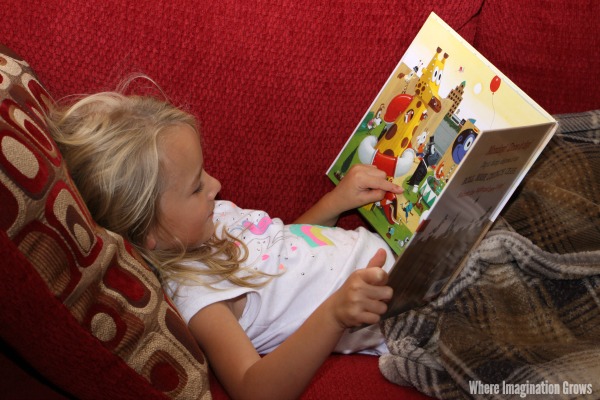 I highly recommend this book. It's a fun read that you won't be sorry you added to your library. It's a great book for kids that love all things construction works.  For us it was also a perfect opportunity to discuss how sometimes it takes time and hard work for things to come together.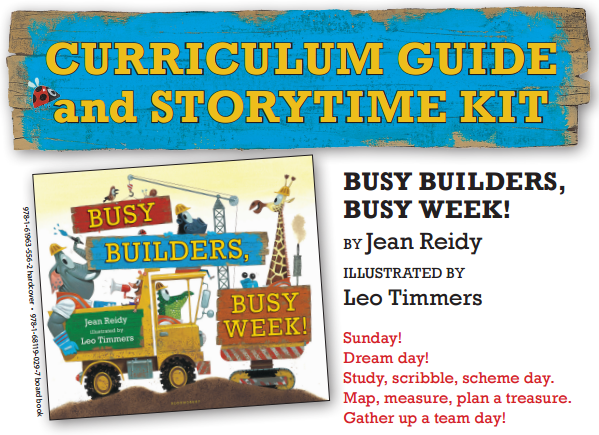 This book also offers a free classroom curriculum guide and story time kit! It's a great way to extend the learning!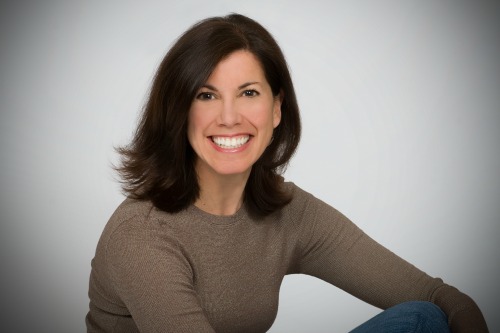 About the author: Jean Reidy is a two-time winner of the Colorado Book Award. Especially gifted at writing for very young children, Jean is a frequent presenter at national and local literacy, writing, and education conferences and at schools across the country—in person and via Skype. She is a member of the Colorado Council International Reading Association and the Society of Children's Book Writers and Illustrators, and she serves on the board of Reach Out and Read Colorado. Jean writes from her home in Colorado where she lives right across the street from her neighborhood library, which she visits nearly every day. Visit her at www.jeanreidy.com and on Twitter @JeanReidy.
GIVEAWAY! Enter to win a copy today:
(US residents, 18+)