It's time for a fun new book! Today we have a It's Not Jack & The Beanstalk review and giveaway to share with you! This fun story is full of colorful illustrations and your kids will love Jack! It's not the classic story you know, this charming story has a fun new twist on the classic fairy tale that is sure to please.
Don't forget to enter the giveaway below!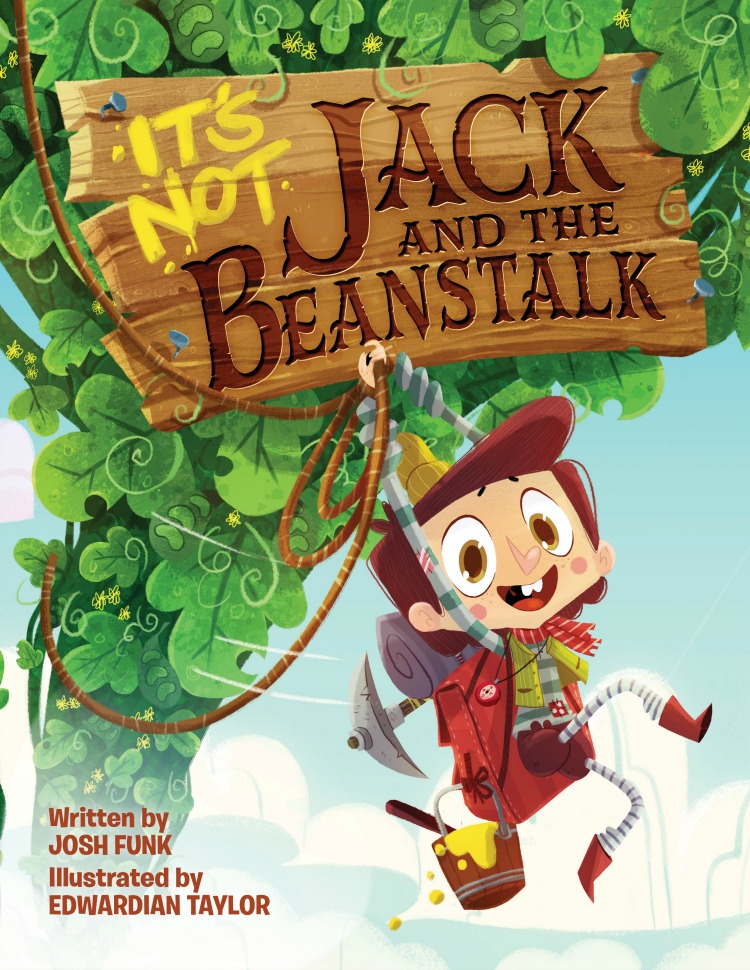 Post contains affiliate links for your convenience. See full disclosure policy here.
It's Not Jack & The Beanstalk Review and Giveaway
In this book, Jack is a saucy adventurer who is determined to make his own choices. He banters with the narrator and sometimes makes his own choices instead of doing what is expected by the usual story. Sometimes he goes along with the story but voices his concerns and other times he breaks away from the storyline and tries things his own way!
It's Not Jack & The Beanstalk by Josh Funk
Jack is not fond of the bossy narrator of his fairy tale! When Jack is told to trade his beloved cow Bessie for some magic beans, throw the beans out the window, climb the ENORMOUS beanstalk that sprouts overnight, and steal from a GIANT, he decides this fairy tale is getting out of control. In fact, he doesn't want to follow the story line at all. Who says Jack needs to enter a life of daring, thievery, and giant trickery? He takes his story into his own hands—and you'll never guess what happens next!
My kindergartener and her friends understood the narrator vs main character storyline right away and all really liked the quirky banter between the narrator and Jack. My younger kids loved the images and some of the silly parts of the story but at first they didn't totally understand the idea of a narrator. Once we acted it out as we read it they were able to understand it a bit more and really got a kick out of it.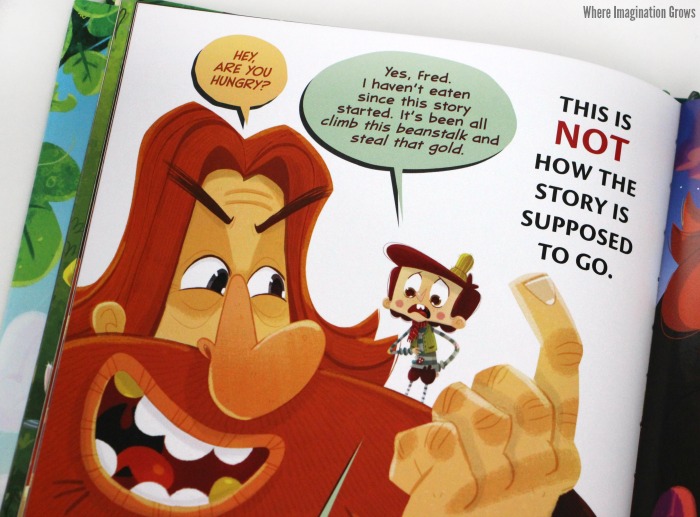 My kids thought it was funny that Jack interacted with the narrator and he didn't always want to do what the story said he should. It was fun for them to think of the characters in different ways, that they could have their own ideas about how these classic stories go.
The girls thought that it was just so funny when Jack disagreed with the narrator or went off on his own path instead of following the story. The giggles were endless! It really kept them engaged and they had a great time reading this story!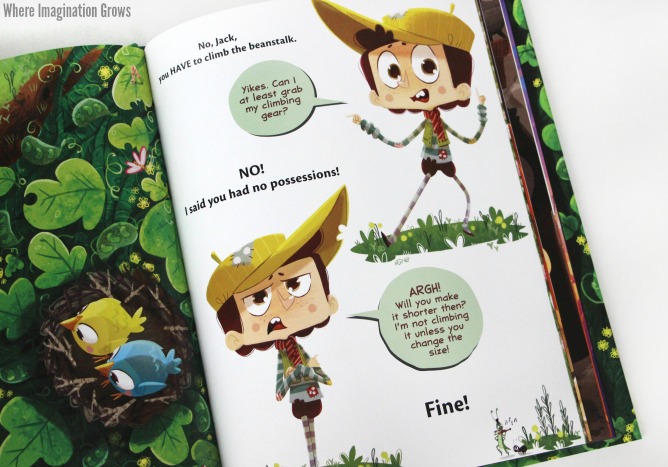 I love the illustrations. They are really well done and the colors are vibrant. There is a lot of detail in each page. The kids loved to just look at them and each time we seemed to discover some adorable detail that we hadn't when we read the book before.
I'd definitely recommend this book as one you should have in your home library! Whether you have a fairy tale fan or and adventure loving kiddo at home this book is too fun to pass up! Check it out!
>> Buy your own copy today! Available in hardcover or for Kindle! <<
Want to WIN a free copy? Enter the giveaway below! US residents, must be 18+ to enter.
Looking for more crafts and activities? Check out our index for 100+ plus kids activities! Find activities by theme, materials, skills, age and much more!
I received a complimentary copy of this book to review. All thoughts and opinions are 100% my own. See full disclosure policy here.