With Mother's Day right around the corner we decided to make a little something for those special moms & grandmas  in our lives.  So along with our other DIY gifts, like our Tissue Paper Candle Holders, we also made these cute flower pots and planted some flowers in them.
DIY Gifts: Painted Terra Cotta Flower Pots
I bought small  terracotta pots from out local Wal-mart ($0.99 each) and used acrylic paints I already have on hand.  The bolder colors seemed to show up better, we had issues with the light pink and yellow needing multiple coats otherwise they looked washed out.
I started this projects about two weeks prior to the Friday before Mother's Day because we planted our flowers from seed.  I bought a seed starter kit from Walmart ($2), that had 36 individual cups for each set of seeds and we planted a few small seeds in each starter cup and each kid got to take care of and watch their seeds grow.
Once the pots were dry the kids transferred the biodegradable starter seed cup into the pot for easier planting.  For a quicker version just buy some already blooming flowers 🙂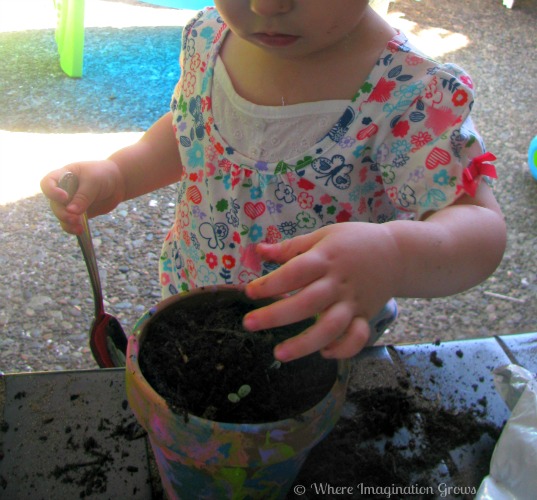 My kids are all toddlers so there's no intricate designs or delicate craftsmanship going on here but its not about making them look perfect and honestly I think they looked great anyway! These were gobs of fun for the kids.
What would you plant in yours?