Sensory bins are always fun for kids, from infants to preschool and beyond, and here we can't get enough of them.  After seeing how much fun (and learning) MB and the daycare girls had with our letter hunt water bead bin, I made up this sensory bin for them to explore and practice some more letter matching.  The best part? We also made it glow in the dark!! Don't have a black light? No problem! The girls have used this repeatedly in the natural light and enjoy it just the same.
I'm excited to share this sensory bin as part of the amazing 40 Days of Sensory Bin Fillers Series created by Little Bins for Little Hands! There's 40 bloggers coming together to bring you an epic list of sensory play activities & filler ideas! Pop over to see them all (one is posted daily March 1st through April 9th!) or follow the series on Pinterest!
Preschool Letter Recognition Sensory Bin with PolyFil Pellets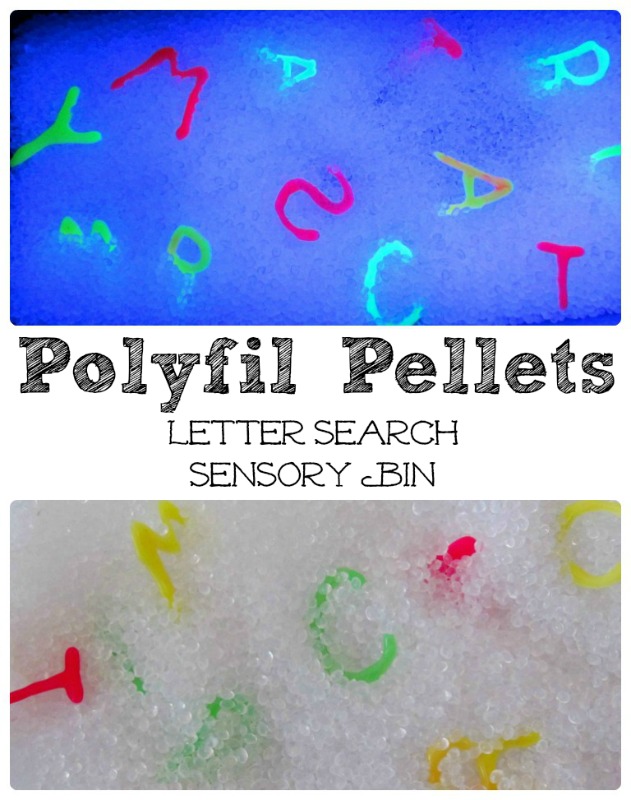 Post contains affiliate links for your convenience, see below or our disclosure for more
This sensory bin contains polyfil pellets and DIY letters I made from neon glue based from these invisible letters over at I Can Teach My Child.  I know it sounds a bit time consuming to make the letters (or numbers which we also used) from hot glue but let me tell you it was very simple to do!
Materials needed to Make the Letters: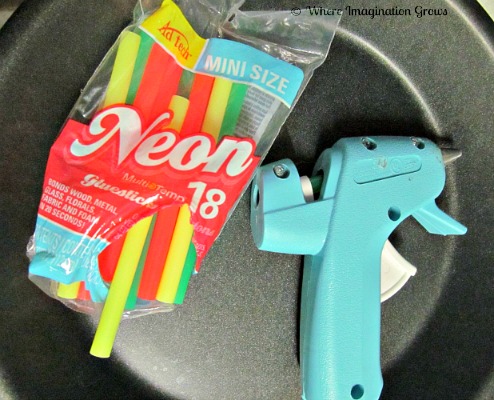 Neon Colored Hot Glue Sticks (I got ours at Wal-Mart)
Pan/cookie sheet
As soon as our hot glue gun was warmed up and ready to go I used the colored glue sticks to create the letters.  I made the letters that we wanted by simply writing them out in glue on our crafting pie pan (we use this one specially for crafting, like making our Melted Bead Suncatchers). They are much easier than you'd expect, just a quick squeeze of glue in the letter you want and presto!
If you don't have a pan handy you can use wax paper to put yours on but I've made these in the past with wax paper and had a bit of and issue with them sticking to wax paper, they slide right off the pans but wax paper (and tin foil) took a bit of peeling.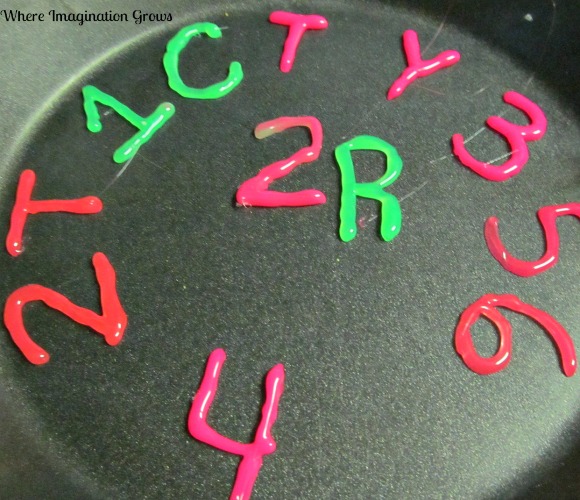 Once they cooled (a matter of minutes) I pulled and excess glue 'strings' off them and tossed them into a container with our Polyfil pellets and some tweezers/tongs.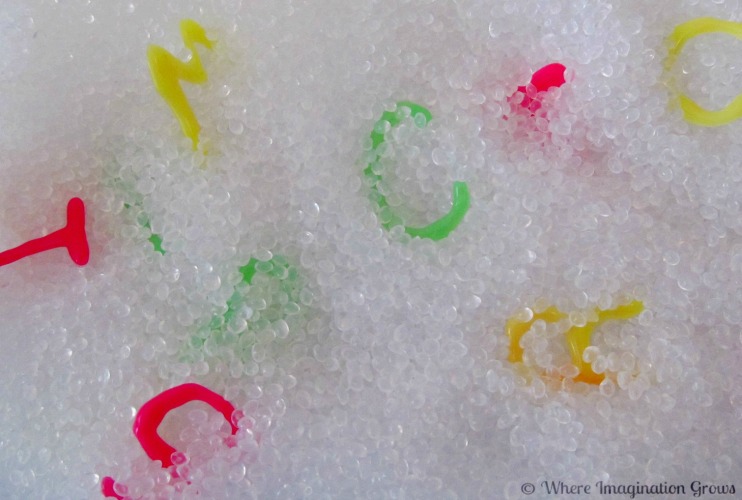 A bit later we brought out the black light and had some glow in the dark letter matching fun! The neon colored glue works perfect with the black light for glow in the dark letters!  My soon-to-be preschool aged girls loved this! You can find more of our black light activities here if you want more black light activities too.
Now if you don't have a black light don't worry about it! Even if it's not glowing this is a fun activity and the girls played with this for quite awhile in minus the black light.
My girls are just starting to work on letter recognition but this activity will get definitely lots of use as we add more and more letters to their list!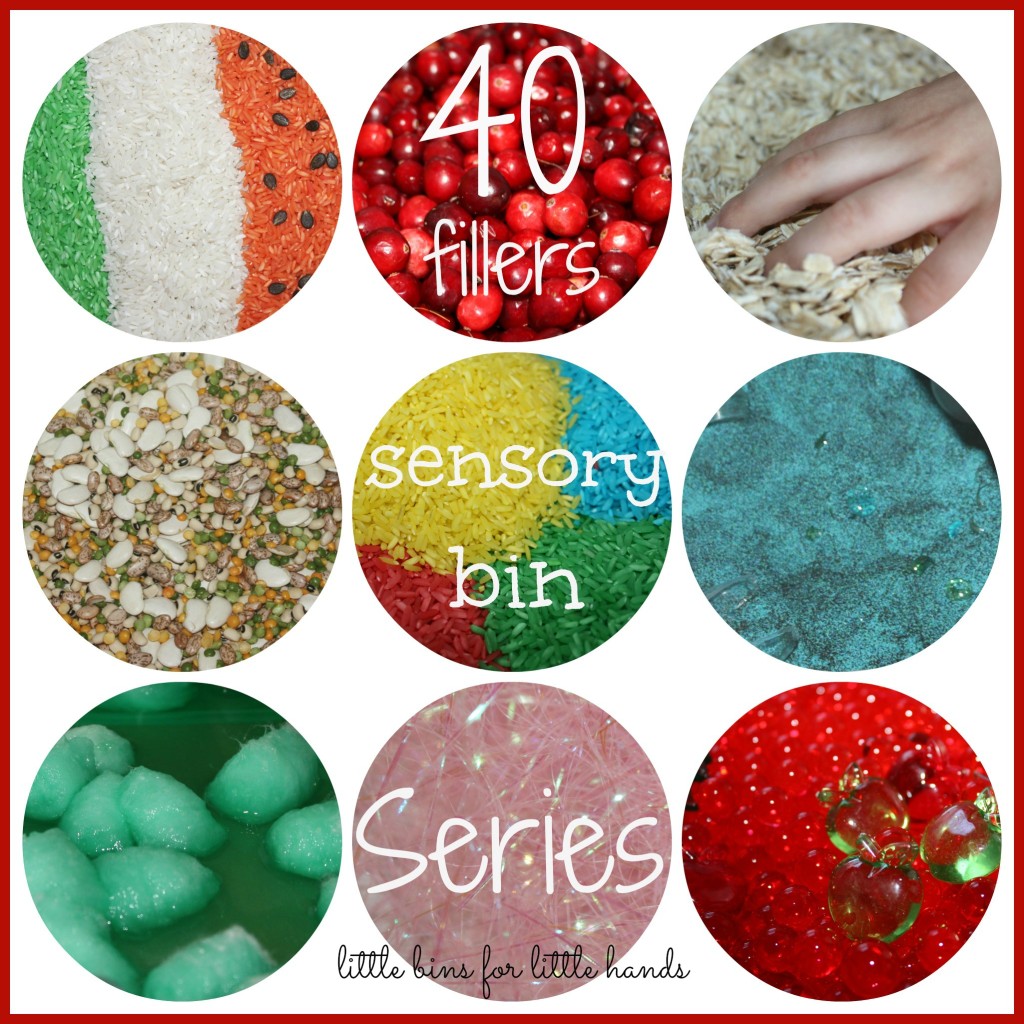 Have you used Polyfil Pellets (also called poly-pellets or plastic pellets) before? Link up your activities below! 
Connect with us on social media! We're on Facebook, Google+, Pinterest & Twitter too! To receive our posts by email check the sidebar and subscribe!