Description
The ENGAGE eBook of 5 weekly plans of activities is perfect for preschoolers! Fun ways to play as a family and encourage your little ones to learn through play.  Each weekly plan includes a handy supply list and activities broken down to know exactly what to do in a simple sentence or two, plus a blank weekly activity for you to make your own and a go-to lists of activities!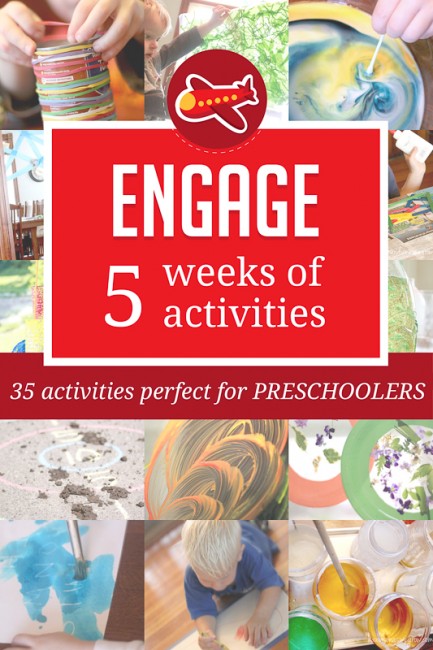 These activities are very fun and may be applied to many ages! They're evergreen activities, meaning that they're not seasonal or holiday specific. These can be done any time of the year!
You may find that your child will enjoy many of these activities as they grow older! These are activities that can be built on further or extended into learning opportunities.
Every week includes a combination of the following types of activities:
gross motor activity
fine motor activity
craft
art project
outdoor activity
family activity for Sunday
5 printable weeks of 35 simple activities!
There's 37 pages of printable activities, planners, and how to do these activities! ENGAGE covers five printable weeks of 35 activities to do with your preschooler. These activities are the heart of the eBook and are what sets it apart. An entire week of activities (plus a supply list) is on one sheet of paper, making it easy to print out and pin it up for the week. That also means that each activity is explained in 2-3 short sentences. They are the simplest of activities that use the supplies you have.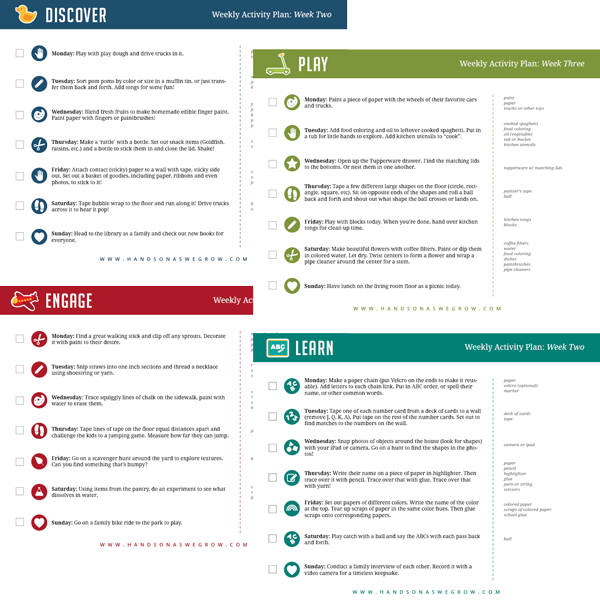 Accountability to Have Fun with The Kids!
Having a planned week of simple (doable) activities ready for you to do with your child, makes it super easy to actually do them!  And by having a simple place to come back and check off that you did the activities gives you a sense of accomplishment. That little push you need to help you go ahead and have some fun with the kids!
This eBook was created by our friends at Hands-On As We Grow.  Click to learn more and order your copy today!