It's time for Halloween! We love all things Halloween and what's better than a fun (and not scary) Halloween book? Pug & Pig Trick-or-Treat is a sweet Halloween story for toddlers and preschoolers. If Halloween books for kids are popular in your house then you will want to add this one to your list of must reads! It's not scary but has a great message about being who you want and being there for your friends.
Plus there's a giveaway for this book below too! Don't miss out!
Pug & Pig Trick-Or-Treat Book Review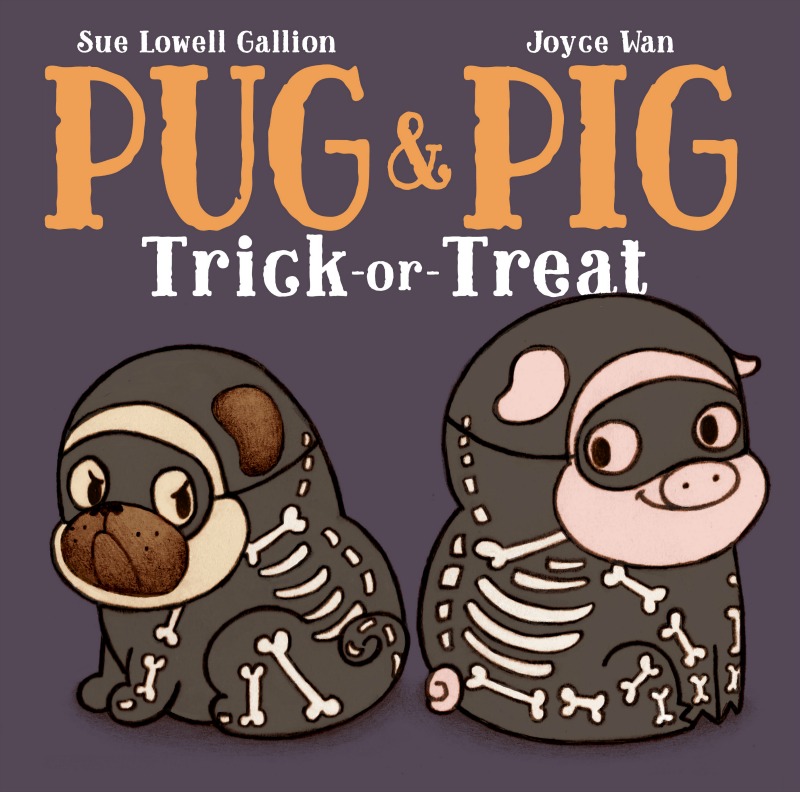 Post contains affiliate links for your convenience. 
This cute book is follows two unlikely friends, Pug and Pig. The first book, Pug Meets Pig, isn't required to read this one but it's definitely worth a read! The book is perfect for young children and is a great book about making new friends and handling changes in our lives. Pug and Pig weren't always the best of friends but you can see how that all changes by reading the first book.
The adorable pug and pig are back in a sweet Halloween story!

Halloween night has come to Pug and Pig's house, and the darling duo is sporting matching costumes. There's only one problem—Pug hates wearing his. So he decides to rip it up and stay home. But Halloween just isn't any fun for Pig without Pug! Can Pug find a way to be a good friend and get back into the Halloween spirit?
Fun picture book!
Pug and Pig are so cute! And when your dress them up for Halloween they are even cuter! I love how the illustrations are done. They are bold and just all around adorable! My daughter and daycare kids love to just look through the book at the pictures. The illustrations definitely keep drawing kids into the story.
The text is simple, no super long pages for mom and dad to read, but it tells the story well. It's not too simple that your kids will loose interest (my kindergartner loves it) but it's also easy enough for beginning readers to give it a try.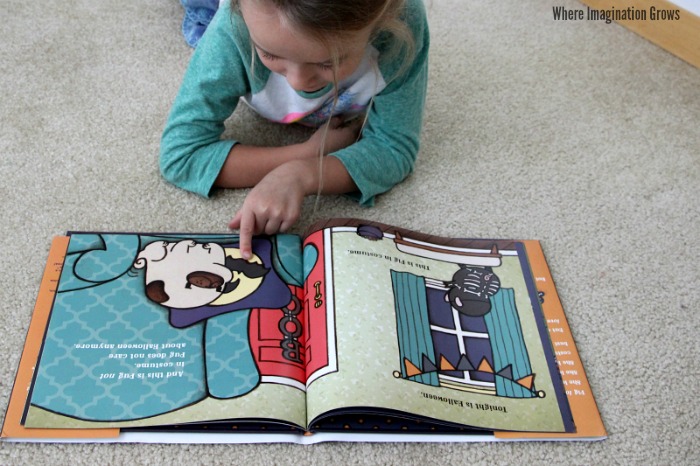 Be yourself!
The plot follows the two friends who are ready for Halloween. While Pig is excited and ready to show off his costume, Pug is not enjoying his costume or having fun. It's a perfect intro to talking with kids about what to do when they see their friends are not having fun or enjoying the activities that other's might. It teaches kids to see that what is fun for them may not be fun to their friend. They learn to think about others and to find ways to compromise so everyone can have fun together.
I like that it also shows Pug breaking out of what's expected (being a skeleton like his friend) and being what he wants instead. My daughter has some friends with strong personalities and sometimes with her more passive personality it can be an issue.  Reading this was a good way to start a conversation about doing what you feel comfortable with rather that just doing what your friends are doing. Everyone can still have fun, even if someone tries something a bit different.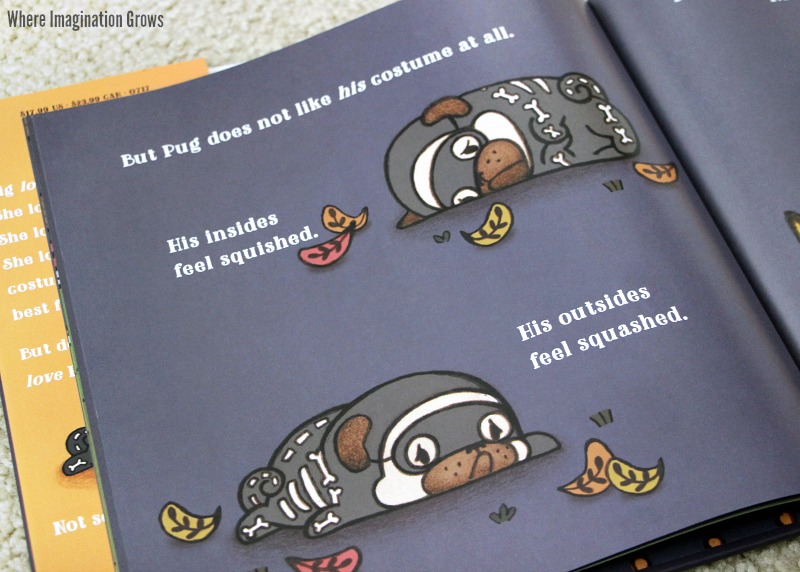 Follow the link –> Pug & Pig Trick-or-Treat to take a peek inside the book or to grab a copy for your own Halloween library! Your kids will love it!
Another great thing about this book is that it comes with a free activity kit that extends the learning your children can get from this book.  The activity kit includes learning activities, a discussion guide, and more! There's also coloring pages and a free Halloween party kit with cake toppers, mask crafts, and so much more!  Just hop over Author Sue Lowell Gallion's website or click the image below for these free activity kits.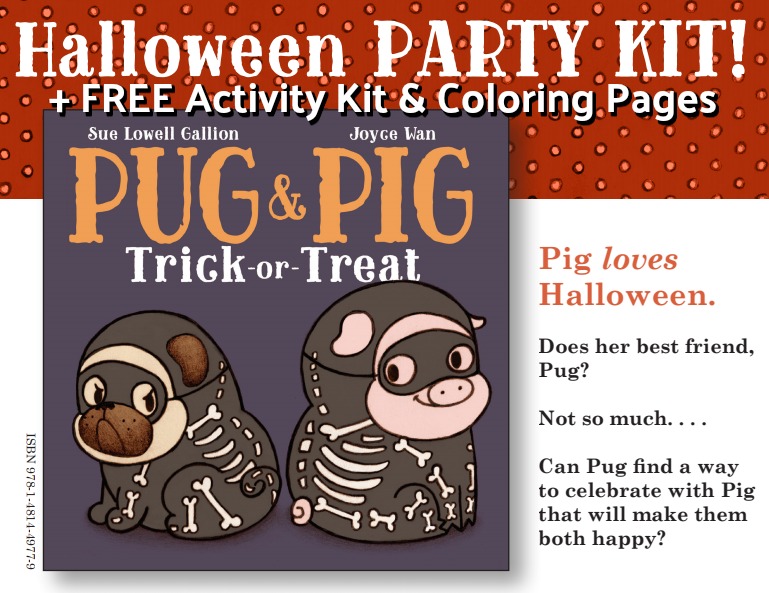 Overall, I would highly recommend this fun Halloween themed book for kids! The story is easy enough for beginner readers to give it a try and the book is perfect for kids that don't like the scary parts of Halloween.
>> Buy your own copy today! Available in hardcover or for Kindle! <<
Want to WIN a free copy? Enter the giveaway below! Open to US residents, must be 18+ to enter.
Looking for more crafts and activities? Check out our index for 100+ plus kids activities! Find activities by theme, materials, skills, age and much more!
I received a complimentary copy of this book to review. All thoughts and opinions are 100% my own. See full disclosure policy here.