We love sensory play activities.  From themed sensory bins to shaving cream and scented playdough my daughter loves to get messy and play with new textures and try new sensory bin fillers!  Surprisingly we haven't done a lot with pasta yet and it's been on my list to try so when a daycare parent donated a bunch I decided it was time to give it a try!
 Sensory Play with Colored Pasta
 Post contains affiliate links for your convenience. See below or my disclosure for more info. Thank you!
The thing I like about sensory play activities is that they are open-ended learning tools that the kids truly enjoy and they generally are fairly easy to create. Best of all they offer a huge range of learning possibilities in one small box.  Motor skills, critical thinking, color matching, shapes, language development, math skills, … the list can go on and on!
Check out this post from Still Playing School on the Purpose of Sensory Play to learn more about the benefits of sensory play.
How to Color Pasta:
Cook & drain pasta
Rise with cold water in strainer
Separate pasta into multiple plastic bags
Add desired food coloring to each bags
Mix well & leave to sit for a few minutes (mine sat about 5)
Rinse excess color off in strainer & let dry for a bit
I made our pasta in rainbow colors but the red ended up in our Spaghetti Shop Pretend Play activity so its not a perfect rainbow but my kids loves this activity anyway!
I set the bin of pasta out with tools for scooping and sorting. I gave them bowls, tongs, scissors, and items from our kitchen area to play and explore the pasta with. I had three of these small containers out at once but only one is pictured here.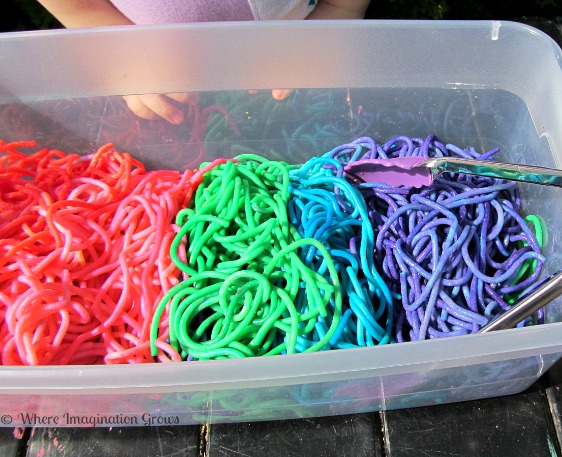 The kids wasted no time jumping into this activity!  They sorted from container to container, sorted by color, and had a whole host of imaginative play stories going on!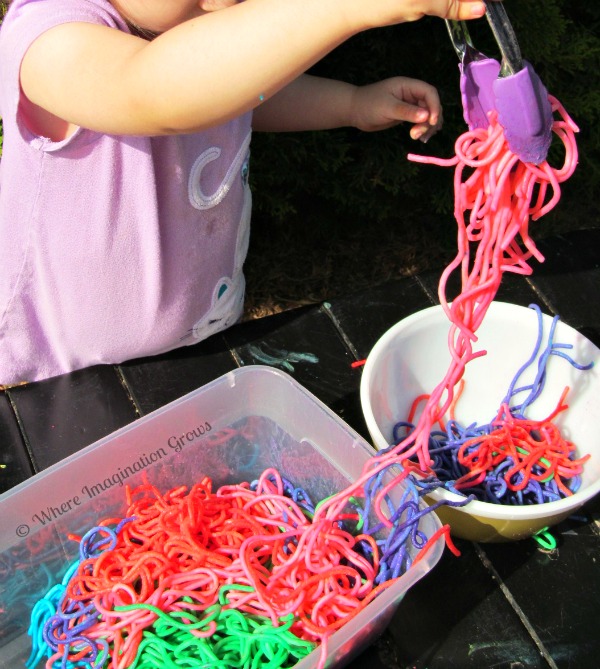 Have you played with pasta?  Share what you have done with us in the comments or on Facebook!