Space Boy is back! If you aren't familiar with this children's book series then today is your lucky day! We've got a review (plus a giveaway!) of the newest book, Space Boy and the Snow Monster, in this fun adventure series for kids. I know by the end you'll love this book and need to add it to your collection. Don't forget to pop over and check out our review of the first book in the series, Space Boy and His Dog, to see why we got hooked on the adventures of Space Boy!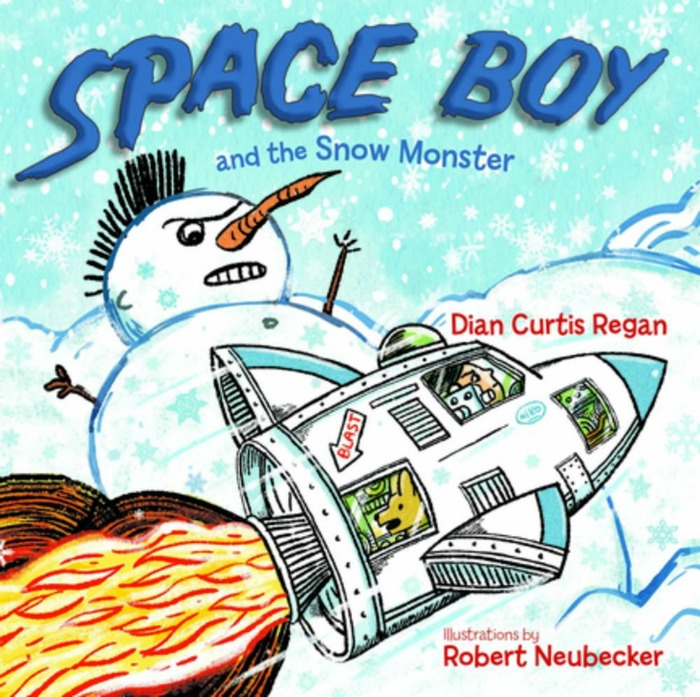 Post contains affiliate links for your convenience. See full disclosure policy here.
Space Boy and The Snow Monster Book Review
Space Boy and the Snow Monster by Dian Curtis Regan

Niko and Tag are on their way to space when suddenly Niko's robot copilot is captured by a snow monster (who looks an awful lot like Niko's annoying sister, Posh). After they reach Planet Ice, Tag is captured by the snow monster as well, leaving Niko to save them both. Niko must also defeat a killer bunny and the snow monster's army of snowmen before he and his crew race back to Planet Home, just in time for cocoa.
We were excited to get this book and as soon as it arrived we were eager to crack it open. The book did not disappoint and my daughter really liked this new adventure for Space Boy and his friends. It's a perfect addition to this series but it can also be easily read as a standalone.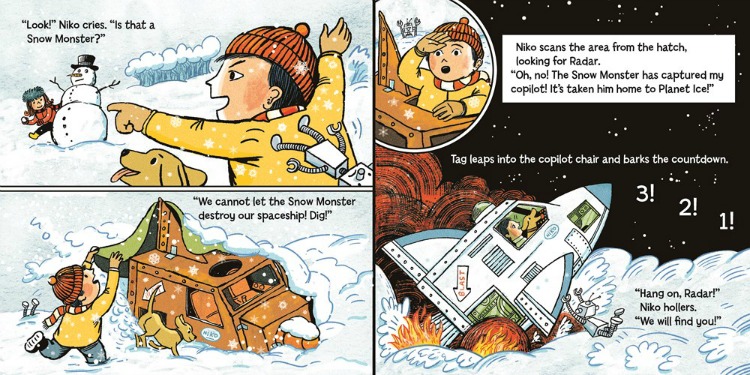 The illustrations are really well done and really compliment the story. The images and layout have a comic book feel to it but the images are large and bold enough that even younger kids will enjoy it. The book is full of detailed images with bold colors that makes the images jump out at you.
The font is easy to read and in some areas it seems like part of the story itself because it becomes loud and overstated, just like the action on the page.  The kids love it when the text is as engaging as the story, gets my kindergartener eager to give reading a try!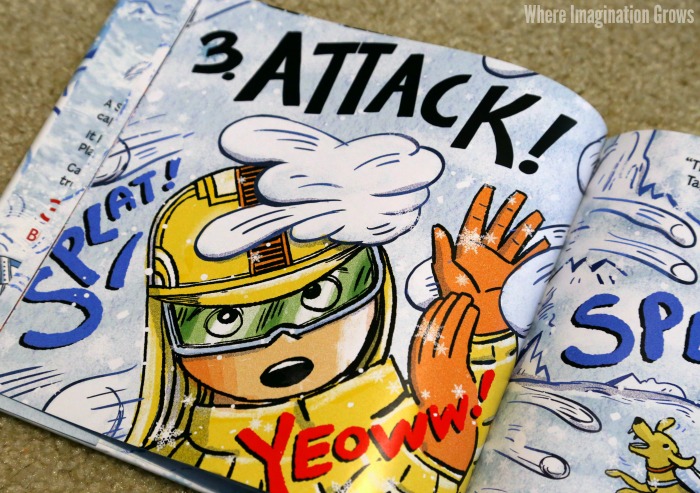 This book is filled with fun adventure and a bit of a mystery. The story follows Niko as he searches for his lost co-pilot, Radar, and tries to outmaneuver the evil snow monster. A snow monster, an army of snowmen, and a killer bunny?! Who can say no to all that awesomeness in one book? My daughter and her friends all LOVED it! We read this book several times a week now and my daughter is big into pretending with cardboard as houses or ships now.
I love this book because it shows the power of a child's imagination and encourages kids to go off on their own imaginary adventures. Put down the tablets and go on a cardboard box adventure inspired by Space Boy, his friends, even that pesky sister, Posh, too!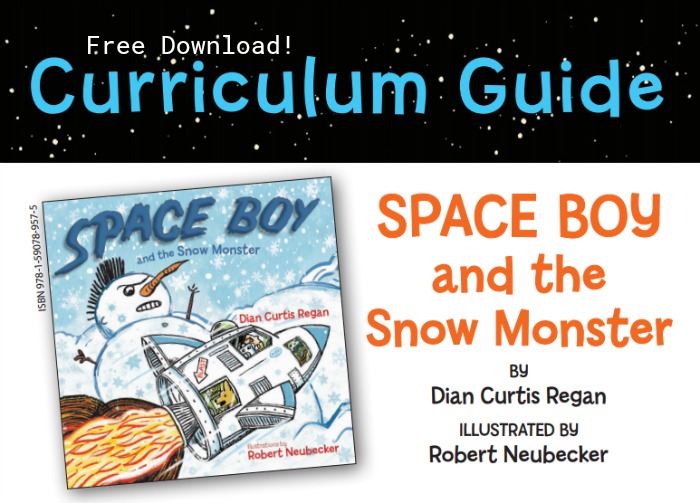 Another great thing about this book is the educational teaching guide your can download for free from author Dian Curtis Regan's website.  The teaching guide has several pages of interactive tools to help you extend the learning your child gets from this book, plus they are fun activities & discussion ideas!
I highly recommend you add this book to your home library or preschool classroom! It's perfect for kiddos that love adventure stories this book is a must!
Grab your copy today –> Space Boy and the Snow Monster
Want to try your luck at winning a free copy? Enter to win this fun book below. Open to US residents 18 and over.
Looking for more crafts and activities? Check out our index for 100+ plus kids activities! Find activities by theme, materials, skills, age and much more!
I received a complimentary copy of this book to review. All thoughts and opinions are 100% my own. See full disclosure policy here.