I'm so excited to share this family fun activity box with you! We recently got the opportunity play with a TogetherBox.  Have you heard about them yet? I'll admit I had never heard of them prior to being contacted for this review but now I am in LOVE with this and recommending it to all my friends and family.
So what is TogetherBox you ask? It's just as the name describes, a box full of all the supplies you need for fun activities that your family can enjoy together.  That means no planning activities, no gathering supplies, no starting a project only to discover you don't have everything you need.  Do you want to know the best part? They deliver it right to your door!  It's all right there on your doorstep waiting for you, everything you need for days of family fun!
Each box is filled with activities that center around a theme, our box was the "Balloon Box" but you can check out some of their other themes over at their website.
This is what we found when we popped open our box: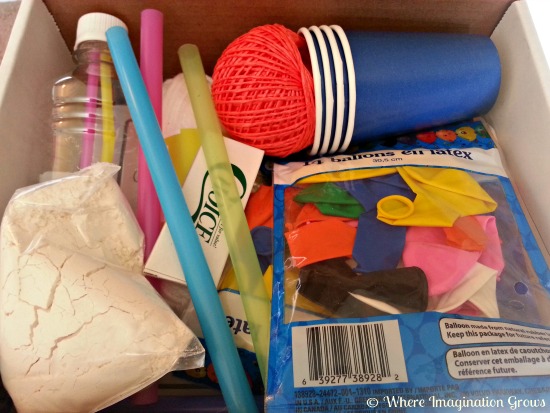 Each box contains a set of instructions and all the materials you need for each activity.  They even included a permanent marker and tape because the activities called for them.  It's literally an all inclusive package and it contains enough materials for a family of four to do each activity together.  They aren't all just 'one and done' type activities either, we've redone some of them numerous times since receiving our box.  This one little box has given us several hours of play!
In your box you'll find a handy little instruction booklet that has clear instructions and photos of each activity provided to you in the box.  There is also an additional page that suggests other ways to expand your experience.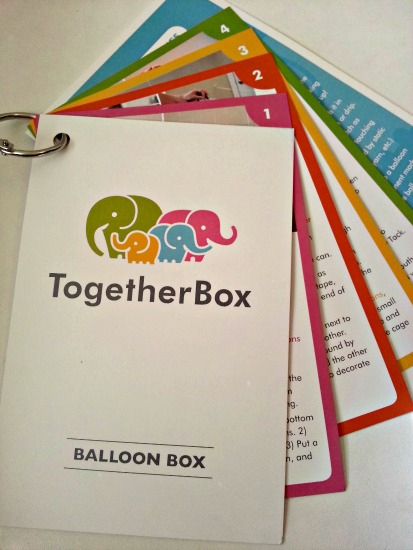 Our balloon themed box was full of fun activities and we couldn't wait to dive right into it!
The activities are hands on ways to play and engage together as well as learning activities that promote motor skills, science exploration, hand/eye coordination and much more.  Their website states the activities are for children ages 3-10 years of age but MB and one of the daycare girls are both two and they had no issues with any of the activities.  My four year old daycare girl enjoyed every activity as well plus she designated herself as the "fun box teacher" to the younger kids, showing them how to use each activity we did.
Up next was some science play!  Because it's us we had to put the experiment on the light table 🙂
We seriously have spent many hours playing with these.  Some of these activities, that I wouldn't have even thought of myself, have become some of the girls favorites! Like the balloon races:
You'll have to check out the TogetherBox for yourselves (and I highly recommend you do) to find what other fun activities are left in this box and lucky for you I've got a great coupon code for you to use!!!
I'm so excited to share with you that the folks over at TogetherBox have graciously offered  a coupon code for 50% off your first box! And the first person to sign up gets an extra box FREE!!!  So go quickly to the TogetherBox website and order yours today! Just enter the code "imagination" for 50% off your first box and if you are the the first one to sign up you'll get that free box!
If you're looking for more ideas and information follow TogetherBox on Facebook, Twitter, Pinterest, & Instagram!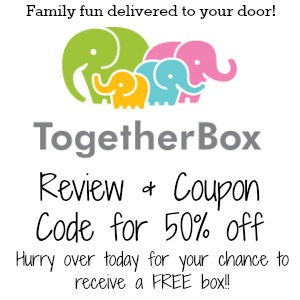 Disclosure: I was provided a TogetherBox free of charge in exchange for my thoughts and review of this product.  All opinions expressed are mine and mine alone.