It's been another great year full of fun activities for toddlers and preschoolers! I'm so grateful for all the love each and every one of you have shown us through your emails and comments! Even just stopping by to read more about our activities means so much! Last year I put together a list of our Top 10 Posts of 2013, it was great to look back and revisit some of those old posts so I decided to make one for 2014!
Top 10 Fun Activities for Kids from 2014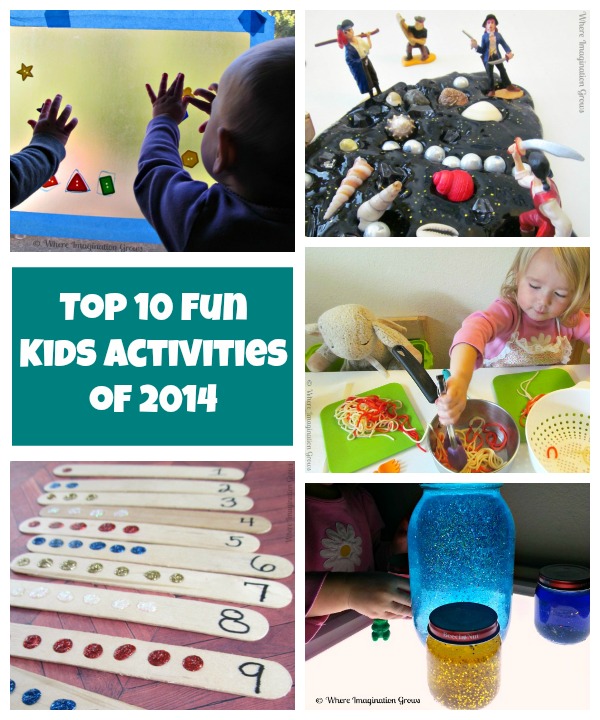 Below you'll find the 10 activities of ours that got the most shares and page views in all of 2014! Did you miss any? Click the link to check out these popular posts!
10.) Sticky Window Play: This fine motor activity was so much fun for my toddlers!  It's simple to set up and kept my little ones busy for quite a line time!
9.) Pirate Slime: Ahoy!! A perfect sensory activity for any pirate lover! And lets be honest everyone loves to pretend to be a pirate 😉
8.) Spaghetti Shop Pretend Play: Let your little chef whip up some spaghetti for you and their friends! This was one of my daughter's most favorite activities of 2014!
7.) DIY Tactile Craft Stick Counters: My girls loved this tactile counters! They are a great, hands-on way to practice counting and learn to count! There are so many ways to use these in counting games!
6.) Mind Jars & Mini Mind Jars for Kids: Mind jars, aka calm down jars, are great for kids struggling with their emotions when then get upset or angry! Not only are they neat to watch but they can be soothing as well!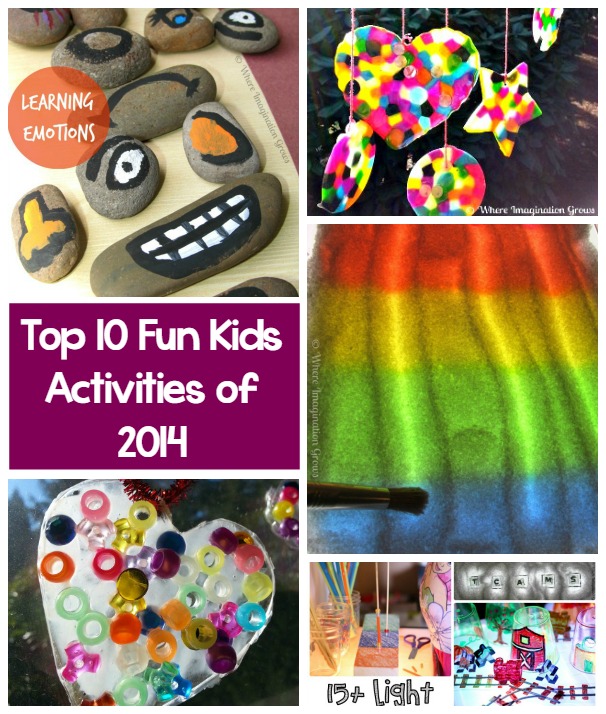 5.) Rainbow Salt Tray on the Light Table: Let your kids practice those pre-writing skills with this rainbow salt tray! No coloring of salt required!
4.) Melted Bead Suncatcher Mobiles: Brighten up your patio or entryway with these colorful (and easy!) suncatcher mobiles made from melted beads!
3.) Build-a-Face Story Stones: Use these simple to make story stones to help children learn about and express emotions. Great for preschool settings or for children struggling with their emotions.
2.) 15+ Light Table Learning Activities: A collection of over 15 fun activities to learn and play with your light table!
An now the MOST VISITED POST OF 2014…
1.) Heart Suncatchers: These beautiful suncatchers are deceptively easy! They work perfect for multiple age groups and even younger toddlers can make them!
What one was your favorite?
Goodbye 2014! This year went by too fast but I'm excited for 2015! We have lots of fun activities coming up this year and don't forget our Light & Reflections Collaborative Series with And Next Comes L, Still playing School, and Happily Ever Mom returns for 2015, posting on the first Monday of every month!
Happy New Year and thanks for all your support!