This is the best color mixing activity for your light table because it also includes some simple science for kids! Children love to create new colors and they totally adore anything that will bubble and fizz.  Having both those two elements in a hands-on science activity makes this activity a sure fire hit with kids!  This activity is part of our Light & Reflections Series so make sure you check out the links at the bottom for more fun light table activities!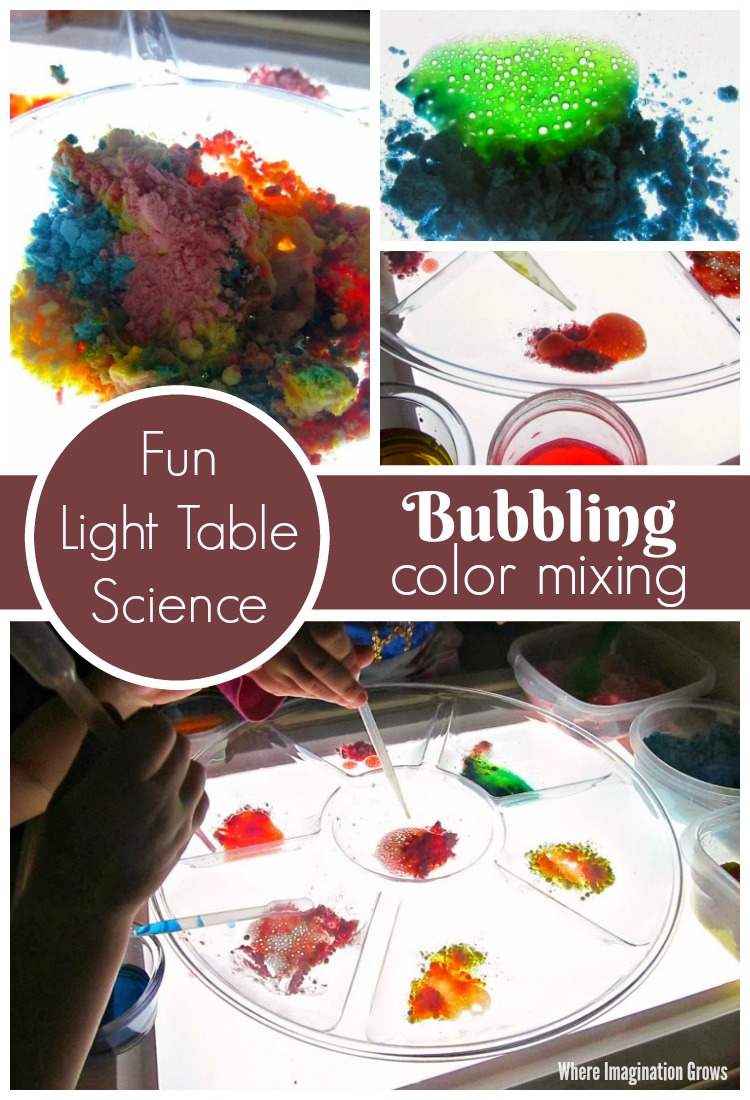 Affiliate links provided for your convenience, see my disclosure for more info.
Bubbling Color Mixing! Fun Light Table Science
Materials:
Baking soda
Vinegar
Food coloring
Clear cups/container for baking soda & vinegar
Plastic tray for mixing colors
To make the colored baking soda I added a few drops of food coloring to the baking soda and mixed until it was well blended.  The red looked pink no matter how much food coloring I seemed to add, I think gel food coloring would have worked better than the traditional food coloring I used to make it a red color. Regardless of being more pinkish it worked perfectly as red when vinegar was added.
I set up 3 clear containers with vinegar and added a few drops of food coloring to each of the containers.  I did add a few extra drops to the yellow because in other projects the yellow often gets overpowered by red & blue if it's not a bit more concentrated. Then set out the containers of colored backing soda and the colored vinegar with some pipettes and a tray for mixing.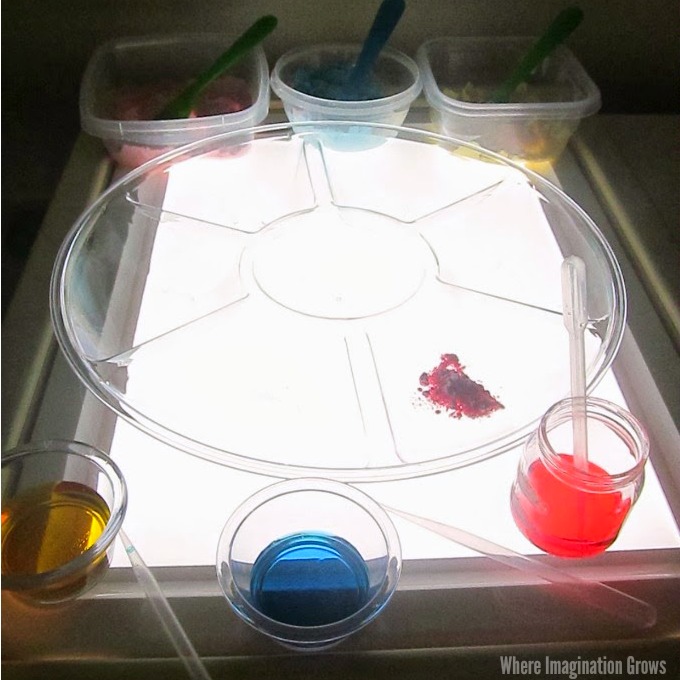 The kids jumped right into and were color mixing right away! They would select a color of baking soda, scoop some into a tray, and then pick a color of vinegar to mix with it. Before they mixed them together I would ask them to predict what color they though would be created by combining the two colors they picked.  Next the kids would combine the two and see what happened and what color was created.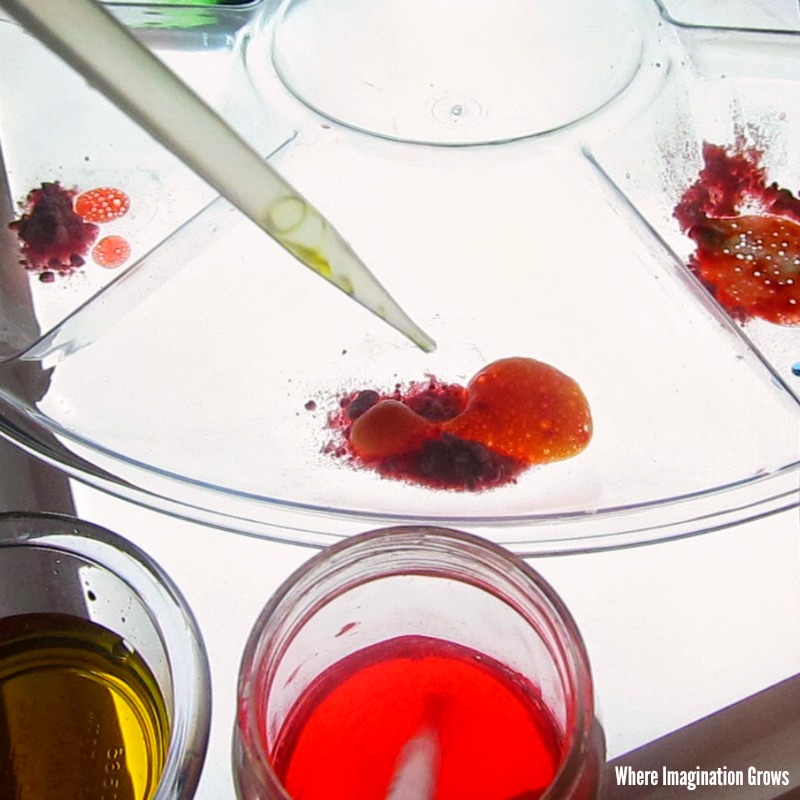 "Red and yellow makes orange!"
My kids were so excited when the mixture would start to bubble and fizz! It was a great beginning science activity for them!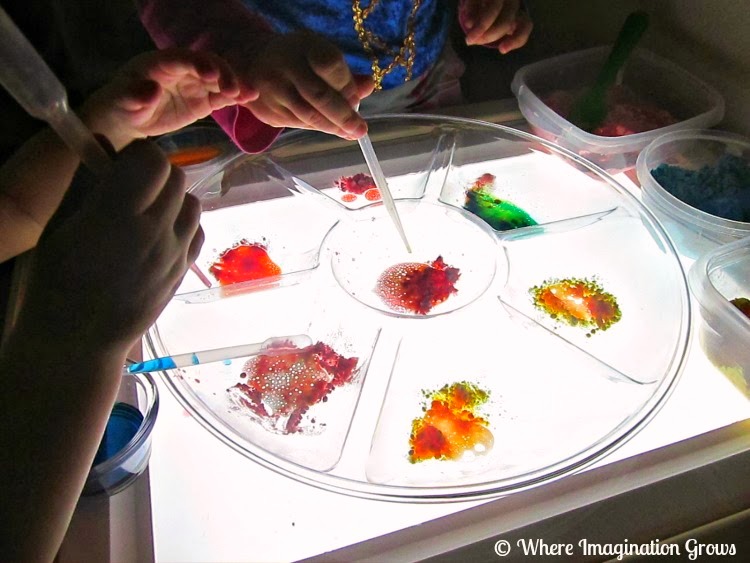 The older kids did a great job of predicting what colors would be created and the younger kids loved the instant changes that occurred.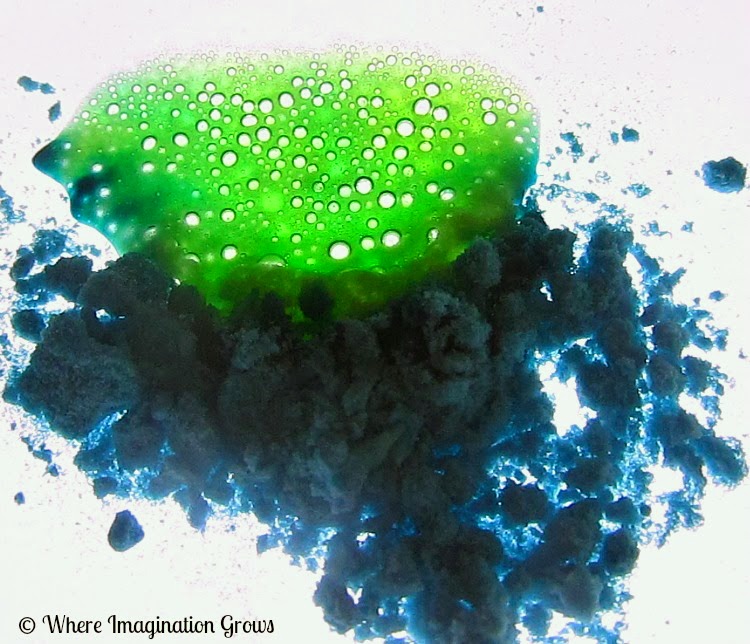 After they mixed colors into each section of the tray they decided it was time to make some "color stew" This involves much dumping, pouring, and mixing of the "fairy dust" and "magic bubbling water."  First you need to scoop lots of "fairy dust" into the middle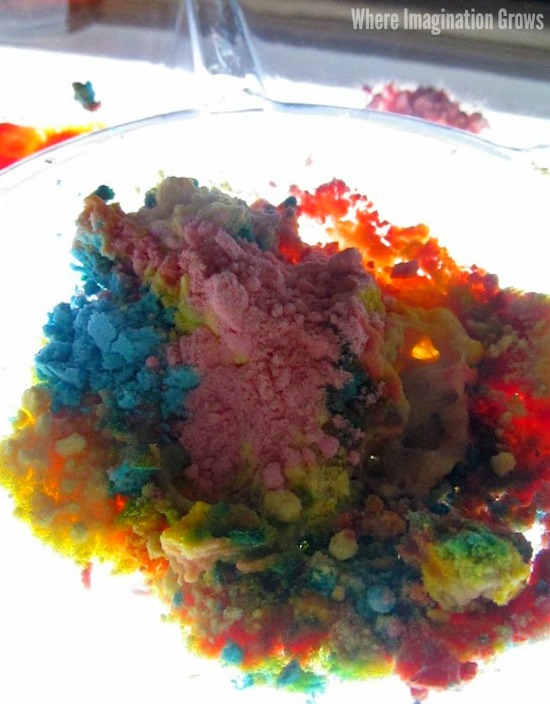 They went all crazy at the end. It became a total sensory play activity and our tray ended up like a hot mess. Thankfully this is why the light panel has a cover! 😉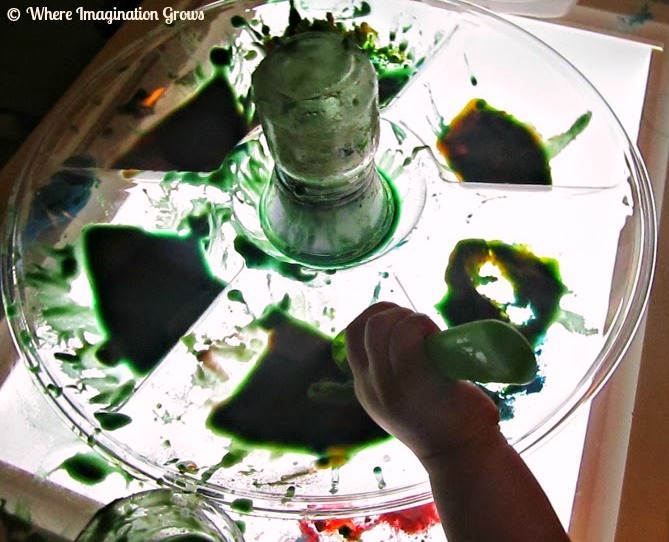 It was so much fun! The kids ask to do this color mixing activity all the time. Try it today!  We're obsessed with our light table but even if you don't have one this will still be so much fun!
Here're more science activities for the light table:
Exploring Symmetry with Snowflakes at Next Comes L
Experimenting with Ice on the Light Table at Happily Ever Mom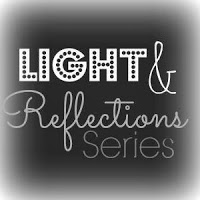 Looking for more crafts and activities? Check out our index for 100+ plus kids activities! Find activities by theme, materials, skills, age and much more!