These read aloud chapter books for kindergartners are some of my favorite chapter books for young children. While kindergarten-aged still love reading awesome picture books they are also the perfect age to introduce simple read aloud chapter books. These early chapter book do contain some images but it's not image heavy like picture books. They are the perfect bridge between picture books and traditional chapter books they will read when they are older.
Read Aloud Chapter Books for Kindergarten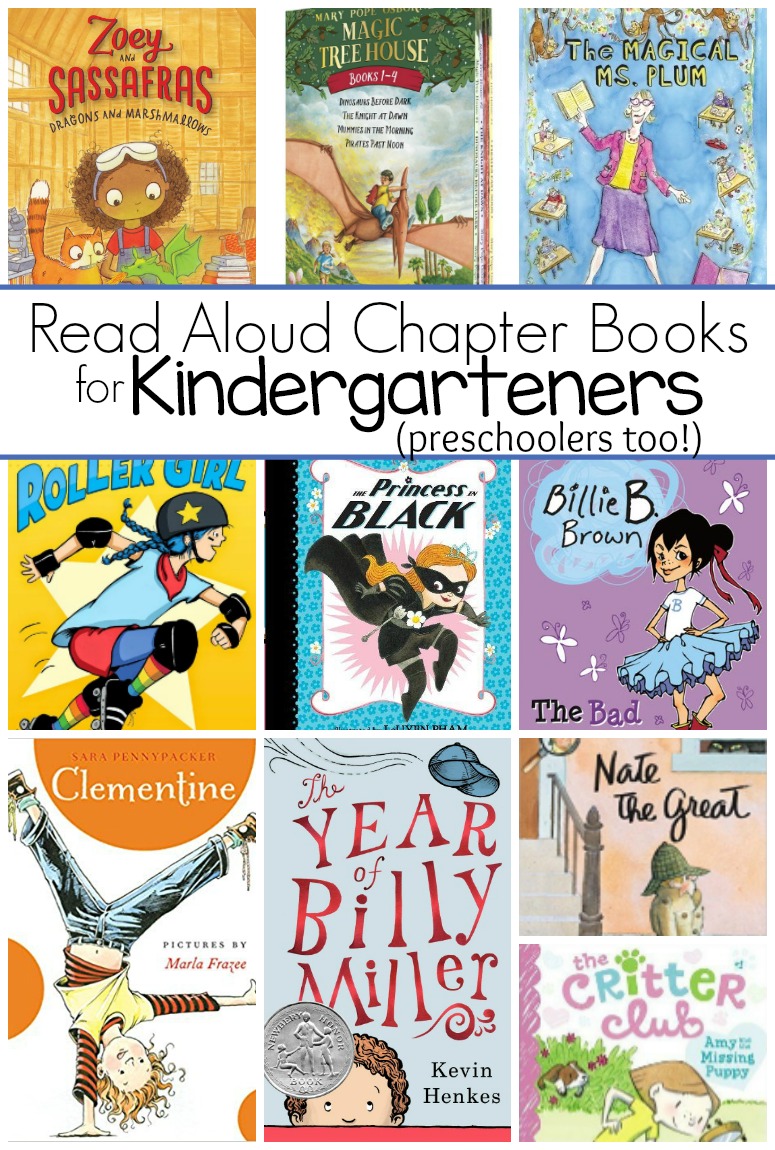 Post contains affiliate links for your convenience, see my disclosure for more.
This list of awesome read aloud chapter books features easy to follow stories that will keep a kindergarten-aged child (and older ones too) engaged and excited to keep reading. These books teach kids about emotions, friendship, and so much more! Don't see your favorite? Tell me about it in the comments!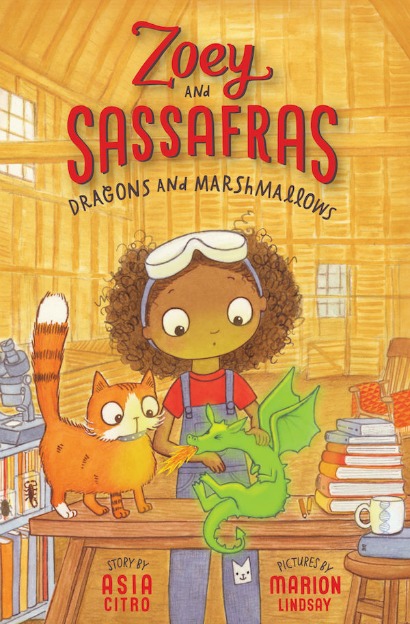 Dragons and Marshmallows (Zoey and Sassafras) by Asia Citro – This is a BRILLIANT book! I can't wait for more in the series to be released. The book follows Zoey and her faithful cat companion, Sassafras, as they use science to solve mysteries about magical creatures and learn new things.  In this book Zoey has to do experiments in order to figure out what a baby dragon eats! It's really an amazing book, the books is teaching children about science while featuring a strong female lead. All your kids will want to read this over and over! Check out all the rave reviews online and I personally recommend it it everyone as my kids all love it!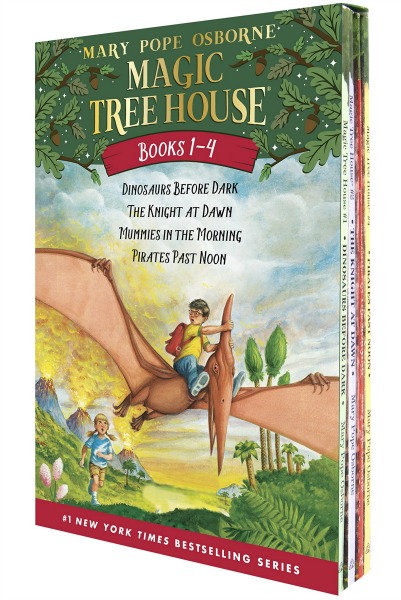 The Magic Tree House Series by Mary Pope Osborne – These fun and easy to read aloud chapter books follow siblings Jack and Annie as they take off on adventures around the world and in different points of time. The relationship between the siblings is supportive and sweet but, like normal siblings, they sometimes can get on each other's nerves.  Each book takes the siblings on an adventure where they solve mysteries and learn about the world. With the help of their magic tree house the places these two can go are endless!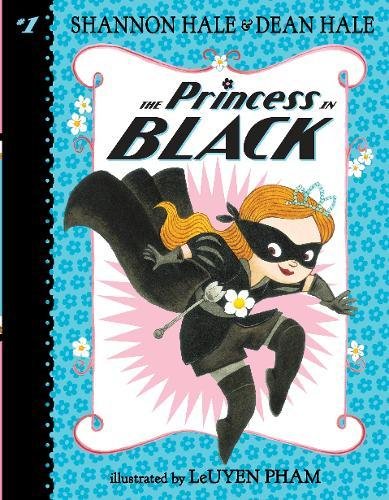 Princess in Black by Shannon Hale – A princess that's also a superhero?! It's the best of both worlds! This book is perfect for kids that love princesses and problem solving superheros. We have several books in this series and my daycare kids love them all! My kindergartner can read portions herself but even my preschoolers love this as a read aloud book. The text is large and chapters are short but the story is engaging and the photos are well done. I highly recommend it.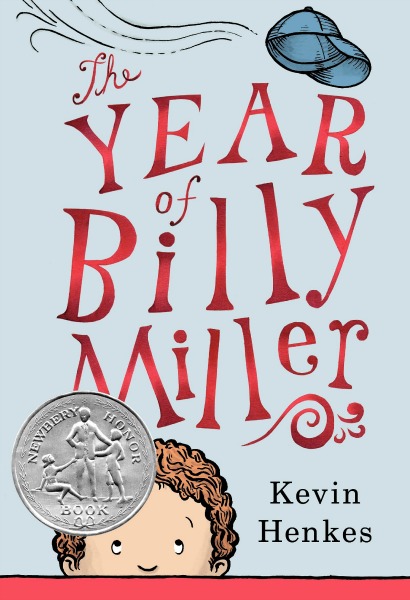 The Year of Billy Miller by Kevin Henkes – You may recognize this author from our picture book must haves list but he also wrote this awesome chapter book!  The Year of Billy Miller follows Billy as he progress through his year in second grade. I love that this book has a stay-at-home dad as it's not something you usually find in these read aloud chapter books. Billy spends his year navigating situations that all children in early elementary may face, from school projects to sibling rivalry. The story is well done and my kindergartners always enjoy the read!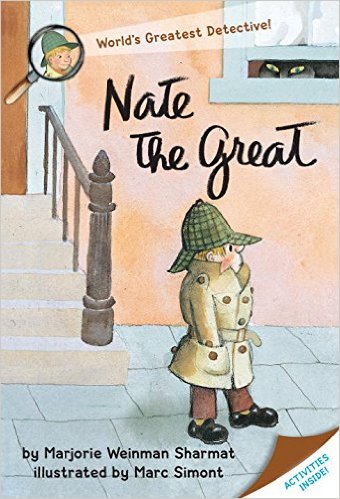 Nate the Great by Marjorie Weinman Sharmat – Nate the Great is the world's greatest detective! He investigates clues and solves some tricky mysteries! What's more fun than that? This story is perfect for beginning readers and encourages children to use their problem-solve skills.  Have kids read along and try to solve the mysteries with Nate! There are many books in this series, we've read several and I highly recommend them. Especially for those kids that love a little mystery to solve!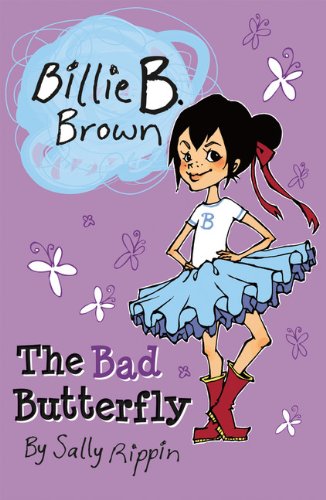 The Bad Butterfly (Billie B. Brown) by Sally Rippin – This is the first book in a series of great little chapter books for new readers! The text is large and spaced widely so kids can easily read them. Each book has a fun and realistic storyline that touch on issues kids have, like friendship, sharing, and handling big emotions. In this book, The Bad Butterfly, Billie B. Brown really wants to be a beautiful dancer but she's finding that it isn't as easy as she thought. It's a really great read and I've read the whole series to my preschool class and they love it! These books are published by Usborne so I'd recommend you buy them from your favorite local Usborne consultants but you can also get them on Amazon.
There is also a companion series to this one called Hey Jack, it follows Billie's best friend Jack on his own adventures.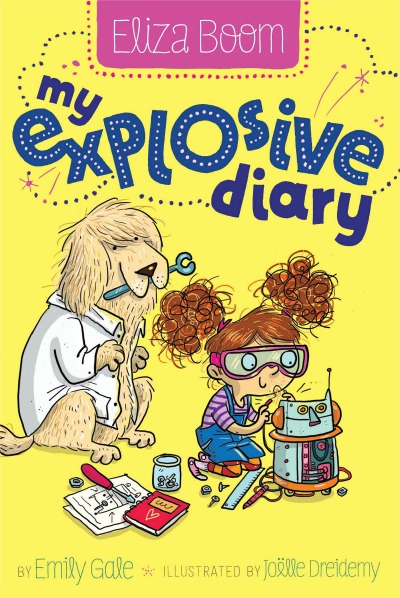 My Explosive Diary by Emily Gale – This is a fun book for little tinkerers and inventors. This series of beginning chapter books follows the adventures of the quirky Eliza Boom (assistant inventor and junior spy) in a diary style book. This book follows Eliza as she builds and constructs gadgets, deals with bullying, makes friends, and solves a dilemma. I like to read this with my preschoolers and kindergartners because there are frequent and engaging images, well spaced text, and a fun storyline. My kindergartner can read portions of it independently as can my first grade aged daycare kids.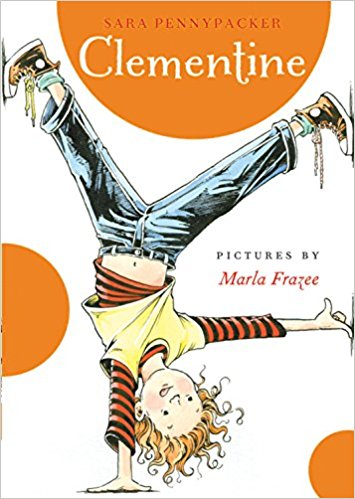 Clementine Series by Sara Pennypacker – Clementine is an adventurous third grader that is always up to some shenanigans. Clementine's escapades sometimes ends with her in a bit of trouble with her parents or the principal but these stories offer a great message. It reminds me of the Ramona series but Clementine is definitely her own person and has her own views on the world around her.  The stories are always fun and providers lots of laughs! My kids seem to laugh throughout these books more than any other.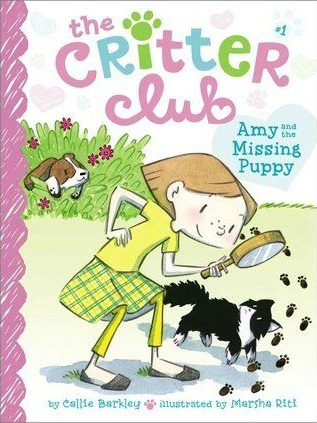 The Critter Club by Callie Barkley – A perfect read for kids that love animals! This series follows little Amy and her friends as they solve mysteries, learn about pet ownership, and even help animals. While this book is a pet-friendly read for kids that love animals it also covers a lot of day to day issues that arise for kids. Things like handling chores, doing schoolwork, making friends, and much more.  Follow Amy and her band of friends on these fun adventures! Each book is full of easy text and great illustrations. It's a really good read for kids that are interested in animals but want longer stories than what a picture book provides.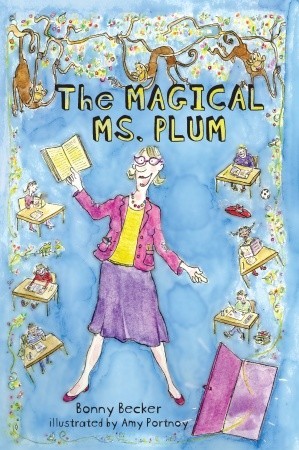 The Magical Ms. Plum by Bonny Becker –  Strange things happen in Ms. Plum's class! There's magic afoot in her mysterious supply closet. Whenever students open it to get more chalk or pencils they discover an animal that fits in with their personality. It's a really great story with a fun whimsical twist that all children love to read about. If you haven't read it with your kids then give it a try!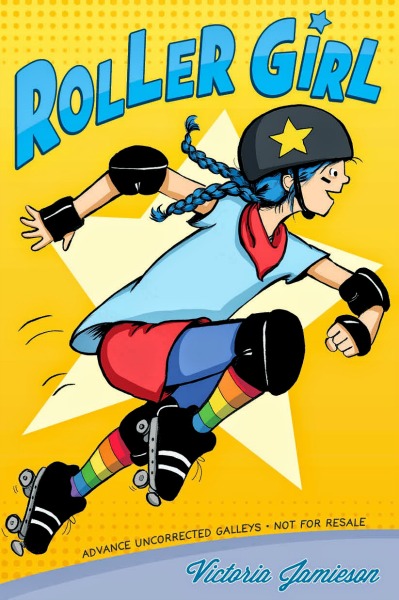 Roller Girl by Victoria Jamieson – Ok, so this isn't your usual chapter book (it's a graphic novel) and it features a middle school lead not an early elementary-aged lead like the other books on this list. That said I had to add it to this list because my kindergartner LOVES this book. The story follows Astrid, a twelve year old that is struggling with issues that many kids face. Issues like trying new things, changing friendships, and overcoming fears. Things that kids of any age can relate to. Did I mention she's into roller derby? It's pretty awesome.  This book is a Newbery Honor Award Winner and New York Times bestseller.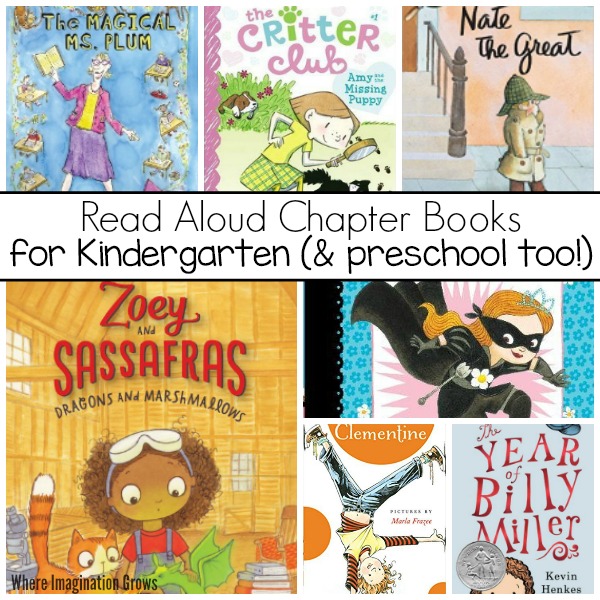 What are your favorite read aloud chapter books?
Other awesome read aloud chapter books to check out:
-Melvin Beederman Superhero
-Mercy Watson to the Rescue (Mercy Watson #1) by Kate DiCamillo
-Alien in My Pocket series by Nate Ball
-The Chicken Squad: The First Misadventure by Doreen Cronin and Kevin Cornell
-Dory Fantasmagory (Hardcover)  by Abby Hanlon

Looking for more crafts and activities? Check out our index for 100+ plus kids activities! Find activities by theme, materials, skills, age and much more!