I have a stack of clothespins and paint sample cards that I've been hoarding away and meaning to use for quite some time but I just never get around to doing anything with them.  So finally today I decided to break them out and make some new color matching activities I've been wanting to try out with the kids and MB.
I had been thinking of making two separate (and similar) activities with the clothespins: a counting game using the clothespins and index cards and also a DIY color box (like the one seen here) with the clothespins, a box, and paint swatches.
Naptime has been rather short lately so as I began getting everything out I decided instead to combine both activities and make one version instead of trying to knock out two different ones before MB was up and raring to go!
-Color Samples (paint chips/swatches; Multiple single color "large" ones in different colors or one large and one multi-tone sample in each color you're using)
-Clothespins
-Hot Glue (or regular if you prefer)
-Hole Punch
-Marker
-Laminator (not a necessity; I'm just a laminator junkie but it did make the cards firmer for the kids)
To put them together I wrote a number on each large paint swatch & used the hole punch to create the number of holes on the side to match the number I had written on each card.  If you don't have a hole punch handy you can always draw dots with a marker instead.
I laminated the paint chips when I was done. We're focusing 1 thru 5 with my toddler group and MB
Cut a small piece of matching colors (I did a variance of hues because MB has begun picking up her basic primary colors so I wanted to introduce new hues) from swatches and attach, with glue, to clothespins for each number

Then let children count and attach or sort by color and count with them.This project took me about 30 minutes to put together and so far the daycare kids and MB have been having a great time with it.  It took my 20-22 month old group a few tries to figure out the clothespins but it's great fine motor practice as well! 🙂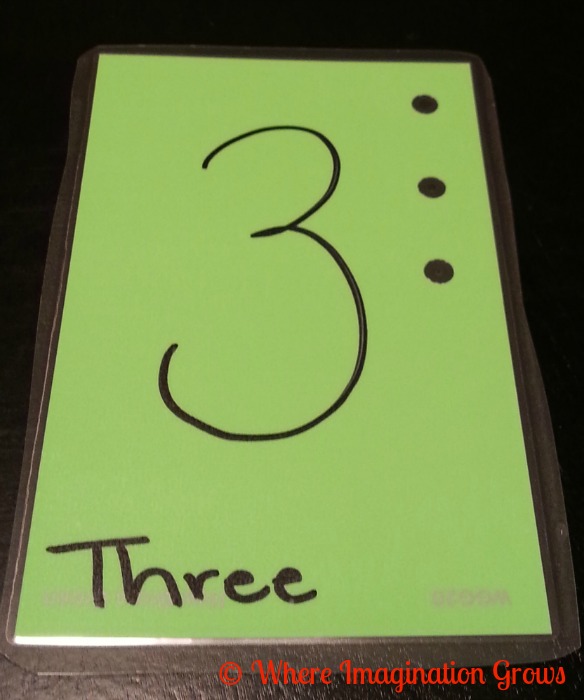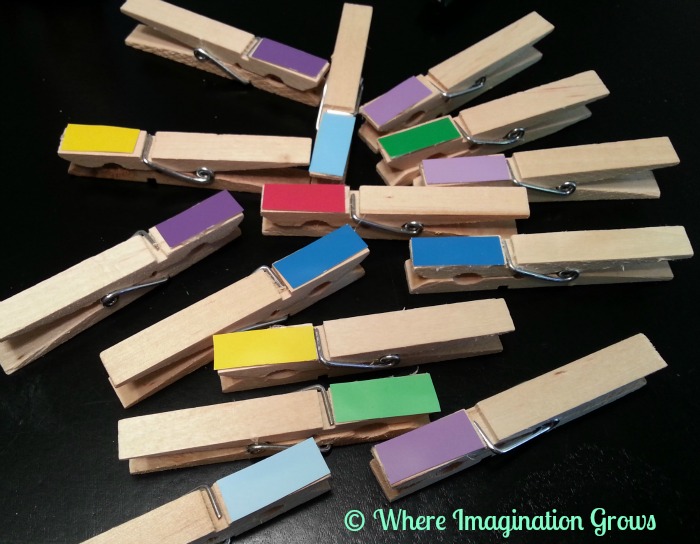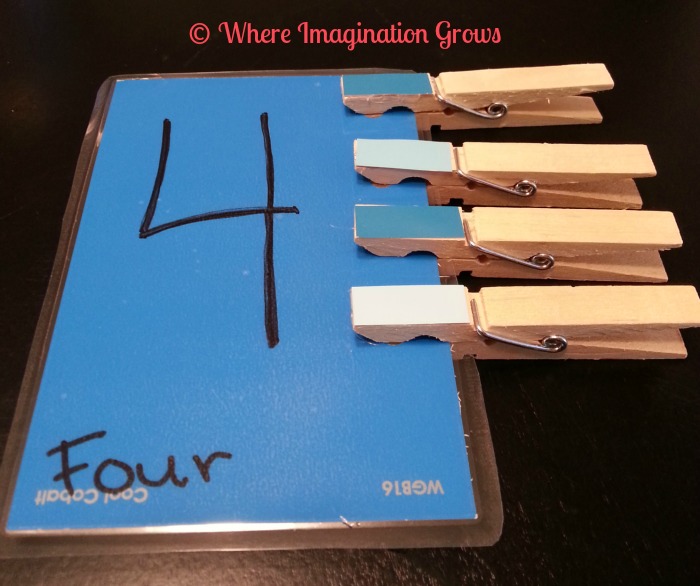 The girls enjoyed this and spend a lot of time matching colors and counting the numbers. I leave this out for them to play with as they want and each day it gets used several times.
Need more learning activity ideas? Check out our counting with ping pong balls or our black light counting activity for some glow in the dark fun!