Pony bead crafts are some of MB's favorite craft activities and these melted bead suncatcher mobiles are no exception.  They are super easy for kids to create and this time there was no stinky melted bead smell in the house like we had when we made our Melted Bead & Salt Dough Ornaments!
Melted Bead Suncatcher Mobiles Kids Can Make
Affiliate links provided for your convenience, please see our disclosure for more info.
Items Needed:
Metal cookie cutters
Pony Beads (ours are a mix of neon and metallic, I'm sure the translucent ones would look beautiful too!)
Beading Wire (optional)
String
I set out the beads, pans, and beading wire on a table outside for the girls to create their masterpieces with.  I let the girls go wild and do what ever they wanted with the beads and materials.  Really it started off more like bead sensory play than a craft project with all the sorting and scooping that was going on.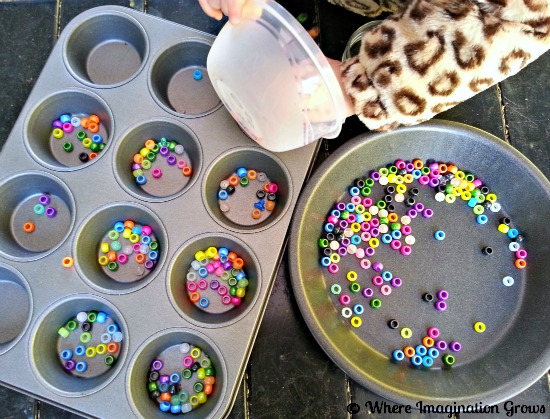 MB and the daycare kids spent 35 minutes sorting the beads, transferring them from pan to pan, and stringing them onto the beading wire. When they began to loose interest is when I decided it was time to melt them. The girls arranged them how they wanted them and off they went to be melted.
We did the beading outside as it was finally a rain-free, sunny day and this one little decision (to do the beads outside) is how the secret to creating a smell-free home was discovered!  There next to the back door it sat… The BBQ!! How did I not think of this before?! If you have a gas grill you can easily melt the beads outside and not have to worry about that stinky melting plastic smell in your house!
I let our gas BBQ warm up to about 400°F and then put the pans right onto the grill and shut the lid.  I left them in for about 20 mins or so then pulled them off the grill and let them cool.  As soon as the cookie cutters were cool enough to touch I popped out the cooled melted beads.  I wasn't sure how fast they would harden but I wanted to get them out as soon as possible to ensure they didn't become too difficult to remove.  The pie pan and cupcake pan ones easily slid right out.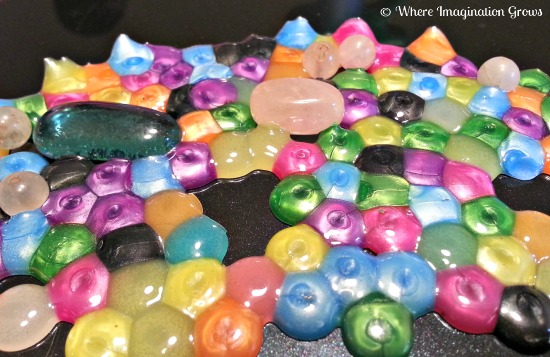 As you can see in the photos above the girls also added a glass beads to their beaded masterpieces. I had forgotten they were mixed into our beads but even though the glass won't melt the beads melted to the beads and held them in place.
How to Make Your Mobile:
To put the our melted bead suncatcher mobile together I just used string to tie each of the melted bead pieces to the top piece. The half circle piece the girls created (that I used as the top piece) had a few areas where there were holes due to lack of beads so I just tied the string through those spots but on one end of the top piece and a few of the of the cupcake pan and cookie cutter ones I had my husband drill out small holes because the melted beads were to hard to create the hole by hand.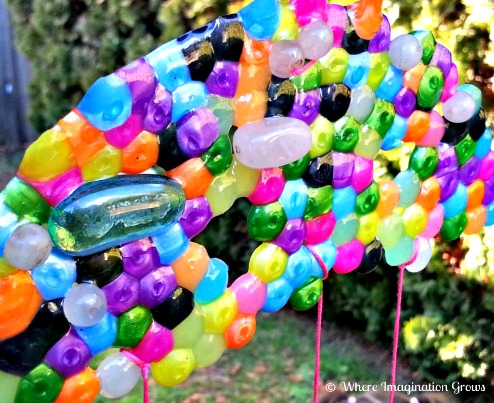 I only had to do this on a few though because adding the glass beads actually worked to my advantage.  They had holes (as they are for beading) that I was able to use to thread the string through and hang them to the top piece (see middle picture in collage of melted beads above for a photo example).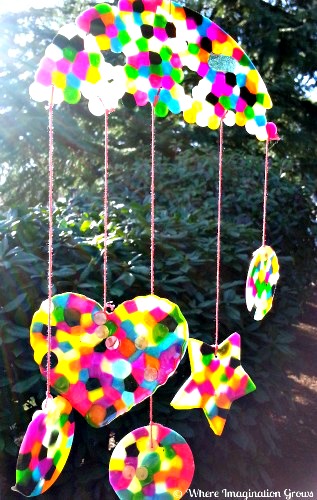 Want more bead crafts?  Check out our pony bead butterflies or our pony bead heart Suncatchers (no melting needed!)