My daughter and the daycare kids love the peg gnomes & fairies from our fall nature table so much that they end up staying out all year long.  They've been part of our calming sensory bin and our DIY felt play mats.
This time they got their own small world to live in!
Gnome & Fairy Garden: Small World Play for Kids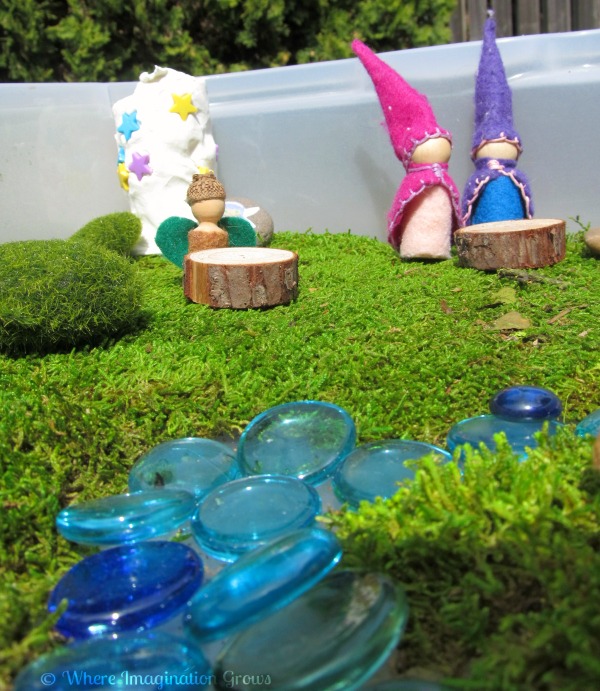 Post contains affiliate links for your convenience, see below or my disclosure for more info! Thank you! 
The gnome/fairy garden was very simple to put together and can be created using simple natural materials!
What we used in our fairy garden small world:
Glass Gems (Dollar Tree)
Rocks (Outside & Dollar Tree)
Moss (ours is from outside but I know they sell some for decorating at Walmart in the Floral dept)
Tree branch slices (I've seen craft versions of these at large craft stores)
Bushes (Dollar Tree floral area)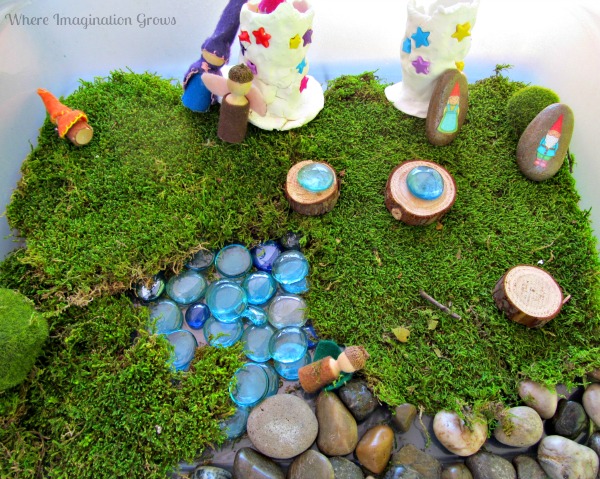 In addition to the peg gnomes and fairies that we already had on hand we made these simple DIY gnomes (& fairies too but not pictured) with rocks! Just print and cut out a clip art image then use some mod pogde to adhere them to the rock and you're done!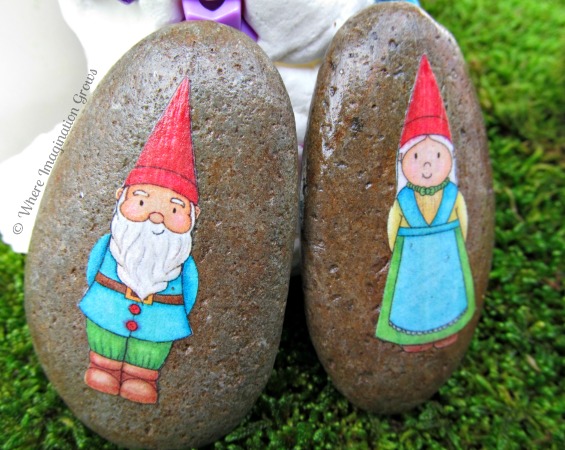 We also included the clay castles that the kids made a few weeks ago for the gnomes to live in! Can you see "Ms Pink" hiding in her castle? 😉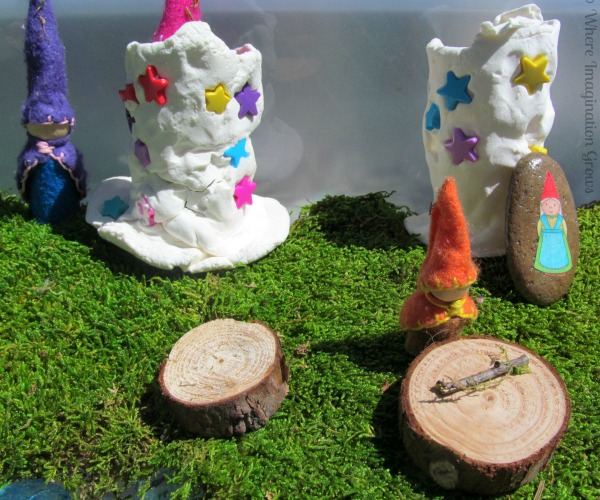 We've gotten hours of play out of this activity! The kids all loved this small world bin and they are constantly adding and removing things from the backyard to the garden.  We've had big branches for the gnomes to hide under, leaves/grass for the fairies to play in, flowers to make their yard pretty… and so much more! It's open-ended imaginative play!
Small world and pretend play activities are my favorite to observe because the stories and scenarios that come out of the imaginations of these little minds are amazing!
Stop by Pinterest and check out my Small World Play Board for more inspiration!!
Follow Where Imagination Grows's board Small World Play on Pinterest.