Are you a Peanuts fan? I loved Charlie Brown and Snoopy growing up, the holiday movies were classics in our home.  The Peanuts gang was part of our holiday traditions when I was growing up and now we've extended the tradition of watching the movies together to my daughter.  She loves them too!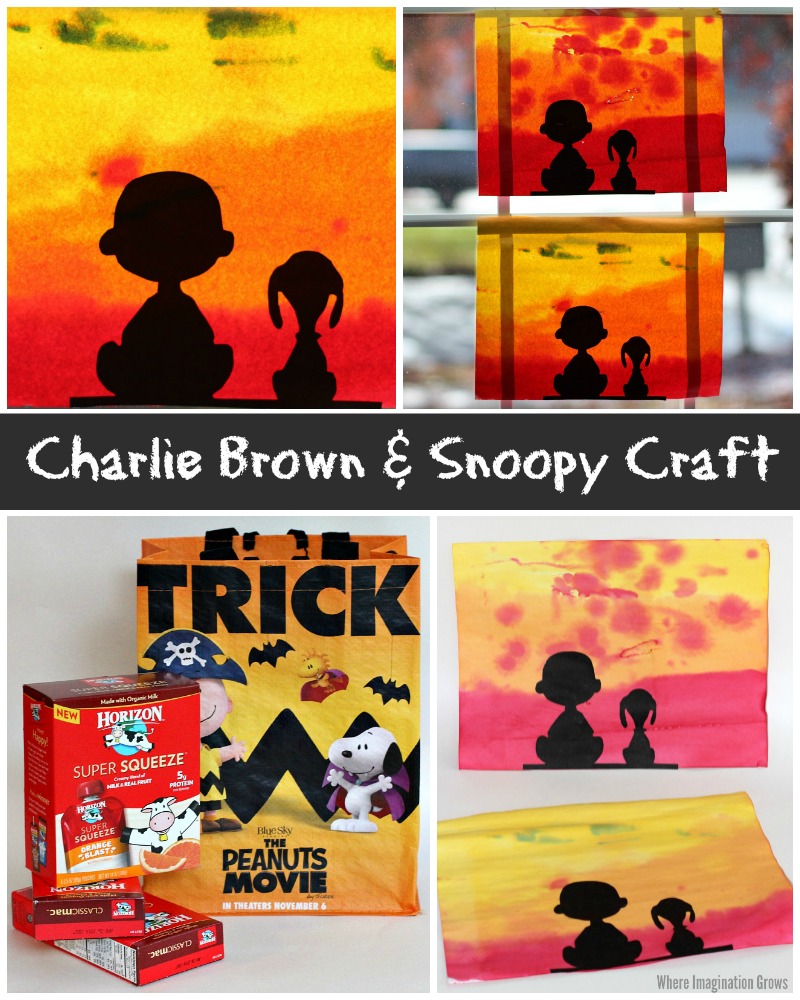 We got this super cute reusable Peanuts trick-or-treat bag from our local Safeway and it totally inspired us to make this fun kids craft! We were shopping for some snack supplies and my purchase of our favorite Horizon products got us this free trick-or-treat bag!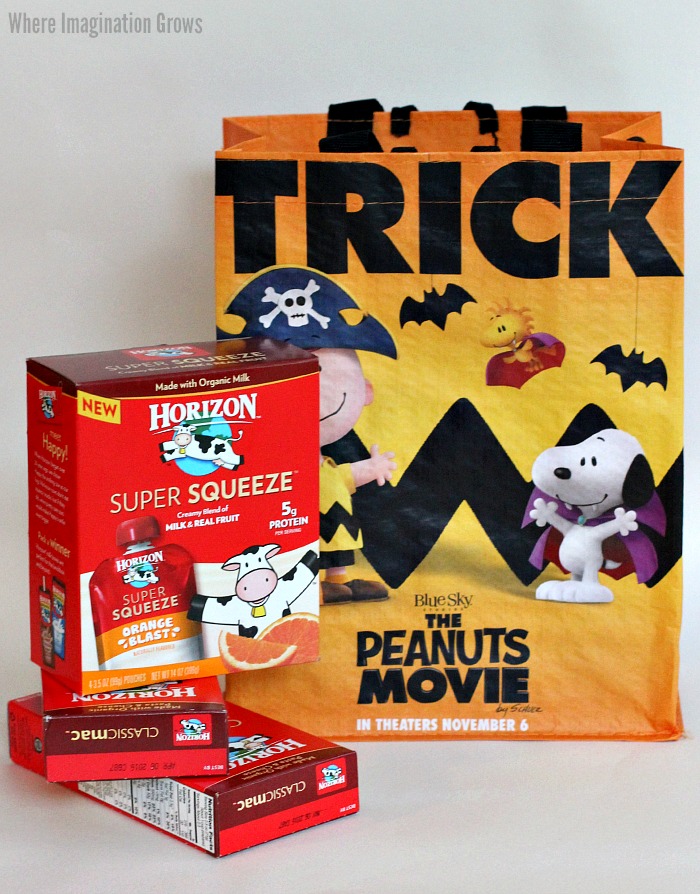 The Peanuts Movie trick-or-treat bags are available for free when you purchase three items from participating brands.  The best part is that they are all major brands that you most likely already have on your shopping list.  The participating brands are Horizon Organics, Coke (Honest and Pure Leaf), Nestle, Johnsonville, Ziploc, Johnson & Johnson, All, Tyson, Pop Secret, Snack Pack (ConAgra), DPSG, Red Baron's, Rich Products (sugar cookies and cakes in the deli), Bertolli/Ragu, and Kellogg's.  I'm excited to see The Peanuts Movie when it hits theaters November 6th!
Charlie Brown & Snoopy Watercolor Craft for Kids
Materials:
Liquid Watercolors
Paper
Glue
The girls first predicted what would happen in the middle where the red and yellow mixed and then we got busy testing their guesses and creating our masterpieces.  We used red and yellow liquid watercolors to create a sunset but you could use other colors too.
While they're art projects dried the kids decided it was snack time and we pulled out our favorite Horizon snacks (the items that go us our free bag too!), a Super Squeeze Pouch and Lowfat Chocolate Milk Box.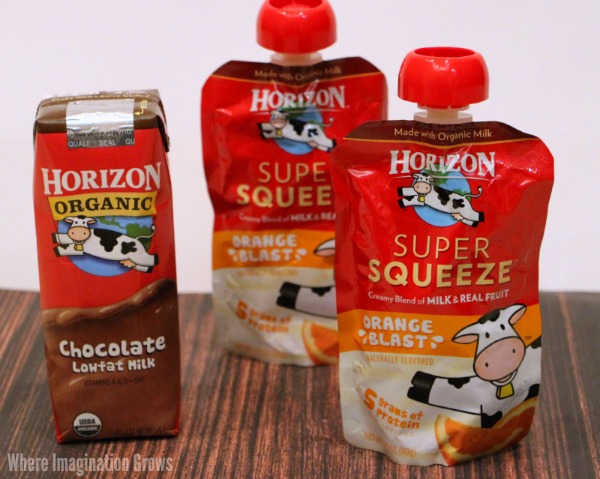 While the kids ate snack I printed and then cut out the Charlie Brown and Snoopy silhouette.  The kids used glue sticks to glue Charlie Brown and Snoopy onto their sunsets when they were dry.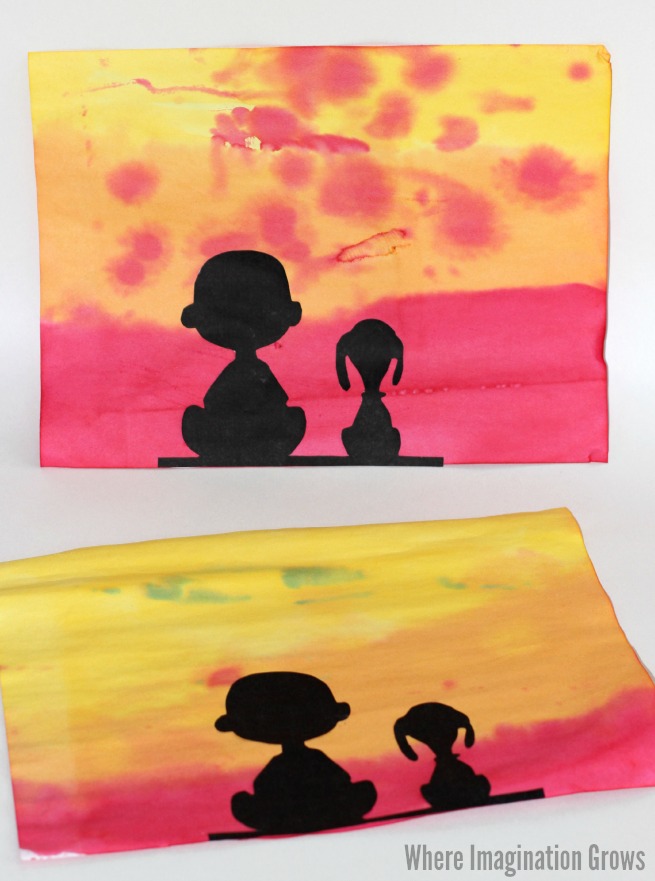 Now those best friends can enjoy the sunset together.  We hung ours in the window of our playroom and when the sun filters through it really makes the colors pop!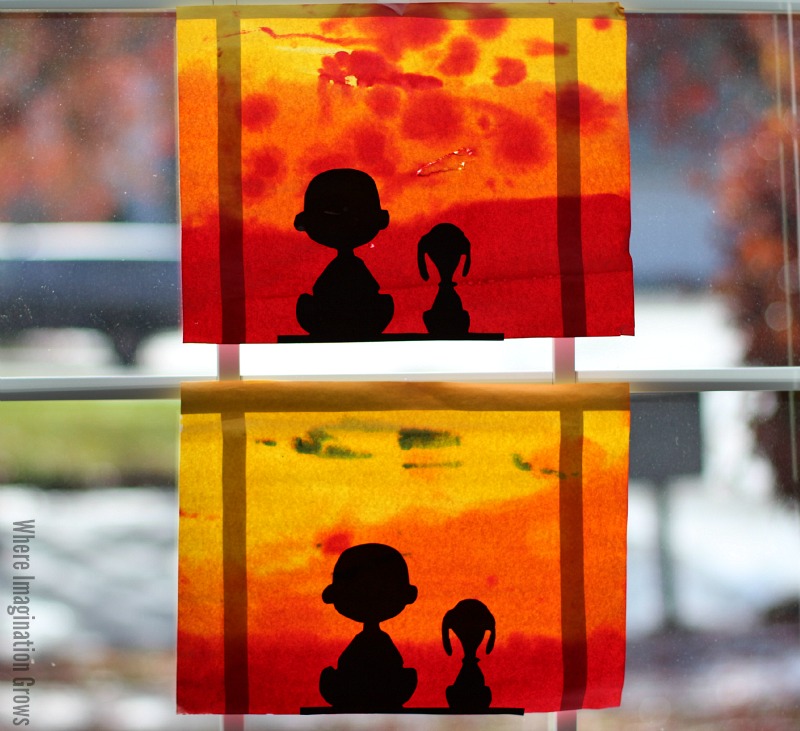 Stunning colors, right?
Don't forget to pick up your free trick-or-treat bag at Safeway while supplies last or to enter The Peanuts Movie sweepstakes for a chance to win a trip to Snoopy's home in California or a Peanuts themed X-box console and game by Activision!!
What's your favorite Peanuts movie?
This is a sponsored conversation written by me on behalf of Albertsons Safeway. The opinions and text are all mine.