We love discovery bottles but we really haven't made that many lately. Today, however, we were inspired to make a nature themed sensory bottle as part of this month's Discovery Bottles Blog Hop hosted by Preschool Inspirations.
Discovery bottles are simple sensory play activities for kids that are always a hit! Try one!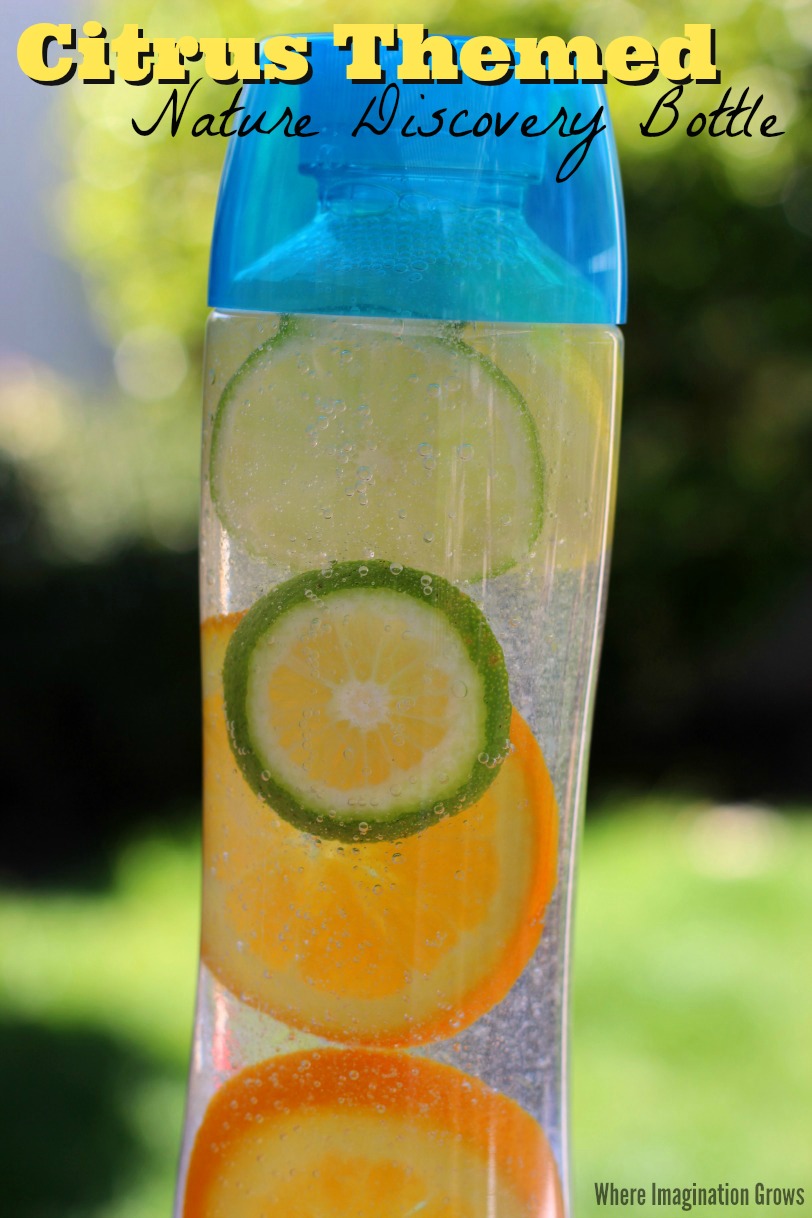 Post contains affiliate links for your convenience, see my disclosure for more info.
Citrus Themed Discovery Bottles for Kids
This sensory bottle was inspired by a fruit punch recipe that my daughter saw at a friends party. They had oranges floating in the fruit punch and my daughter was more interested in that than some of the activities going on at the party.
Materials used:
Plastic water bottle (we used Core Hydration ones but Voss bottles are also great)
Orange (sliced)
Lemon (sliced)
Lime (sliced)
Dish/hand Soap
Knife
We used simple dish soap for this activity but clear hand soap also works, in fact Softsoap brand is usually thicker so it would probably work best. I used dish soap because I've had this one in my cabinet for months, it needed to be used so in the discovery bottle it went.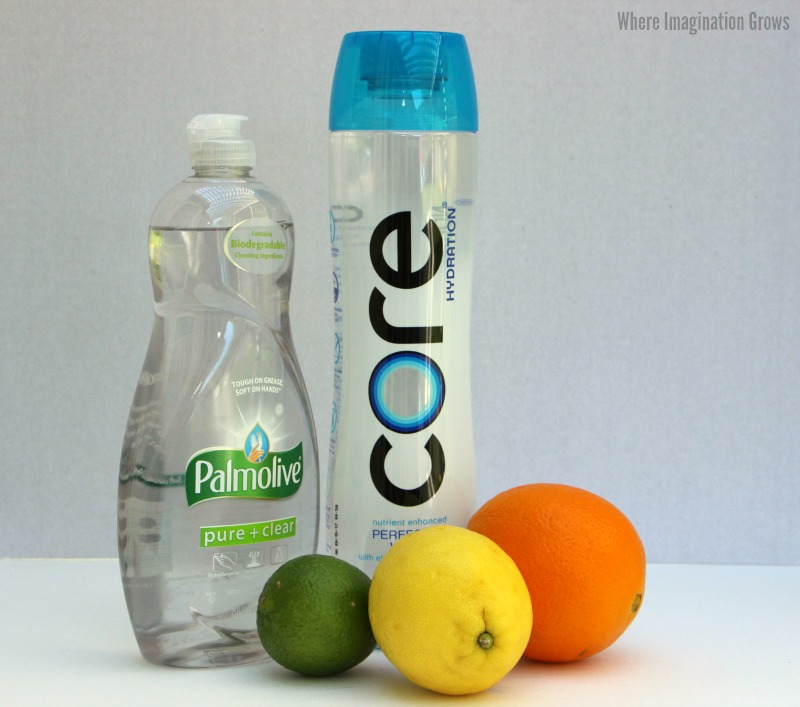 If you fill your bottle with dish soap before you add your slices of citrus make sure that you only fill it about 90% of the way. You don't want to end up with a big mess and if you fill your discovery bottles all the way and then add the fruit it's going to displace the soap and create a big mess. I usually put the items in my discovery bottles first and then add the soap.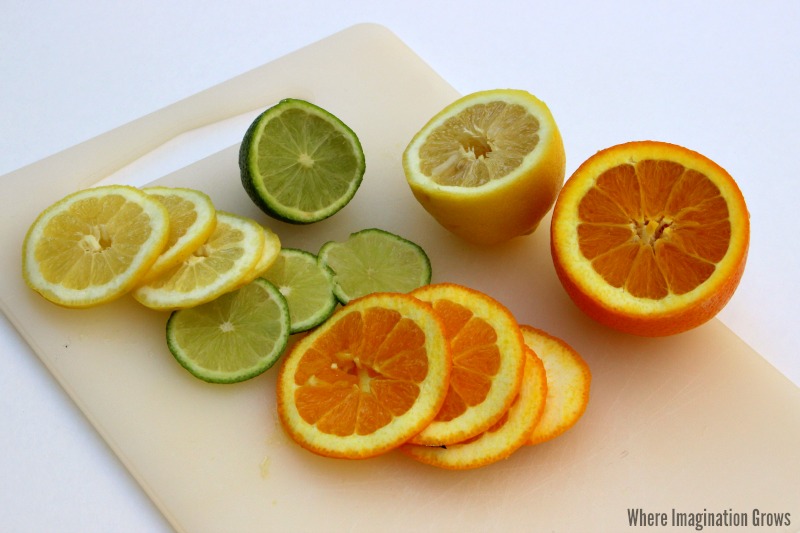 To add your citrus just cut a few slices of each. We used a lemon, lime, and orange for this nature themed discovery bottle.  I sliced them thin so that they would be easy for light to filter though.
When you fist add the soap it will have a bubbly or muddled look but that will settle after a bit of time. I usually keep a bit of water in mine because my kids like discovery bottles where the items move faster. The more soap you add (and the thicker it is) the slower your items fall.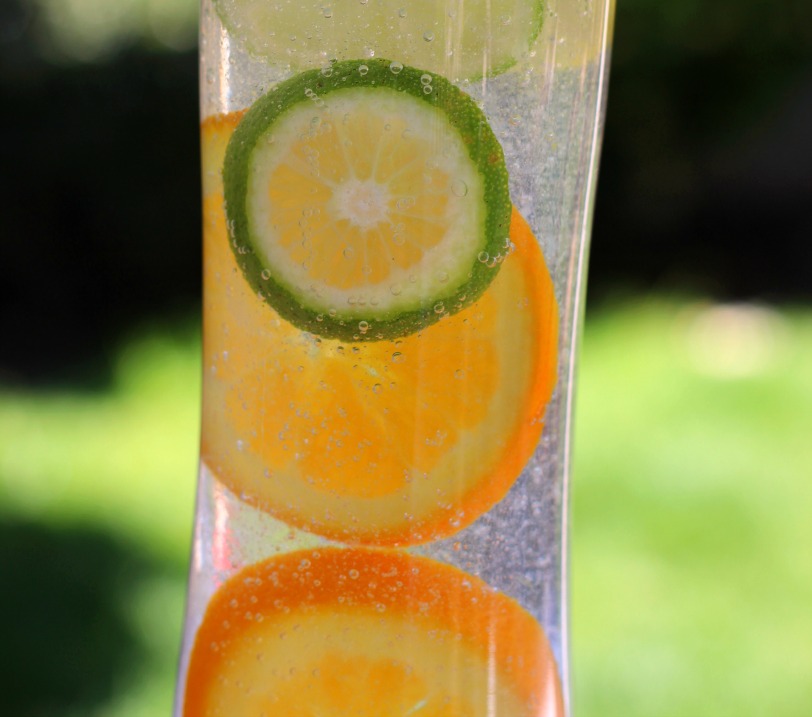 Secure the lid and you're done! When my kids were younger I would super glue (or hot glue) the lids on so there was no chance of them getting spilled. My group of daycare kids is all older preschoolers now and they know to leave the lid on so I generally don't glue them anymore. I just make sure that the lid is on tight and monitor the kids using them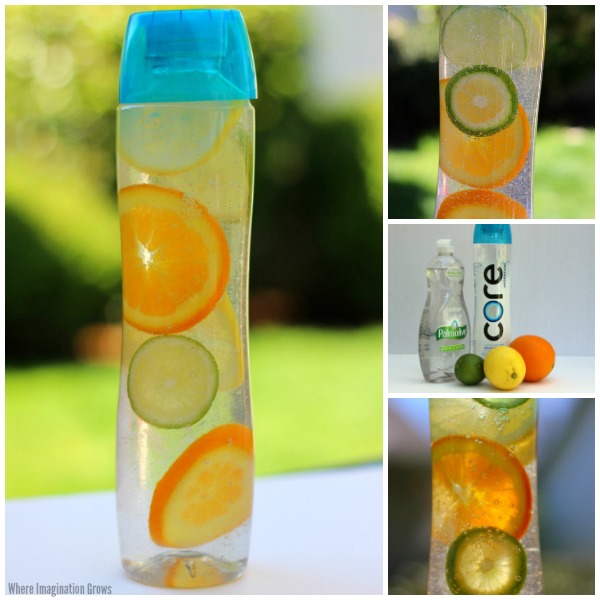 Beautiful isn't it? My kids all loved this nature themed sensory bottle! and best of all it got my daughter eating oranges again! She's had a texture issues with them for months but after playing with this she wanted her oranges sliced the same way and bam! She ate all the leftovers!
Looking for more nature themed discovery bottles? Try these:
Vegetable Garden Discovery Bottle | Sunny Day Family
Desert Flower Discovery Bottle | Preschool Inspirations
How to Make an Earthy Explorations Soil Discovery Bottle | One Time Through
Simple Spring Nature Sensory Bottles | Lemon Lime Adventures
Sea Shells Sensory Bottle | Rhythms of Play
Calming Nature Sensory Bottle | Sugar Aunts
Spring Backyard Nature Discovery Bottle | Little Bins for Little Hands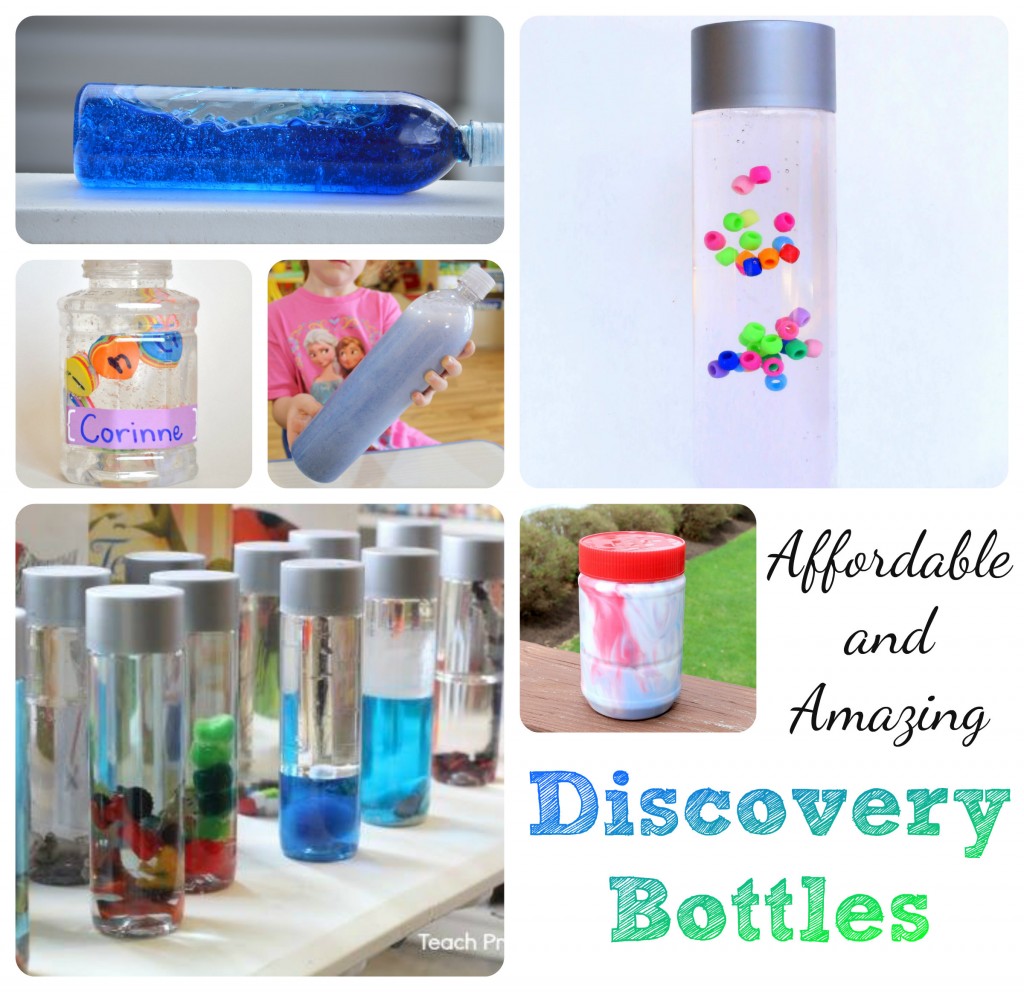 Looking for more crafts and activities? Check out our index for 100+ plus kids activities! Find activities by theme, materials, skills, age and much more!