Here's a hands-on color matching and counting game for toddlers and preschoolers. This simple activity is a great way for kids to learn about different shades of colors and do some counting!  Best of all it's super easy and affordable! Just grab a pack of clothespins and some paint samples. Creating learning activities doesn't have to be expense, this fugal color matching game is a perfect example of that!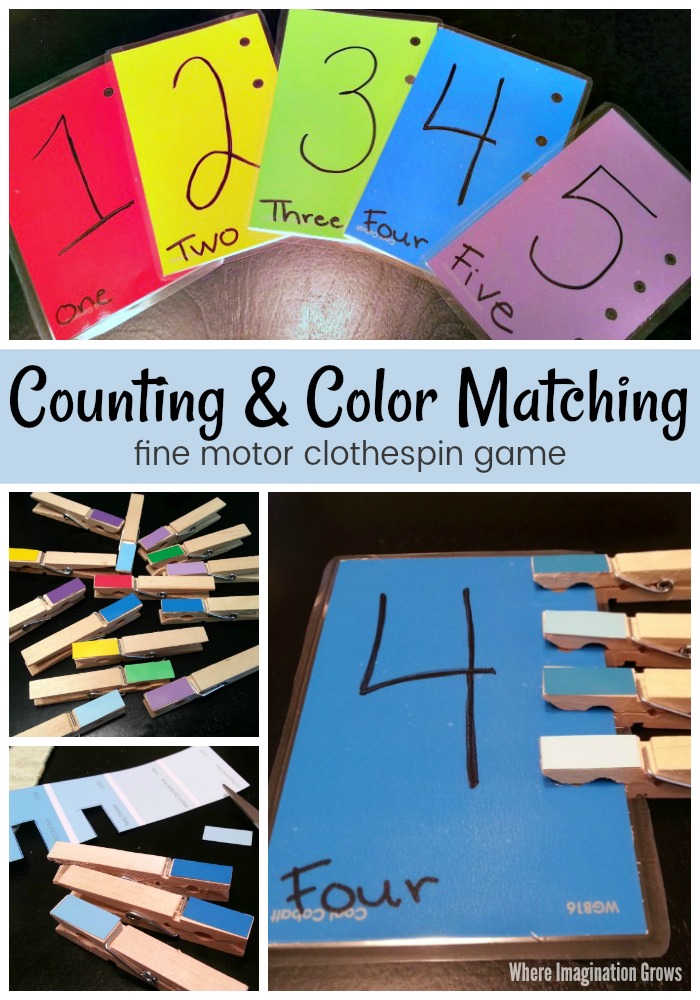 Post contains affiliate links for your convenience, see my disclosure 
This new color matching activity has been such a hit! I had all these supplies just sitting in my craft closet for months, Proof that if you stare at those supplies long enough some great ideas will come! If you want you can make this into two separate activities, one that focuses solely on counting practice and another that focuses on color using the clothespins. I chose to combine them so I had less supplies to store.
Clothespin Counting and Color Matching Game
Naptime has been rather short lately but I had plenty of time to get these together and set the invitation up. It really doesn't take that long to make these.
Materials Needed:
Color Samples (paint chips/swatches)

Multiple single color "large" ones in different colors and one multi-tone sample in each color of the large ones you have chosen. You can get these free at big box stores or home improvement stores.

Hole Punch
Marker
Laminator (not a necessity; I'm just a laminator junkie but it did make the cards firmer for the kids)
To put them together write a number on each large paint swatch. Use a hole punch to create the number of holes on the side that matches the number written on each card.  If you don't have a hole punch handy you can always draw dots with a marker instead. These will be the spots where your toddlers can match the colored clothespins and numbers to the cards.
I laminated the paint chips when I was done. We're focusing counting practice with numbers 1 thru 5 with my toddler group you can easily adapt this for higher numbers.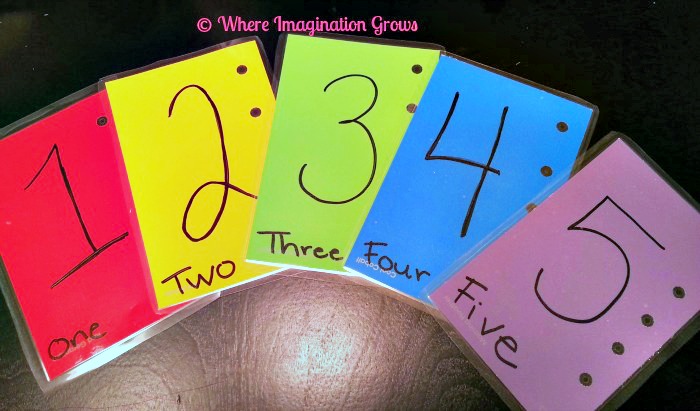 To make the clothespin color matching and counting clips you will need to cut small pieces from the matching colors that will fit onto the top of the clothespin. I chose to do a variance of hues because my daughter and daycare kids hve master their basic colors so we are introducing different shades now. Attach these cut out pieces with hot glue to the clothespin. Make enough clothes pins in each color to match the number on the corresponding paint chip.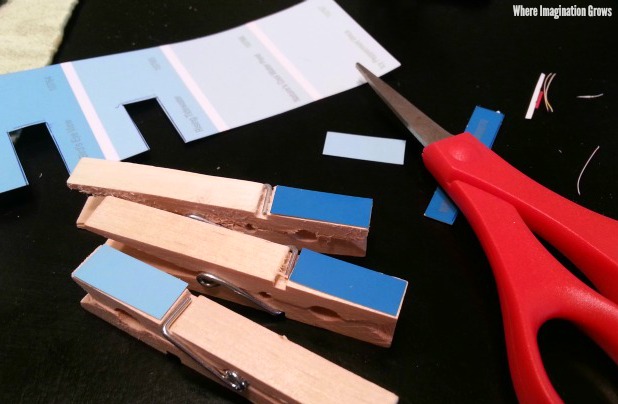 Your toddlers may need a bit of practice with the clothespins before they get the hang of it.  It's really great fine motor practice for them.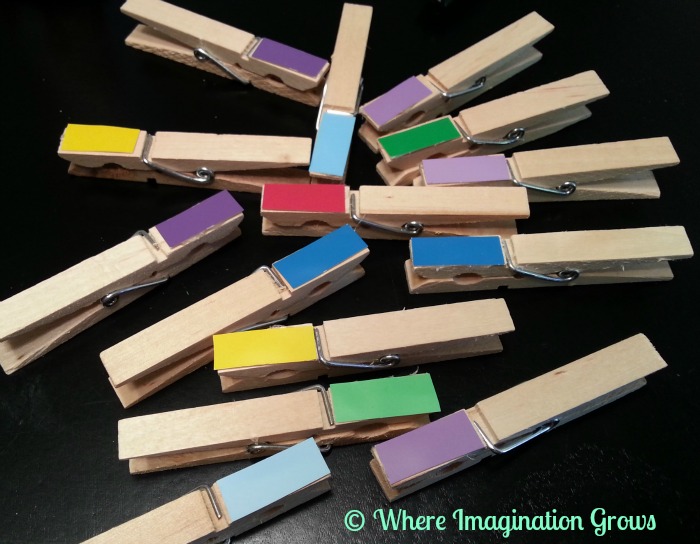 That's it! Now you can let children practice counting and do some color matching! This project took me about 15 minutes to put together (laminating took the longest) and so far the daycare kids and my daughter have been having a great time with it.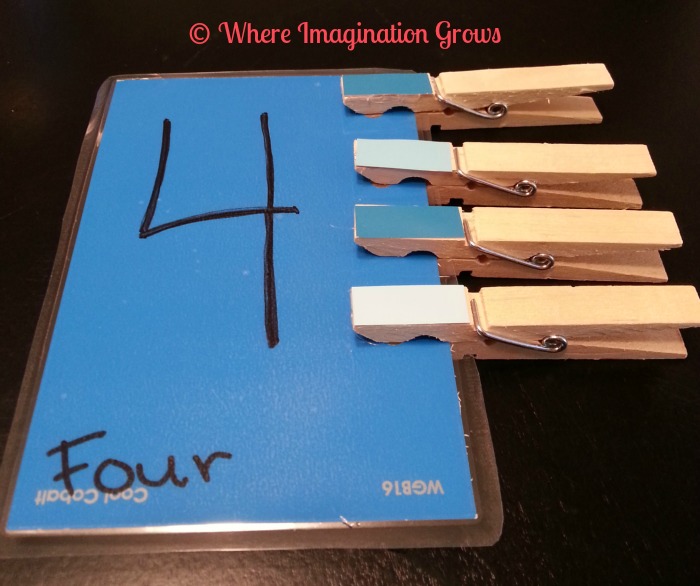 The girls enjoyed this and spend a lot of time matching colors and counting the numbers. I leave this out for them to play with as they want and each day it gets used several times.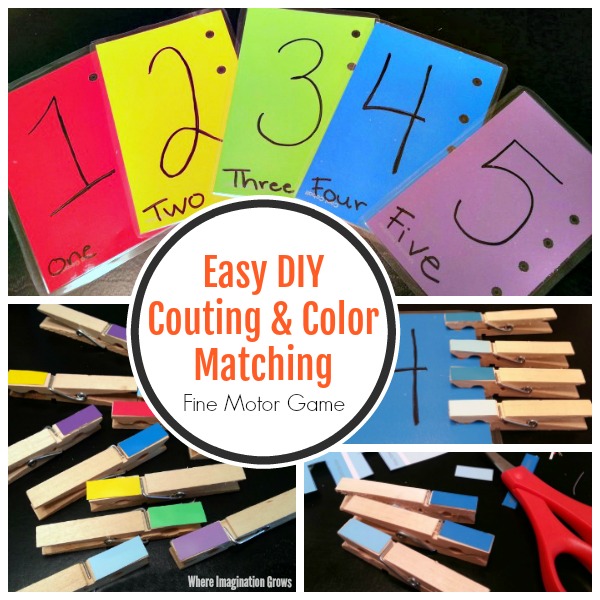 Need more learning activity ideas? Check out our counting with ping pong balls or our black light counting activity for some glow in the dark fun!
Looking for more crafts and activities? Check out our index for 100+ plus kids activities! Find activities by theme, materials, skills, age and much more!