Pony bead crafts have been high on our list of kids craft activities lately as the girls are really interested in using them.  After a wind storm left a bunch of down branches and sticks in our yard I decided to combine the two and let each of the girls make a stick wind chime.
DIY Stick Wind Chime Craft for Kids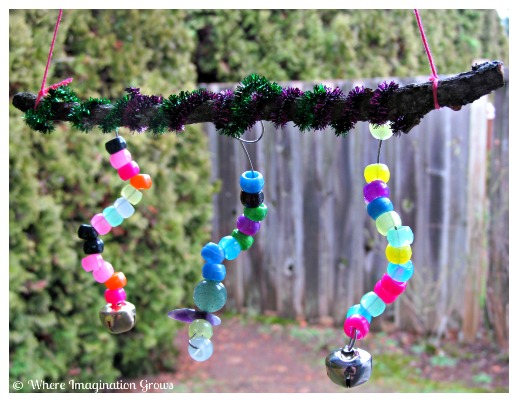 This post contains affiliate links for your convenience. See below or my disclosure to learn more.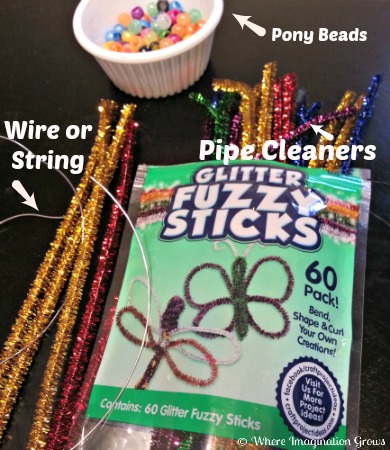 Items Needed:
-Sticks
–Pony Beads
–Pipe Cleaners (aka fuzzy/chenille sticks)
–Jingle Bells
-String or Beading Wire
(We received our Jingle Bells and Fuzzy Sticks for free from CraftsProjectIdeas.com)
To make the wind chimes we first wrapped the stick with our pipe cleaners.  You could also use string for this craft activity but MB and the other daycare kids are all 2-2.5 years old so we used the pipe cleaners because they are larger/thicker and easier for little hands to manipulate.
Next the girls threaded pony beads (and a few of our glass beads) onto some beading wire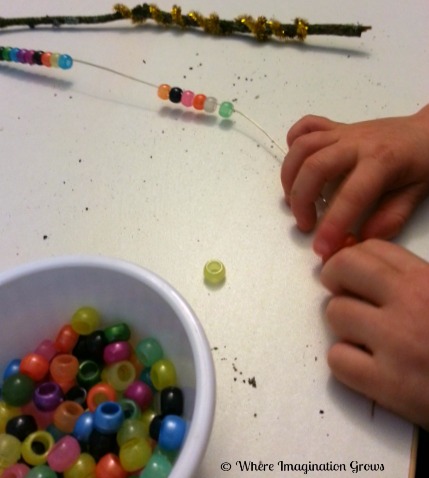 After they put the beads on I cut the beads wire into 3 pieces and attached it stick by looping it through the pipe cleaners or wrapping it around the stick (depending on the amount of wire left).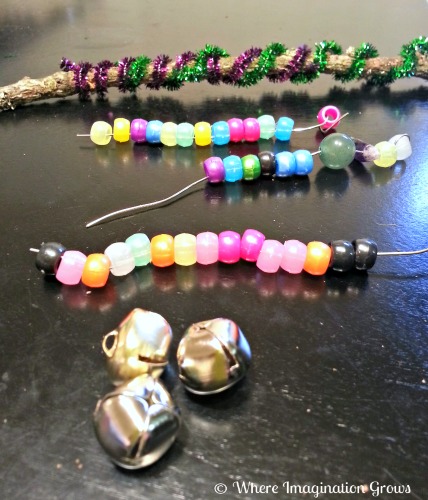 At the bottom of each strand the girls and I added a bell and then they were ready to be hung outside! I can't wait for the rain to go away and the sun to come out so we can enjoy them in the sun!