Are you ready for a super cute new book? Duck and Hippo in the Rainstorm is the newest addition to our library and it's so adorable! These two little friends (well, one's not so little) are off on a rainy day walk filled with adventure, teamwork, and a little bit of suspense! What will happen?! You better check it out!
Don't forget to enter the giveaway (<–Sorry, it's over!) and grab the free downloadable activity sheets below!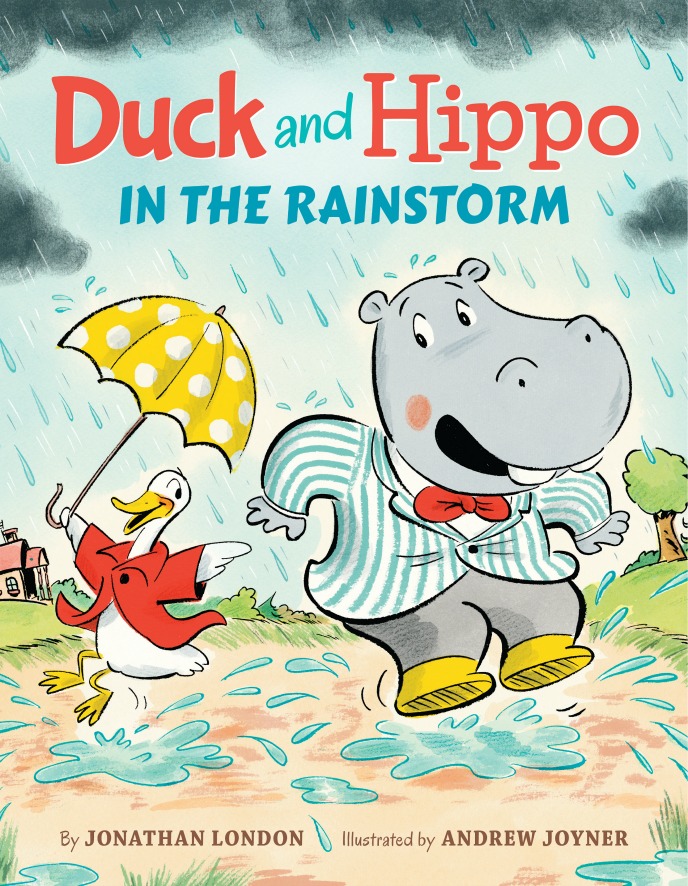 Post contains affiliate links for your convenience. See full disclosure policy here.
Duck and Hippo in the Rainstorm Review
Duck and Hippo in the Rainstorm by Jonathan London, illustrated by Andrew Joyner, is an adorable spring book about two unlikely friends that set off on a day of fun in the rain. Things don't go as planned and challenges must be overcome! Can they do it? How will they do it?
Here's the synopsis from the book cover:
Duck and Hippo may be completely different, but they are best friends. When playful Duck invites careful Hippo to go for a walk in the rain, they have trouble sharing Duck's umbrella. But Duck and Hippo won't let that stop them. Soon they are puddle-jumping and sailing down the river! Until…WHOOOSH! A terrible wind sends the umbrella flying up, up, up into the air, with one friend holding on. What will Duck and Hippo do now? Jonathan London's charming text and Andrew Joyner's delightful art bring to life two lovable friends in this fun new series.
This is the perfect spring book! Duck and Hippo are a great pair and my kids eat up the story. They think the challenges the duo runs into (and their solutions) are so funny. A duck standing on a hippo's toes?! Hilarious to my preschoolers! And near the end when that pesky umbrella takes off with one of the two friends my kids were anxious to get to the next page and see what happens.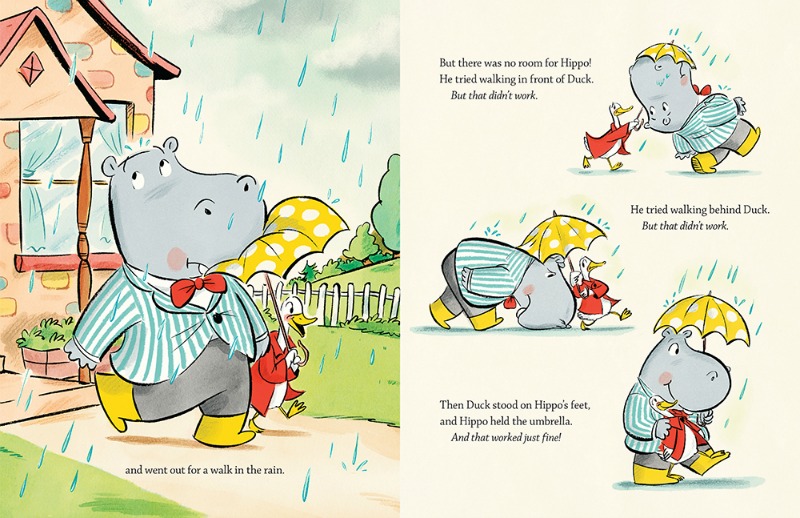 I love the illustrations! The way Duck and Hippo are dressed (so cute!) and the coloring of the images reminds me of books from when I was a kid. It has that classic book feel parents will be drawn in by but yet it's bursting with color and fun images that children can't get enough of.
My daughter loves the images of Duck and Hippo. She's always pointing out how Duck or Hippo's facial expressions change with ever new misstep or adventure- "Wow, Hippo looks so surprised there!" It's great to find a book that is not only really fun (and funny) to read with children but that also has illustrations that tell the story perfectly too. My daughter is an emerging reader, so she can pick up words here and there, but she often 'reads' this to her younger daycare friends by following the illustrations.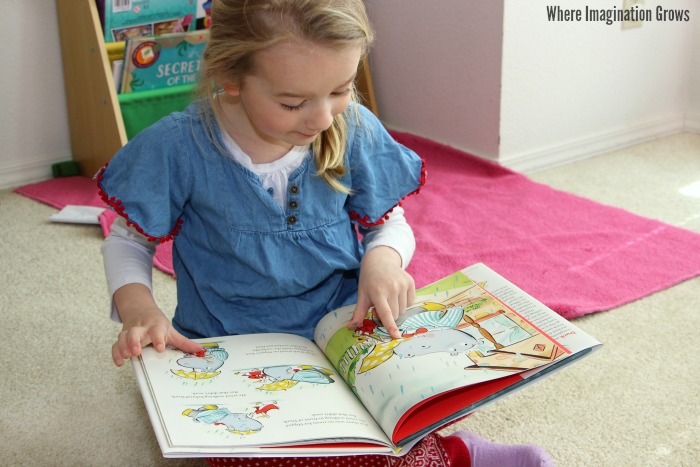 I think this book, and the others that will follow, have the potential to be a standout series that children ages 3 to 7 will love for years. I highly recommend you add it to your home library. We will be looking forward to the next book in this series!
> Buy your copy of Duck and Hippo in the Rainstorm today! <
About the Author:
Jonathan London is the author of more than one hundred children's books, including the bestselling Froggy series, illustrated by Frank Remkiewicz. Many of his books explore nature, among them Flamingo Sunset, illustrated by Kristina Rodanas, and Little Penguin: The Emperor of Antarctica, illustrated by Julie Olson. He is currently writing a middle-grade series, which started with Desolation Canyon, illustrated by his son Sean London. Jonathan lives in Graton, California. Learn more online at www.jonathan-london.net.
About the Illustrator:
Andrew Joyner is an illustrator, author, and cartoonist based in South Australia. He has illustrated a number of picture books, and he wrote and illustrated a chapter book series about a warthog named Boris. He has also illustrated for newspapers and magazines, including the Wall Street Journal, Reader's Digest, and Rolling Stone magazine, among others. Learn more online at www.andrewjoyner.com.au.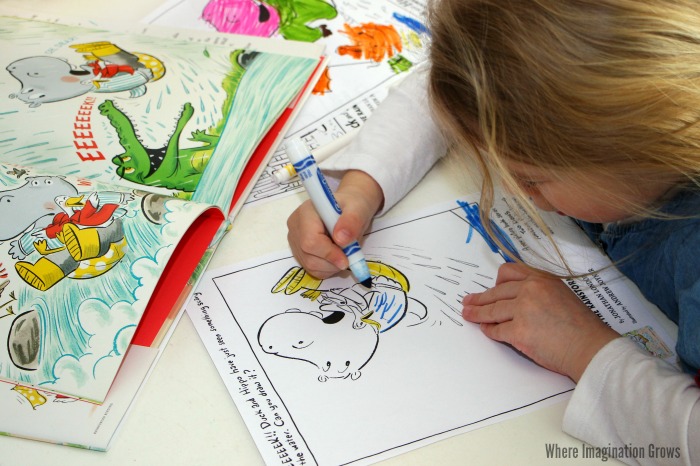 We downloaded the activity sheets from Andrew Joyner's website (link below) and had a ball with them after we read the book. They drew their own pictures of Duck and Hippo on adventures and really enjoyed the coloring pages.
>> Free activity sheets: https://www.andrewjoyner.com.au/activities/ <<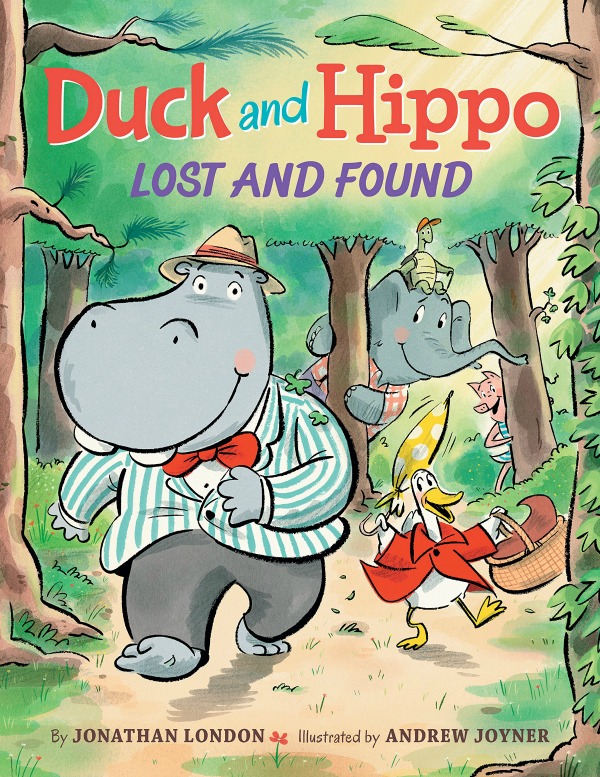 Don't forget to check out the next book in the series, Duck and Hippo Lost & Found when it is released this summer! Pre-order now so you don't forget! My daughter can't wait for Duck and Hippo's forest adventure!
Ready for the giveaway? Click below to enter for a chance to win: (Giveaway over)
Looking for more crafts and activities? Check out our index for 100+ plus kids activities! Find activities by theme, materials, skills, age and much more!
*I received a complimentary copy of this book to review. All thoughts and opinions are 100% my own. See full disclosure policy here.