Looking for fall books for toddlers? Check out our list below!
Fall is one of my favorite seasons and every year I pull out our favorite fall themed books.  I'm always adding new books to our collection but there are some books (new and old) that seem to stand out above the rest. Books that I had to buy because even at the library they were always checked out or on hold. Below you will find our favorite fall books for toddlers (and preschoolers too!).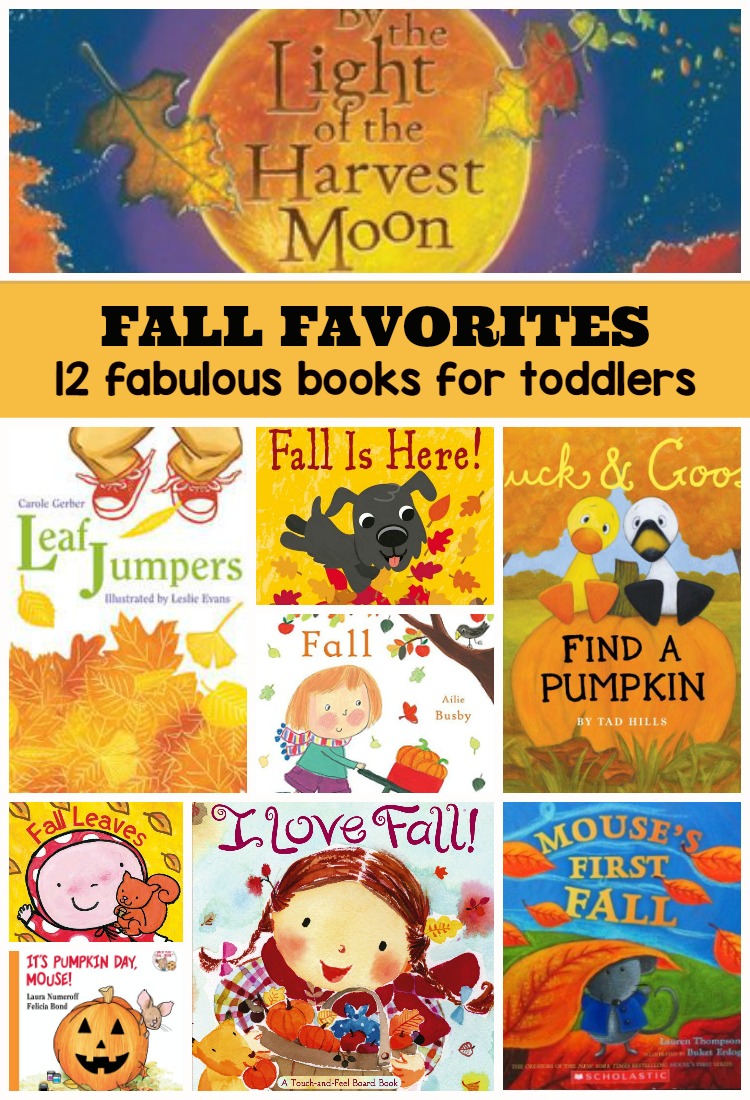 Affiliate links provided for your convenience, see my disclosure for more info.
12 Fabulous Fall Books For Toddlers
If you don't see your favorite book listed here then make sure you tell us about it in the comments! There are so many fall books for toddlers it's impossible to find all the great ones. Tell us yours!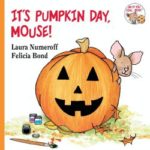 It's Pumpkin Day, Mouse! by Laura Numeroff.  Join Mouse as he decorates pumpkins with different facial expressions! This simple book is so fun for little ones. This was my daughters absolute favorite book for all of fall.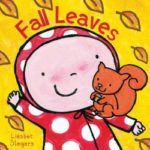 Fall Leaves by Liesbet Slegers. Observing squirrels gathering nuts, dodging falling leaves, or splashing in puddles, children will delight in the vivid images while they learn about the world around them on an autumn adventure.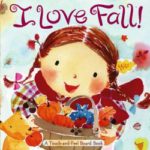 I Love Fall (Touch and Feel) by Alison Inches. From woolly scarves and plump orange pumpkins to crunchy leaves and smooth wicker baskets, readers will delight in all the different textures fall has to offer.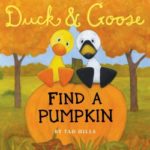 Duck and Goose Find a Pumpkin by Tad Hills.  Join Duck and Goose as they search for a pumpkin! Kids love these books and the series is very popular. We have several but this fall one is my favorite to read with the kids!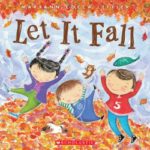 Let It Fall by Maryann Cocca-Leffler. The leaves turn red, brown, and orange, then drift down from the trees. It is time to go apple picking and on hayrides at the county fair. Fall is finally here!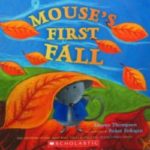 Mouse's First Fall by Lauren Thompson. One cool day Mouse and Minka venture out to play. From leaves of all colors — red, yellow, orange, and brown — to leaves of all shapes and sizes — from pointy to round — Mouse learns that fall is a season full of fun!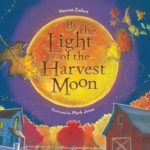 In the Light of the Harvest Moon by Harriet Ziefert. Sweet, whimsical story of "leaf people" who appear under the full harvest moon to celebrate. (I LOVE the illustrations in this book!)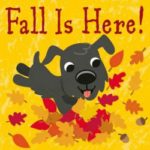 Fall Is Here by Frankie Jones. This is such a fun and colorful book that toddlers love. The illustrations are bright and bold and the text is a short but perfect for young kids. It introduces kids to all the things that make fall special, from pies and cozy hats to scarecrows and costumes!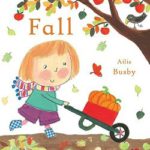 Fall (Seasons) by Ailie Busby. An adorable book that describes the changes in the world around us that happen in fall. The colorful pictures keep kids engaged while they read about finding acorns, picking blackberries, jumping in mud, exploring leaves, and more.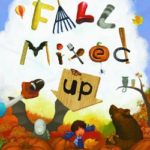 Fall Mixed up by Bob Raczka. Funny fall book with great illustrations! The younger kids will enjoy the story and illustrations and older children will have lots of fun figuring out all the mixed up activities!
I See Fall by Charles Ghigna. Rhyming text and warm colorful images are what makes this book stand out. The story follows children through typical fall activities, like a walking in the woods surrounded by fall leaves and ending with eating a Thanksgiving dinner. It shares all joys of fall with toddlers.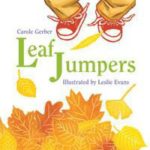 Leaf Jumpers by Carole Gerber. Celebrates the beauty of autumn leaves and finds fun was to distinguish the different characteristics of different leaves! Great book to explore the leaves in your yard!
I know there are many more great fall books out there but the ones above are always in demand with my daycare kids and my daughter. They are truly great books! Add them to your collection today. One can never have too many books, right?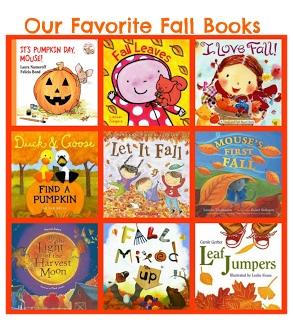 What are your favorite ones?
Looking for more crafts and activities? Check out our index for 100+ plus kids activities! Find activities by theme, materials, skills, age and much more!