Stressed out about terminating care for one of your daycare clients? Terming a client can be one of the hardest and most stressful parts of the running a home daycare. No provider wants to have to term a family but there comes a time in every provider's career where it is an unfortunate necessary.
Whether you are terminating car of a problem family or terming due to changes in how you run your business, there are a few things about terminating care every daycare provider should know. Below you will find my tips for client termination, feel free to add yours in the comment section!
Terminating Care for Home Daycare Providers
No matter how you approach a termination you can be sure that the parents will be upset. Whether it be sadness or anger, you will get some sort of emotional response from them.
Before you term, make sure you are doing these things:
Document everything
Communicate issues with parents
Give warnings
Terminations that seem to come out of nowhere are usually met with more anger and frustration. Especially if it is a family that you are having issue with. This is why it's so important that you are communicating with your clients. Don't ignore issues until they are out of control.
Less is more.
The biggest thing to remember is to keep it short. You don't need a novel about why the child doesn't fit with your program, what the parents did that upset you, or why you have to change your program.  The longer you make termination letters the more opportunities there are for issues to arise. Never use another family as an excuse or say negative things. Keep it simple and to the point.
"This letter serves as written two weeks notice of termination of child care services currently provided. The last date I will provide care for (child) is (date) and your remaining balance is for this last two weeks of care is (amount owed). Please see me or refer to your contract if you have any questions. I have included the number to the local Child Care Resource and Referral if you should need assistance in finding new arrangements. I have enjoyed caring for (child) and I wish your family the best!"
As daycare providers we tend to get invested in our families and think that we owe them a thorough explanation. However, that is not correct. Really a termination notice should be only a handful of sentences that informs the parents of their last day of care and if any deposit is applied or balances owed. You don't owe them an explanation. If you've been communicating with parents about issues then they should be aware of why they are getting terminated. Obviously if there is a pressing issue, like non-payment or gross misconduct by a parent, you can list the issue but generally it's best to just list the terms of the termination and nothing more.
Put it in writing.
Termination of care should always be given to the parent in writing. Even if you plan to tell them verbally.  Not only are you ending a contract (you should always have a signed daycare contract before providing care) but written notice provides you with a paper trail for your records.  It also is a place to spell out what's required of the parent. Truthfully, parents can get very upset when you terminate care and when people are upset they are not always able to digest what is being said. It's easy for a client to claim you never told them their remaining balance or last day to pick up personal belongings when you only communicate with them verbally. If you have it in writing it's much harder for them to claim ignorance.
While some terminations are planned beforehand there may be moments when you need to terminate care for a family on the spot. If this happens, I immediately send them a termination notice via email. This way I have a written paper trail and parents have a hard copy to read through when they have calmed down.
I know a lot of providers prefer to do terminations via email rather than hand it directly to a client in person. They choose to email the notice during the middle of the day or evening hours. I understand that it is less stressful for some providers but in my experience I've found I get more problems that way. I do email the notice to parents but usually only after I've talked to them. My policy is that I hand them the notice, give them a quick rundown, and then ask that they sign the form. Once they've signed it I email them over a copy for their records. In the event that they refuse to sign, I simply email them a copy so that I have documentation of the situation and a paper trail.
Here's an example of how I bring it up it to parents:
"I'm sorry to have to bring bad news to you today but I've made some changes to my program which means that I'm unfortunately I'm not going to be able to continue caring for (child) after (date).  I have the details here for you in this notice, please sign the bottom of the notice and return to me. I have another copy for your records. This change is unfortunately non-negotiable but feel free to email me if you have any questions later."
Stay firm when terminating care.
I think the hardest part for providers is the face-to-face moment when you have to deliver the news or hand the parent the notice. It's imperative that you stick to your plan. Don't back down or let parents try to talk you out if it. If you are at the point of putting time and effort into drafting a letter of termination then you are more than done with that client.
Be prepared for parents to threaten to pull immediately or to not pay. This is very common in situations where you have been having issues with a family. I simply remind parents of the contract terms and offer to schedule another time to discuss when they have calmed down.
I won't lie, it can be very hard to terminate a client. Especially when you are just starting out.  However, don't let that prevent you from getting rid of a family that doesn't fit with your program. If you hang on to families that don't fit you will end up stressed out and suffering from daycare provider burnout as a result. This is your business, you can run it how you want and you don't owe anything to anyone but yourself and your family.
Contact licensing after terminating care.
This is a must if you've let a problem family go. As sad is it makes me to say this, there are many parents that will retaliate and try to cause issue for the provider. The best preemptive step you can take it to document everything and notify your licensor immediately. Literally as they pull out of the drive way you should be talking to your licensor.
Sample termination letters starts.
These are sample termination letters that people have submitted to me for review or that I have gotten from other providers over the years. They may cover different situations and give you an idea of how to approach termination letters.
"This notice is to inform you that  child care services will be terminated in two weeks because at this time I am unable to continue offering child care services for your family. Your child's last day of care will be (date). Your remaining balance for the last two weeks of care is (amount) and is due on (date)."
"This is written notice of my intent to discontinue our child care services agreement.  At this time I am unable to provide (child) with the level of care he needs. The last day I will be able to provide care is (date). Thank you for allowing me to get to know your child and I wish you all the best."
"I have enjoyed caring for (child) and getting to know your family but unfortunately at this time I am unable to continue providing child care services after (date).  You're remaining balance is (amount) and is due on (date). I wish your family the best!
"Due to [communication issues, unpaid child care fees, outstanding late fees] child care services are terminated effective immediately. Please understand this was a business decision and not personal in any way. Please make arrangements to pick up (child)'s belongings no later than (date)."
Make sure your include how any deposits paid will be applied or list what their remaining balance is. If they owe you money you can quote your contract about late fee and unpaid balance collection. I also always add the phone number to the local Child Care Resource and Referral network to aid them in their search.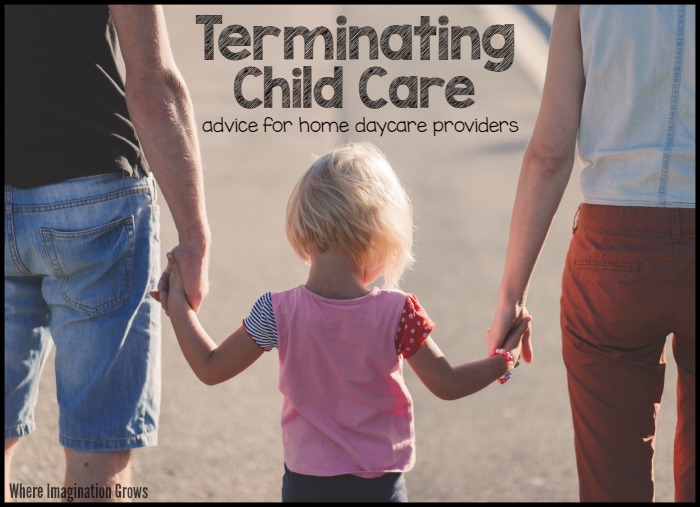 Terminating care is not easy but it is a necessary part of this career. With a little preparation and confidence you can do it. Just remember you are doing what's best for you and your program. It's a business decision and you have the right to make them as you see fit for your own business. Good luck!
How do you handling terminating care?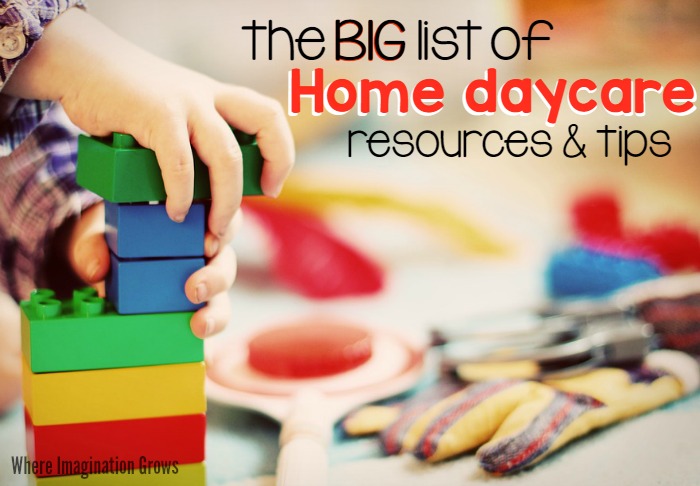 Interested in learning more? Check out my tips for interviewing clients and tips on creating a contract.  Doing home daycare and feeling stressed? Try my tips for avoiding getting burnt out or click the image above for more daycare advice and tips