This shop has been compensated by Collective Bias, Inc. and its advertiser. All opinions are mine alone. #CraftedExperience #CollectiveBias
It's time for kid friendly bathroom hacks & tips!
Running a home daycare means that I have to take a critical look at my house and make numerous modifications to make the environment kid-friendly.  One room that definitely needs to be made kid friendly is the bathroom!
One thing you don't want when running a daycare (or if you have a large family) with lots of young children is a bathroom that sets children up for failure because bathroom mishaps are messy and lets be honest, a bit gross.
Ready to make your bathroom kid friendly?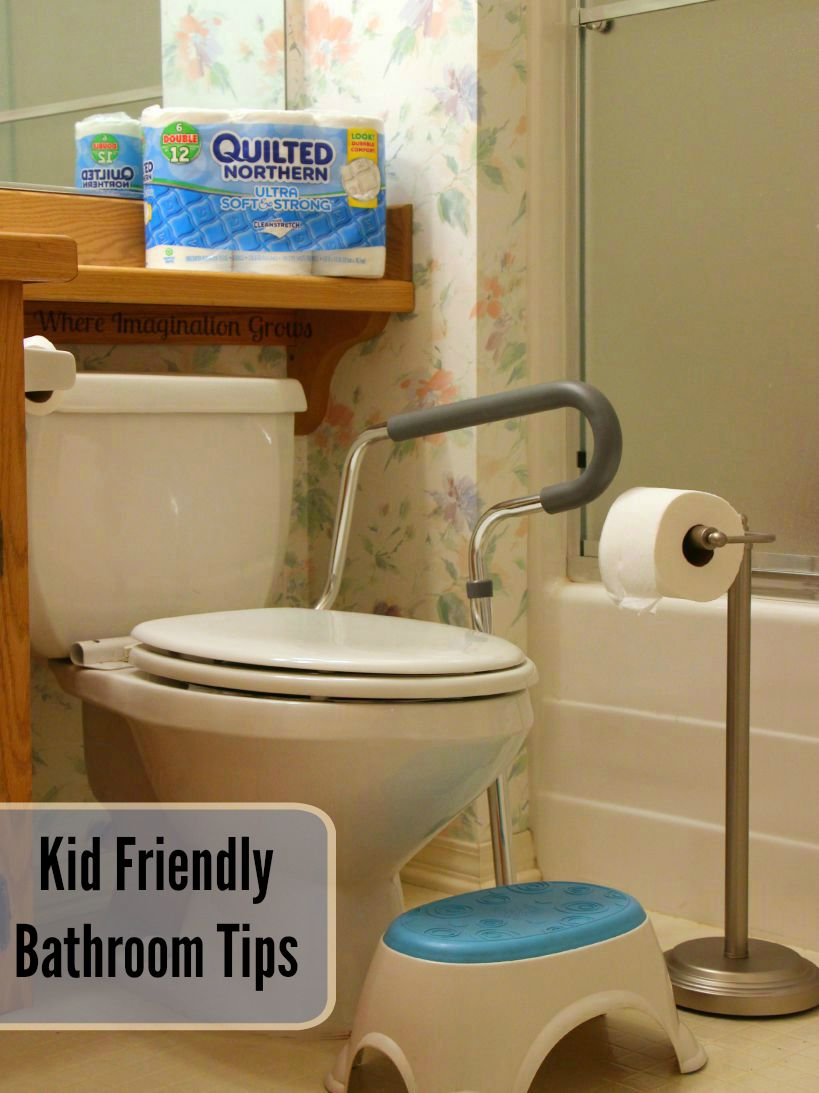 Affiliate links provided for your convenience, please my disclosure for more info.
Kid-Friendly Bathroom Hacks
Toilet:  I recommend using a child sized built-in toilet seat or using toilet safety rails, I don't use small plastic toilets because with so many young children running around I don't have time to wash them over and over.  I found a set of safety rails at an estate sale (I paid $3 for them) and they are super easy to install. I only use one side for the kids and they easily unhook if we have guests over. They have been so awesome for the kids, even my littlest daycare child can get herself on and off the toilet using the safety rail.
Toilet Paper: I use a freestanding toilet paper holder so that I can position the toilet paper where the kids can easily access it. This make it easier for them to reach from the toilet. Our regular toilet paper holder is set back a little too far so the stand makes it mush easier for them to be successful.
Pay attention to the quality of toilet paper. Honestly I never really cared about this until I had a house full of kids, now I make sure to buy quality toilet paper that is strong and flexible.  It takes practice for young children to be successful at wiping themselves and you want a toilet paper that isn't going to rip and leave kids with dirty hands. I buy Quilted Northern Ultra Soft & Strong® with Cleanstretch because it has a unique construction that limits tissue ripping and separation. It is designed to be strong, flexible and soft for overall durable comfort. It gives the kids confidence that they are clean and it is also safe for sewer and septic tanks. I buy it at Walmart, in the tissue/paper goods section.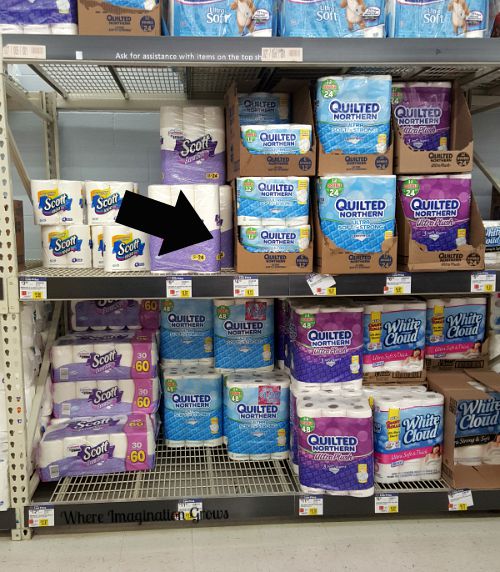 Step Stools:  Buy step stools that allow children to use the toilet and wash their hands successfully.  In my house we have to have two diffident stools, a smaller one for the toilet and a larger one so the kids can reach the faucet.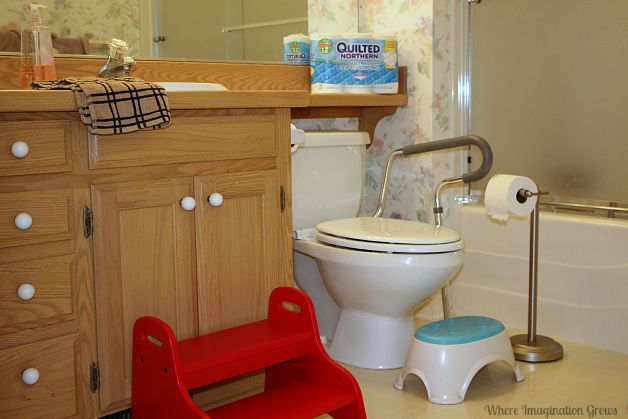 Safety: If you are storing any kind of chemicals or cleaning materials in your bathroom make sure the you install child locks on cabinets and drawers.  Don't forget outlet covers!
Towel Racks: Wherever possible lower towel racks or place hooks at a child's level so they can hang their own towels and/or use them for drying wet hands.  I use these IKEA Krokig wall hooks in the bathroom so that my daughter can reach and hang towels on her own.
 Ready for more bathroom hacks?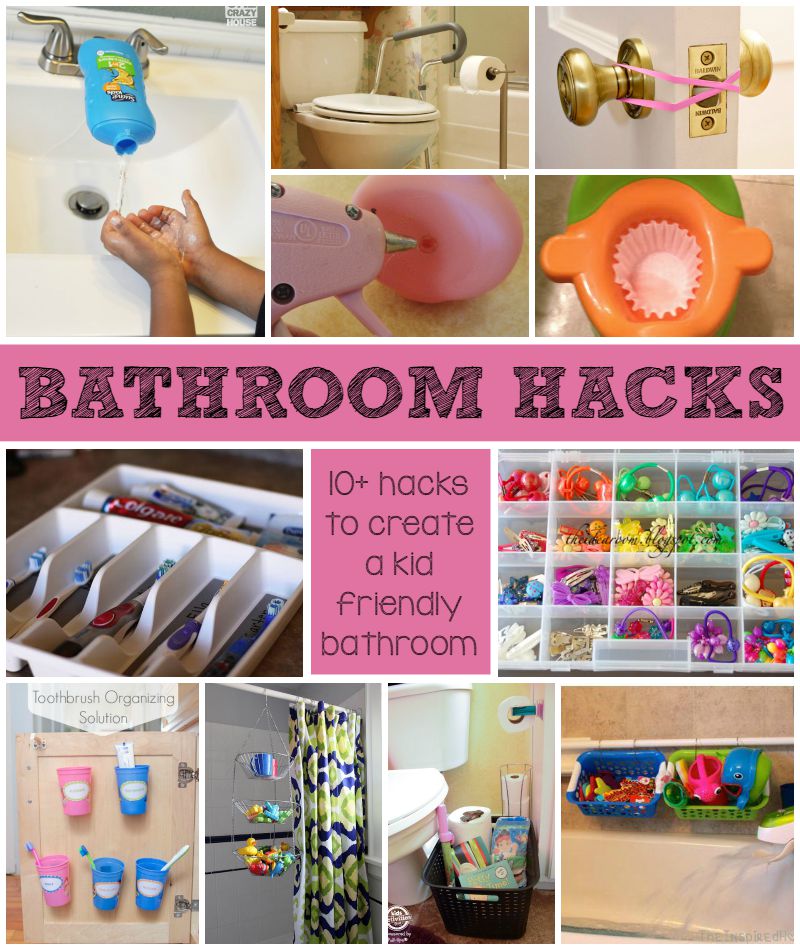 -Stop kids from using to much toilet paper with this toilet paper sign from The Virtuous Wife.
-Kids struggling to reach the sink? Try this DIY faucet extension hack from One Crazy House.
-Prevent kids from locking the bathroom door with this hack from Goodhousekeeping.
-We Love Being Moms can help you keep bath toys clean and stop mold from building up inside with this hack.
-Dirty potty chair? Mama Frankenstein shares her coffee filter tip that makes cleaning them a breeze.
-Little Penelope Lane created a simple hack to organize your toothbrushes in a drawer.
-The Idea Room has a brilliant idea to keep all those hair accessories organized and in one place.
-Organize and hide all your toothbrushes with this hack from Musings From a Stay At Home Mom
-Re-purpose a fruit basket into a bath toy holder like this one at 8footsix.
-Keep potty training essentials close bay with bathroom essentials caddy from Kids Activities Blog.
-Organize your child's bath toys with this easy dollar store hack from The Inspired Home.
How do you make your bathroom experience for kids easier? Are you Team Under or Team Over for how your toilet paper roll is positioned?
Looking for more crafts and activities? Check out our index for 100+ plus kids activities! Find activities by theme, materials, skills, age and much more!