This week is our last week as part if the Poppins Book Nook and our theme was "Poetry."  It took some digging but we found a great book of poetry that was perfect for my preschoolers and that fun book of poetry for kids inspired this silly monster craft!
Monster Craft Based on Book of Poetry for Kids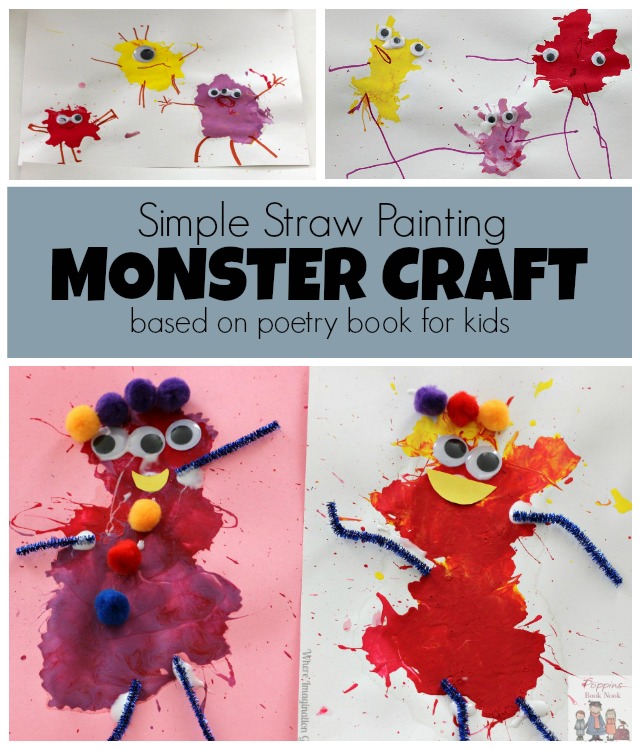 Post contains affiliate links for your convenience, see my disclosure for more info. Thank you!
When I first tried to think of books about poetry for kids for this month's book club I could only think of books that were for older kids.  Ones that my preschoolers most likely would not be very interested in, but after some searching through our library we discovered this awesome poetry book for preschoolers that features monsters!! Perfect for my monster obsessed preschoolers!
Monster Poems for Monstrous Kids by Melinda Kinsman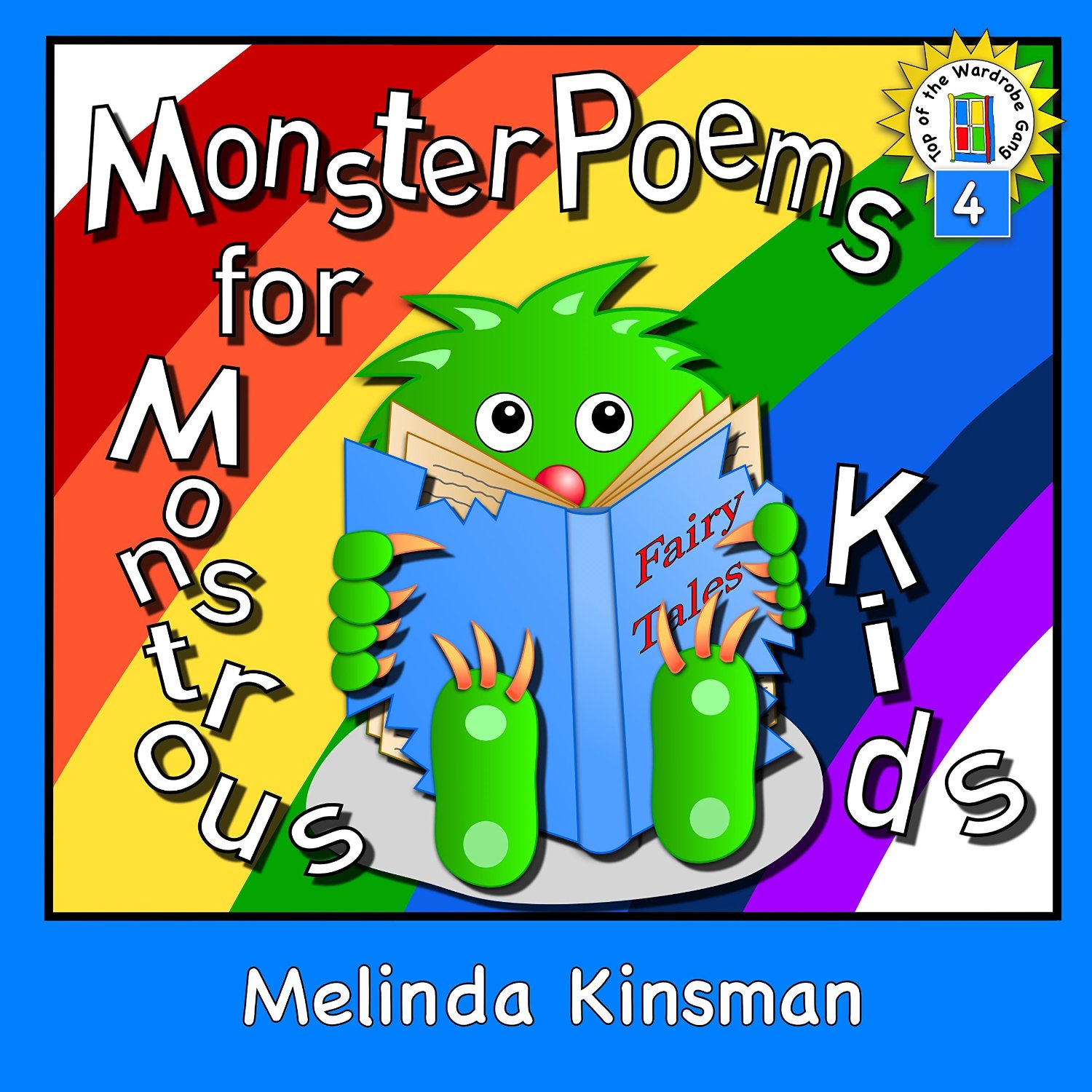 The poems were fun and short so they kept the girls engaged.  The illustrations are cute and brightly colored. We read it over and over so it's definitely a book I'd recommend!
Silly Monster Craft for Kids
This monster craft is super simple!  My girls loved making our lion craft using straws so I've been looking for activities that would let them try blow painting again and this was the perfect craft to do it with!
Materials needed for Monster Craft:
Straws
Any other random art supplies you have on hand
My daughter and the daycare kids picked out what colors they wanted then we squeezed some paint onto the paper and the setup was complete! They grabbed their straws and started blowing the paint across their paper!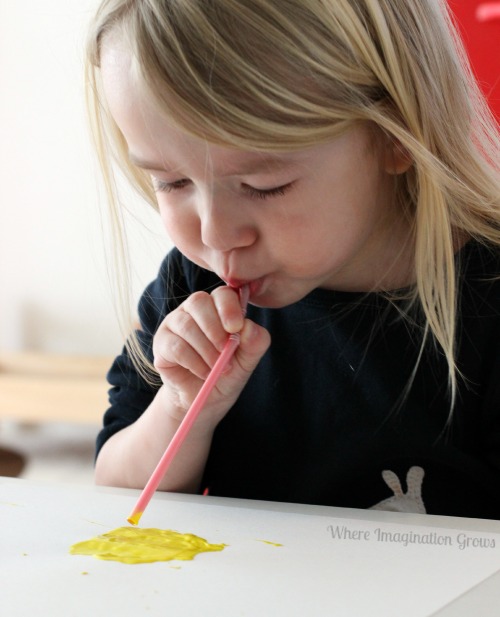 My older preschoolers know not to suck the paint back up the straw but if you have smaller kids you can try this idea from Twodaloo to prevent them sucking the paint into their mouths or make sure you are close by.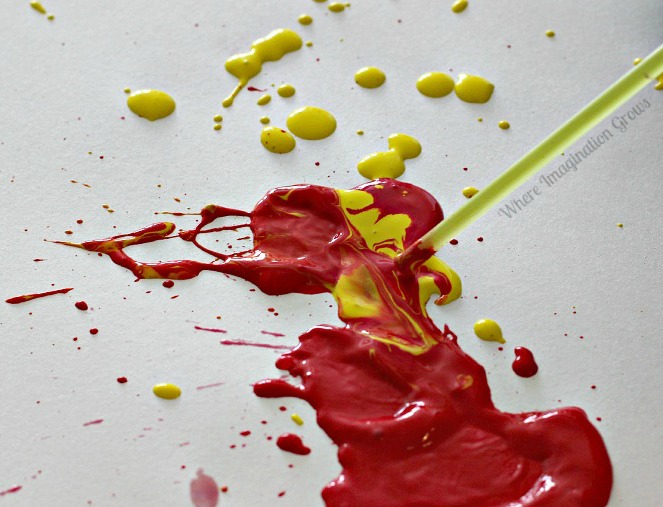 Some of the kids decided to make several small monster prints while two of the kids decided to make one big monster blob.  After they dried we got out some pompoms, pipe cleaners, and googly eyes.  They used the art supplies to create their silly monsters.
Some decorated their monsters with the art supplies and others just wanted to use the markers and eyes.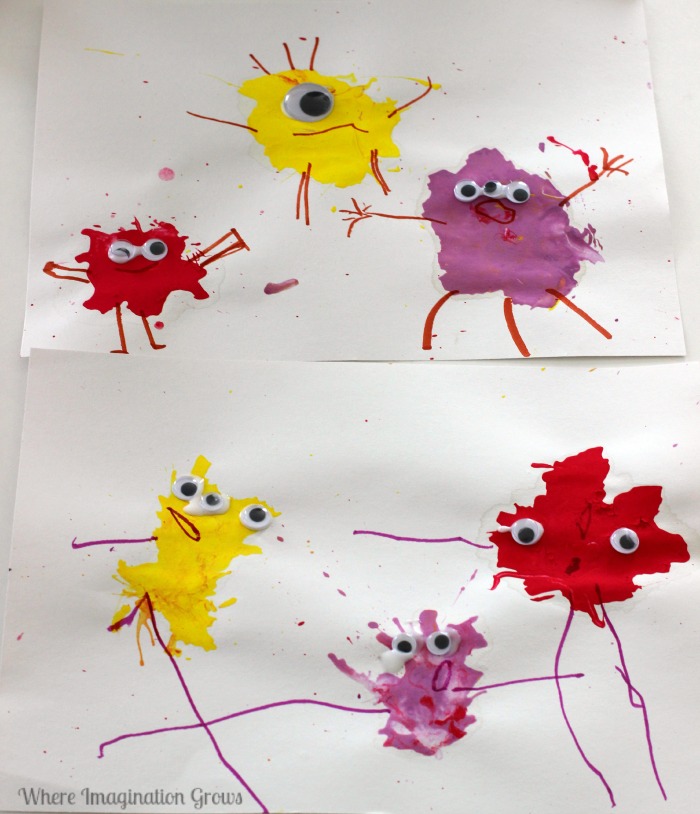 Too cute right? Follow the links to find more crafts or to see the rest of our book related learning activities!
Now lets explore poetry for kids with these fun activities from other bloggers in this series:

Loading InLinkz ...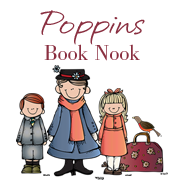 The bloggers of the Poppins Book Nook:
Enchanted Homeschooling Mom ~ 3 Dinosaurs ~ To the Moon and Back ~ Planet Smarty Pants ~ Farm Fresh Adventures ~ Growing in God's Grace ~ Chestnut Grove Academy ~Learning and Growing the Piwi Way ~ The Usual Mayhem~ Preschool Powol Packets ~Monsters Ed Homeschool Academy ~ Adventures in Mommydom ~Teach Beside Me ~ Life with Moore Babies ~ Kathy's Cluttered Mind ~ Are We There Yet? ~ Our Crafts N Things~Hopkins Homeschool ~ ABC Creative Learning ~ Joy Focused Learning ~ P is for Preschooler ~ My Bright Firefly ~A Mommy's Adventures ~ Inspiring 2 New Hampshire Children ~ World for Learning ~ Ever After in the Woods ~Golden Grasses ~A glimpse of our life ~ Journey to Excellence ~ Happy Little Homemaker ~ Little Homeschool Blessings ~Raventhreads ~ Tots and Me ~ As We Walk Along The Road ~ Stir the Wonder ~For This Season ~Where Imagination Grows ~ The Canadian Homeschooler ~ School Time Snippets ~ Peakle Pie ~ A Moment in our World ~ Every Bed of Roses ~ Finchnwren ~ At Home Where Life Happens ~ The Library Adventure ~ Embracing Destiny ~ Day by Day in our World ~ Our Homeschool Studio ~ A "Peace" of Mind ~ Thou Shall Not Whine ~ SAHM I am  ~ Simple Living Mama