Pumpkins are my favorite symbol of fall so what's better than turning them into a fall sensory bin.
After a recent trip to the pumpkin patch (well three pumpkin patches to be exact) we ended up with a pile of pumpkins and gourds. We plan to find fun ways to explore and learn with pumpkins in the upcoming days but most of them are covered in dirt and even some bugs! So today when the sky cleared and the sun came out we decided to have a pumpkin washing party! It's the perfect fall sensory bin!
 Pumpkin Washing Fall Sensory Bin for Kids
This is one of those super simple sensory bins. You really need nothing other than a few things from your kitchen!
Materials:
Bucket or large plastic bin
Dish soap
Cups and shovels
Sponges & scrub brushes
We filled our sensory bin container with water and added some soap. That's all it takes and you are ready to start washing some pumpkins.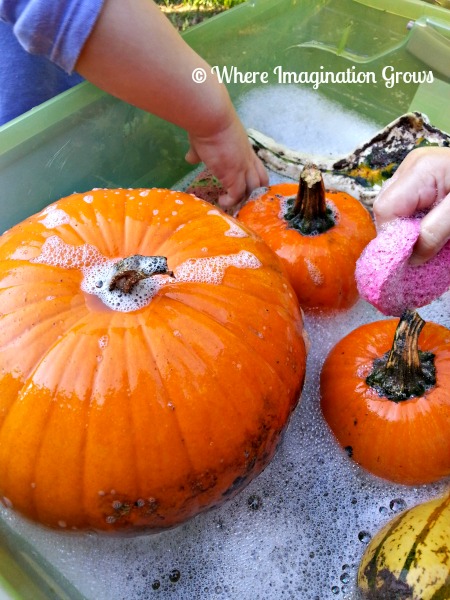 I had two of these pumpkin washing sensory bins going at once so that all the kids where able to do it together. It was definitely the most popular activity of the day. Make sure that you have a variety of sized pumpkins and gourds. The same goes for cups and bowls. Kids love transferring water and pouring from cup to cup so this fall sensory bin is also great for hand-eye coordination.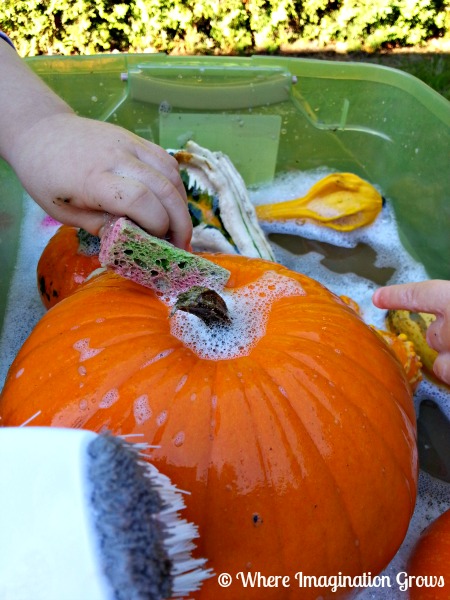 My crew of toddlers and preschoolers loved this! They were seriously into this.
They spent a long time washing all the pumpkins, trading pumpkins from bucket to bucket, and even rolling them in dirt so they could re-clean them.  After all the pumpkins were clean the kids had a great time making "pumpkin soup" from the water.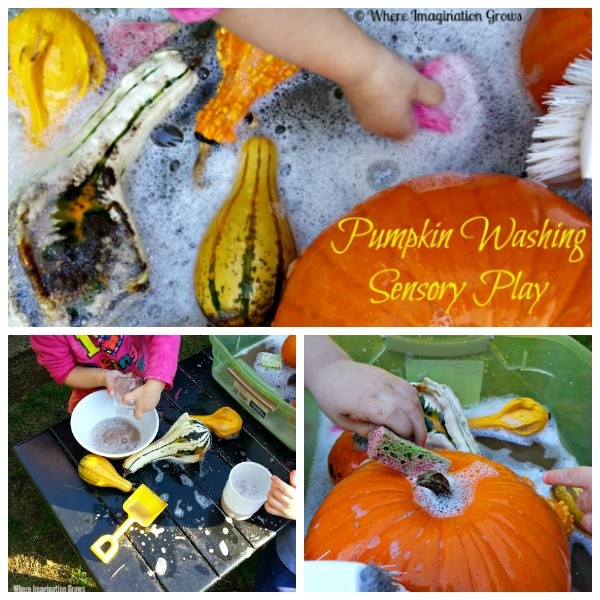 Looking for more crafts and activities? Check out our index for 100+ plus kids activities! Find activities by theme, materials, skills, age and much more!