Considering both
the pros and cons of starting a home daycare
before you commit to this career is highly recommended. Starting a
in-home daycare
can be an exciting and life changing event. It can help your family financially and give you more time with your children. While there are many benefits of doing home daycare there are also
many stressful aspects
that people don't always think about before jumping into this career. It can be stressful and overwhelming but if you have thought about the both positive and negative sides, and have a plan of action for them, you are more likely to turn it into a lasting career.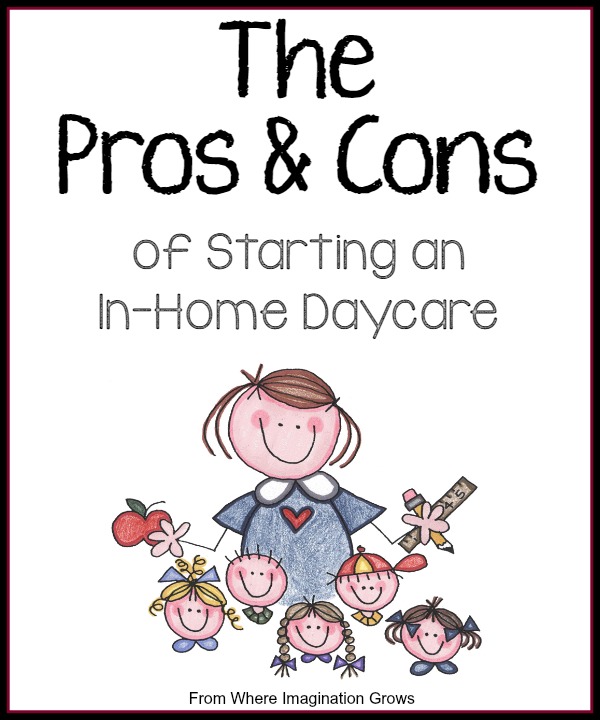 The Pros and Cons of Starting a Home Daycare
Everyone has their own reasons for considering home daycare.  This is my list of the pros and cons of starting a home daycare that I put together from my own experience and conversations with fellow providers.  I'm sure there are things that could be added or may not apply in every situation.
Pros:
You get to be the one with your child(ren) all day instead of them being in childcare
You get to be there for those special "firsts" and everyday events in your child's life that you may otherwise miss
You receive payment and an income to support your family
You don't have to pay childcare expenses
You get to be your own boss
You can dress how you want
You can set how much you want to make
You are in charge of your own hours
You get to plan how your days will go and what your schedule will be
You can save gas by not driving to work everyday
Your child gains socialization that comes with childcare
You get to spend everyday doing something you enjoy
You form close bonds with the children and families in your care
You get to watch the children in your care grow and learn
You get to enjoy fun activities with the children
You get to write off many household items and expenses (including your rent/mortgage & heating costs) as business expenses
Cons:
You may feel you clean all day long, everyday
You need to be very organized (things like receipts, mileage, income, attendance, hours, after hours work, food costs and more all need to be tracked)
You have no co-workers to talk with during the day, in most cases providers work alone
You may feel that you have very little "adult" time, especially with little ones of your own
Your home, furniture, and toys will be subjected to wear and tear from the children
You and/or your children may get sick more often, more kids mean more germs
Occasionally you will have to deal with late payments or late pick ups
Your home may feel more like "work" than a place to relax at times
You are the one who will be handling difficult situations, there is no manager to defer to
Your entire family will be affected by the daycare
Your hours may be long (daycare parents may work 8 hours, but remember they have lunch hours and commuting time so realistically you may be watching a child for 10 hours a day)
Some children are very difficult or do not adjust to daycare well
Your children will not get your full, undivided attention
You may be stuck at home all day depending on amount and ages of children
Daycare clients come and go due to their personal situations, there is never a guarantee that the families you have now (no matter how great they are or how much they like you) will be with you in six months
I'm sure there are many things you could add to each category!
It is important to think about how it will affect the other members of your household: your children, husband or significant other, and even pets. This is one of the things I was most unprepared for, I didn't realize how much it affects everyone else too!
Husbands and Significant Others:
Is your husband on board with your decision?
Is he ok with a portion of your home used for daycare?
Will he be home during daycare hours?
Will he help out?
Will he be visibly present when the children are around or in a separate part of the house?
In my head I was thinking of it in terms of "well I'll be the one dealing with them, so he shouldn't have any issues" but that turned out to be so wrong.  Even if you have a totally separate area in your household there is still the noise, mess, and stress that comes along with it. Plus depending on your husband's work hours and your home daycare hours there is a possibility that your husband will be interacting with parents too. He obviously won't be having the interactions that you have but if he is present when the parents arrive he will have to say hello and possibly make small talk.
For my husband this was a bit of a stressor when we lived in a home that didn't offer a separate daycare space, our living area was my daycare space. This was hard for him because he would come home, after a long day of dealing with people at work, but couldn't just veg-out and watch TV or drink a beer because I still had kids. The worst was when he had days off during the week or was home sick. It's hard to get rest or relax when there are a bunch of small kids around. Even though my husband is very supportive, I'd be lying if I said we never had arguments over this. It can be a challenge but if you find ways to communicate and be open it's doable!
Relationships
The other thing to consider is how it will affect your relationship with your spouse/significant other or other faimly members living with you.  There is a lot of stress that comes with using your home as your place of business.  In addition to that, working with children is stressful in it's own right.  There will be days when your are over tired and stressed out.  How will you or your spouse/family handle that? One frequent conflict that I did not expect between my husband and I was over how I ran my business. When I would vent to him or express frustrations over parent issues he would jump in and tell me what I "needed to do" to fix the issue.  That would in turn make me more more frustrated and angry because I didn't want advice. For him, he hated seeing me upset and wanted to "fix" it. For me I just wanted to vent, I didn't want to be told what he thought I should be doing. I took it as he was saying I didn't know what I was doing and we would have disagreements over this. We finally had to sit down and discuss it, which helped clear our expectations.
I know several providers who's husbands are just as, if not more, excited to start a daycare.  These providers have their husbands working along side them so instead of working alone or hiring an assistant their husband takes an active role in the management of the kids and business. I think this is amazing!
Your Children:
Will your child benefit from other children?
Is your child ok with noise and chaos?
Is there space for your child to have their own "special" area or room, separate from the daycare?
Will you have "special" toys that are just for your child that get put away during daycare hours?
How my daughter would be affected was a HUGE concern for me.  I wanted a way to stay home so I could be with her.  After I started the daycare I realized there were a lot of times when I was in the room with her but that I didn't feel like I was "present" with her as much as I would be if it was just her and I.  There where times when she really wanted something, like to sit on my lap and read a book, but I couldn't at that moment because of the other kids. I had to change a stinky diaper, help someone who just got hurt, or even stop a fight from happening many times instead of spending one-on-one time with her.
I felt terrible about this for the longest time but then I started to look at the positives. She loves her friends and has gained amazing connections.  Two of the kids she calls her "BBFFs" (baby best friends forever) because they have been together since they were both 5 months old (now they are five!). We do so many activities that if I didn't have the daycare kids too I don't know if I would have done them.  Having multiple kids to entertain inspires me to try all kinds of crazy things!
As my daughter got beyond the baby/toddler stage it became increasingly important that she have her own special place that was just for her.  An area that she could play alone and keep all the toys that she didn't want to have to share. Until this point the daycare kids where allowed to play in her room if she wanted them too but now that she needs that space away, that area just for herself, I no longer let them play in her room. Even if she wants them to play in her room or with her special toys I don't allow it unless it's the evening and there is only one or two children here. She needs something all to herself.
I also make a point to do special things with her on the weekend.  We go to the carousel or take a picnic in the park, heck even just staying home and reading books all afternoon works.  I just make sure that it's something she wants and that there are no distractions (aka phone, computer, tv), just her and I spending time together.
Pets in your home
Do you have pets that will be around the kids?
Are your pets shots up to date?
Are they social?
Will your pet be ok with loud noises and running children?
How will your pet handle parent drop off and pick ups?
Do your pets have a quiet area they can retreat to away from the noise and kids?
My dog is also affected by me having a home daycare in ways I didn't think of.  We are dog people and by that I mean our dog is a member of our family not just a pet.  Unlike some providers I do allow her access to the daycare area and kids if she wants but she also has her own area in the master bedroom to retreat to. Sometimes it seems as thought she spends all day hiding in the bedroom.  She likes the kids and playing but she spent 7 years with me in a quiet, kid free home.  Now she has MB 24/7 and a house full of daycare kids five days a week. It's quite a change.  She's also not allowed out of the master bedroom during drop off and pick up as she's a big dog and she gets too excited when parents knock.  Plus she is a long haired dog and I'm pretty sure the parents don't want dog hair all over their black work pants right before heading off to work! She sometimes whines and it makes me feel bad having to "banish" her to the master when all she wants is to be part of what's going on.
For me the pros outweigh the cons but, like any other profession, that is not the case for everyone.  Even if this is the career path for you it's good to sit down and think about the challenges you may face so that you can overcome them when they arise!
What are your pros & cons of starting a home daycare?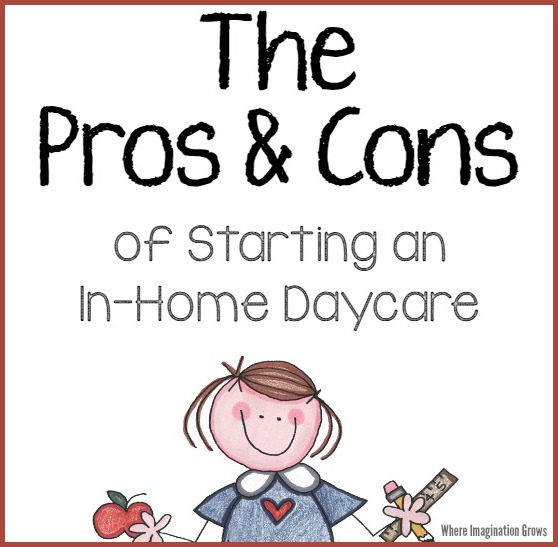 Interested in learning more? Check out my tips for interviewing clients and tips on creating a contract.  Doing home daycare and feeling stressed? Try my tips for avoiding getting burnt out!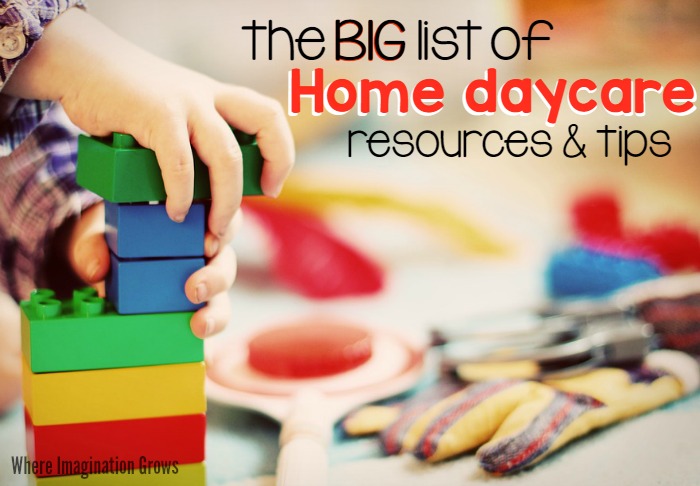 For more in-depth help starting your home daycare? Try my book today:
Available in downloadable ebook and Kindle format! Also check out our daycare forms and full daycare contract template in our store!  Shop Now! 
Looking for more post about running a daycare? Check out my daycare page to learn about starting or running an in-home daycare or shop my collection of ebooks and daycare forms in my store.