This Valentine's Day sensory bin is a fun way to combine sensory play with beginning math skills for preschoolers! Plus it uses one of our favorite sensory bin fillers: Water beads! We love water beads! Have you used them yet?
This easy sensory box is a perfect blend of fine motor skill development and sensory play with a simple beginning math game that your kids will love.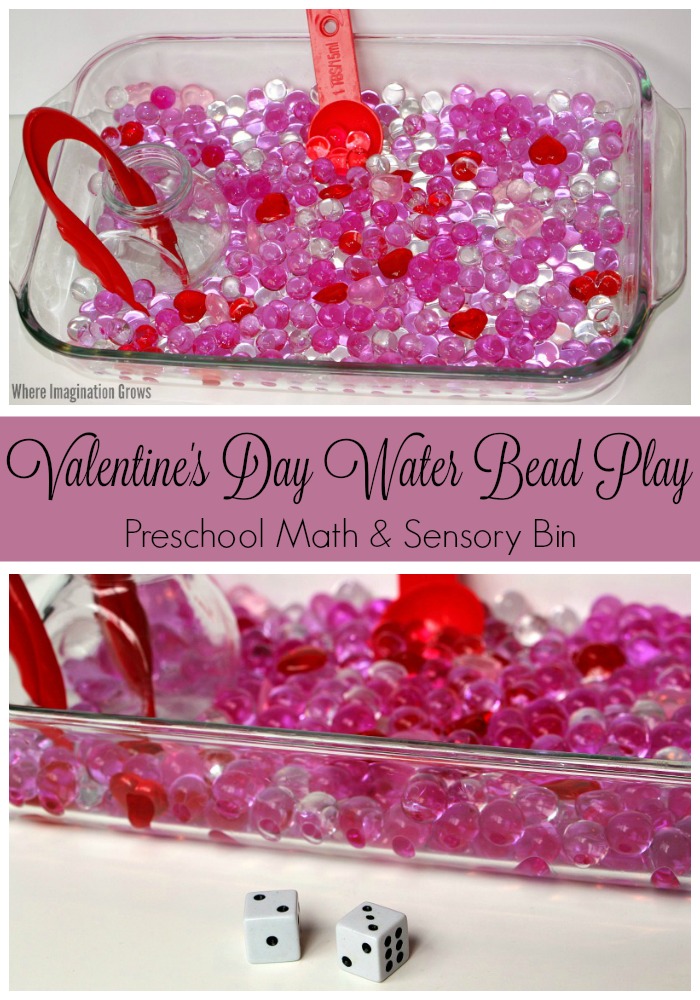 Affiliate links provided for your convenience, see my disclosure for more info.
Valentine's Day Sensory Play & Math Game
Materials needed:
I usually buy our water beads in bulk from Amazon or a local co-op that sells them and because I buy them in bulk there isn't usually instructions included so if you find yourself wondering how much water you need not fear! I typically put the water beads into a baking dish and use 3 cups of water for every teaspoon of water beads.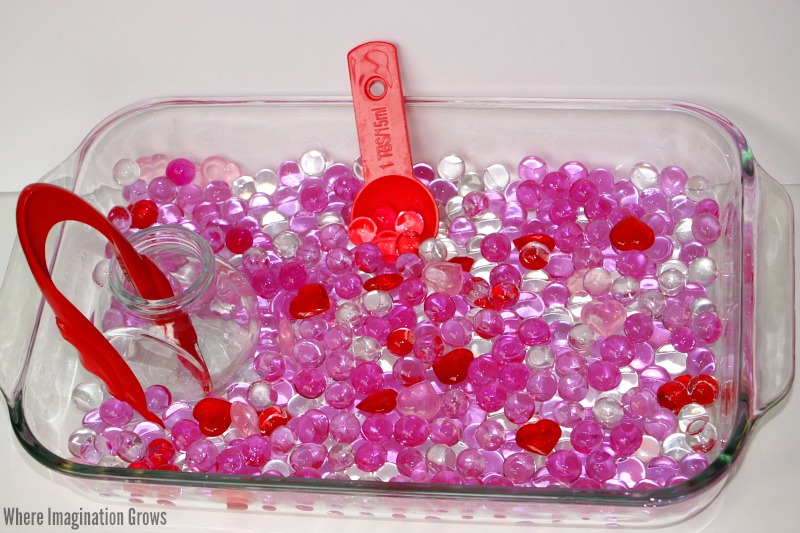 I picked several Valentine's Day themed colors (clear, purple, light pink) of water beads and a few items for the kids to use for scooping and sorting. The kids loved playing with this Valentine's Day sensory bin! It's been one of the most popular areas of the playroom this time of year.
To turn this activity into a simple math game we just added a set of dice. My younger preschoolers used just one dice for basic counting counting but my older preschoolers used both dice for beginning math practice in addition.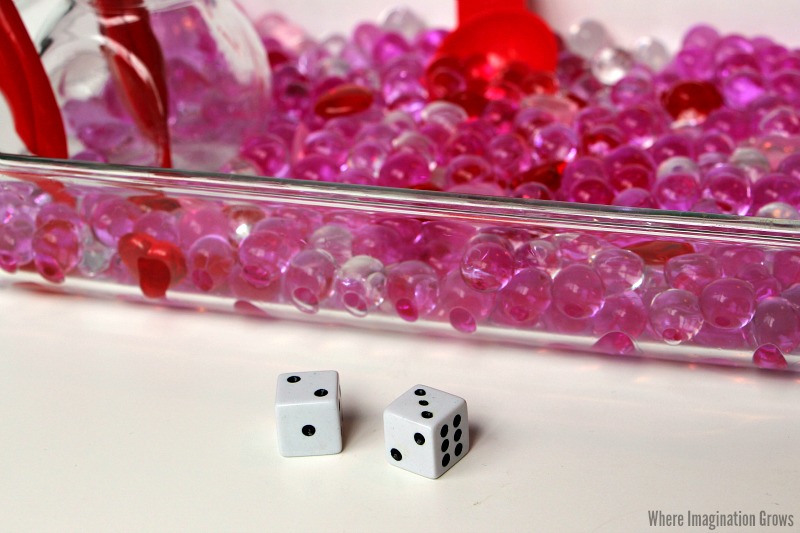 The kids rolled the dice and added them together. They then used the tweezers to collect the number hearts that was the answer and put them into the jars. It's math, sensory, and fine motor all in one!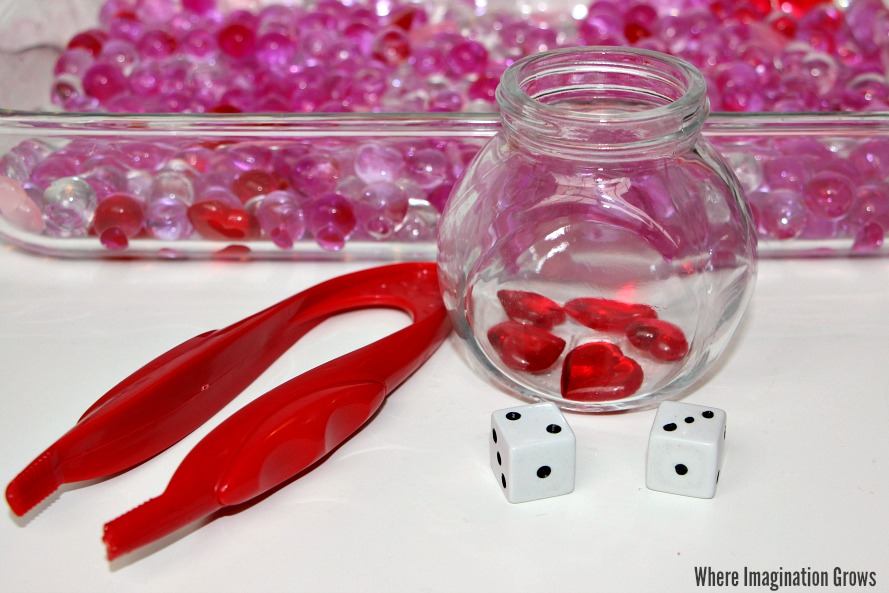 The girls cycled back and forth between playing the math game and just using it as general Valentine's Day sensory bin for scooping and pouring. Water beads are by far one of their most favorite sensory bin fillers so they never fail to please the kids and keep them busy for extended periods.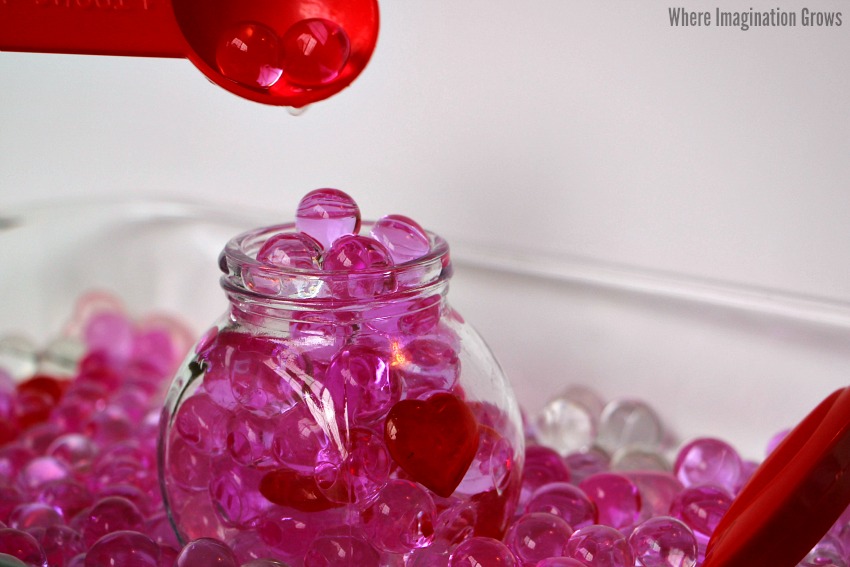 We even put it the water beads on the light table! It adds a whole new sensory element to it and the girls really liked how the colors popped on the light table.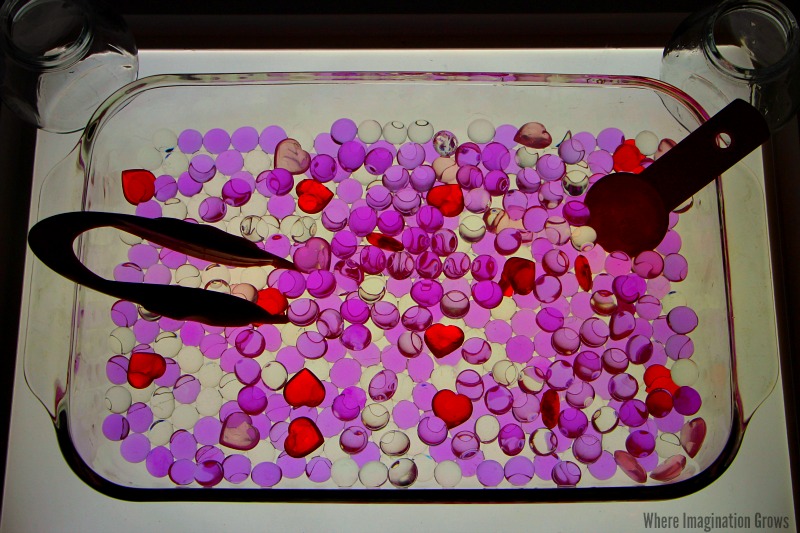 Water beads are capable of lasting for a long time but when your little ones are done with them give our water bead cutting activity a try. We love playing with water beads but the kids also love squishing and cutting them when we're done.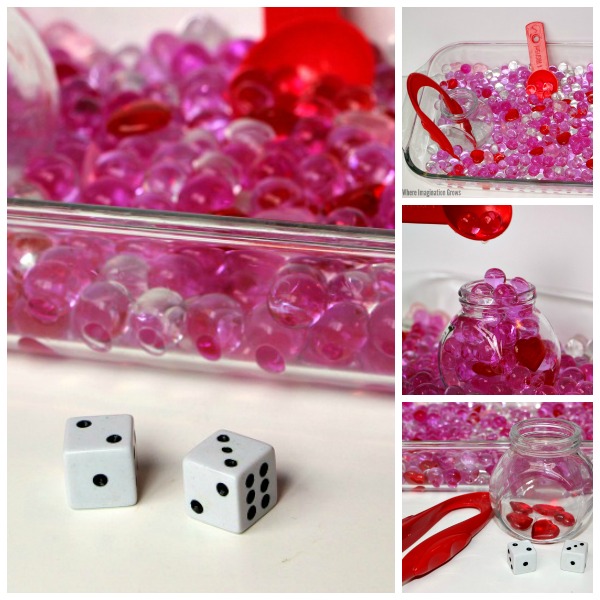 Check our our other Valentine's Day Crafts & Activity or follow our Valentine's Day Board on Pinterest!
Looking for more crafts and activities? Check out our index for 100+ plus kids activities! Find activities by theme, materials, skills, age and much more!