I'ts Halloween craft time! Let's make mummies!
We love crafting with glue.  We've made several sun catchers from glue but this time we decided to switch things up and turn them into (sorta) spooky Mummies! It's a quick and easy Halloween craft that your kids will have fun doing.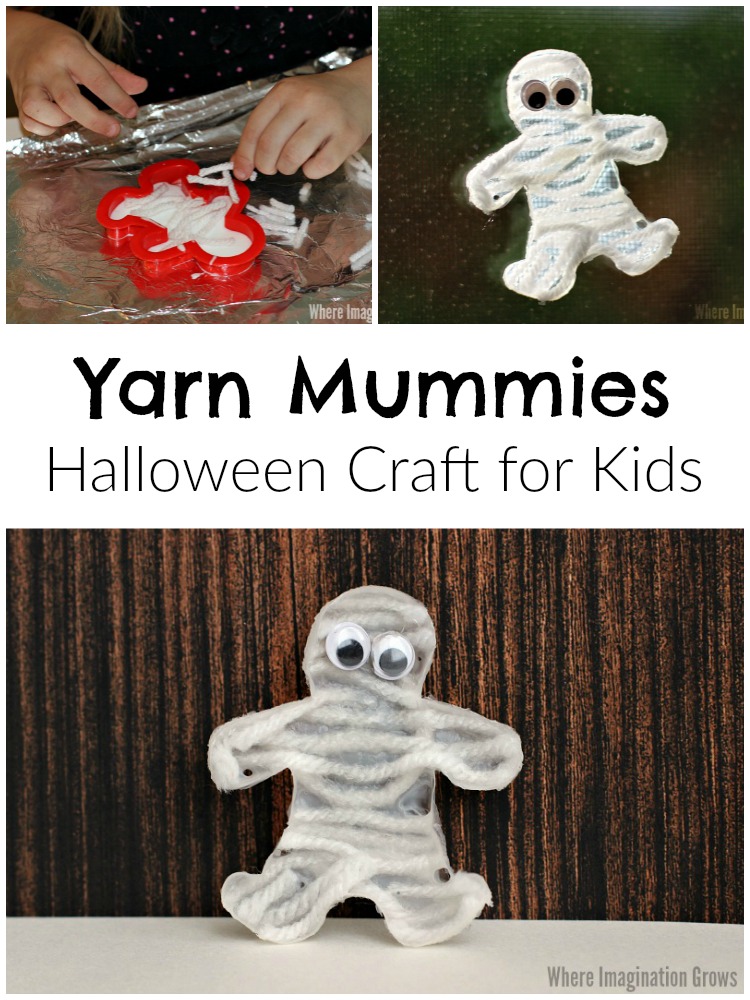 Affiliate links provided for your convenience, see my disclosure for more info.
Yarn Mummies Craft for Halloween
Materials
The first step in this easy kids activity is to have your kids do some scissor practice by cutting yarn into strips.  We cut ours no longer than the width of the cookie cutter, so they cut them into fairly small pieces.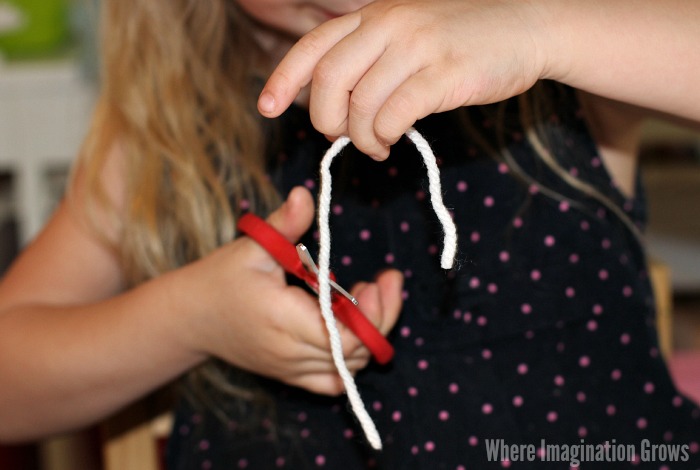 Next we put our cookie cutters on a baking sheet lined with aluminum foil and then filled them with glue.  The kids love squeezing the glue out but for some of my younger kids it was easier for them to take the top off and just pour it into the cookie cutters. We filled ours about 1/2 of the way to the top with glue.  The yarn will absorb some of the glue as it dries so I'd recommend you fill your cookie cutter no less than 1/3 of the way, really about 1/2 is best with the yarn.
When the cookie cutters were full the kids got to work "wrapping" their mummies by adding the string.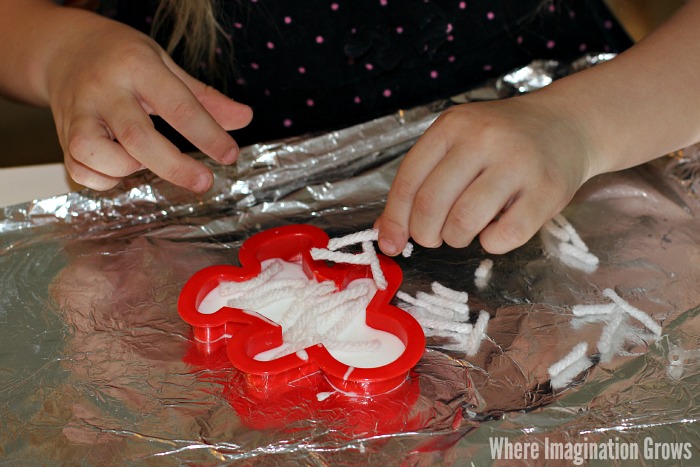 After they finished with the string I wiped any excess glue from the top of the cookie cutter and then set a heavy book on the top to apply pressure and stop the cookie cutter from leaking.
It takes several days for these mummies to dry so make sure you have somewhere to set them where they wont' get disturbed. You only need the heavy object on it for about a day (the outside edge tends to dry faster) so you can remove the book after a bit but they will still need a few days to dry fully.
Want more Halloween crafts for kids? Check out these Halloween activities!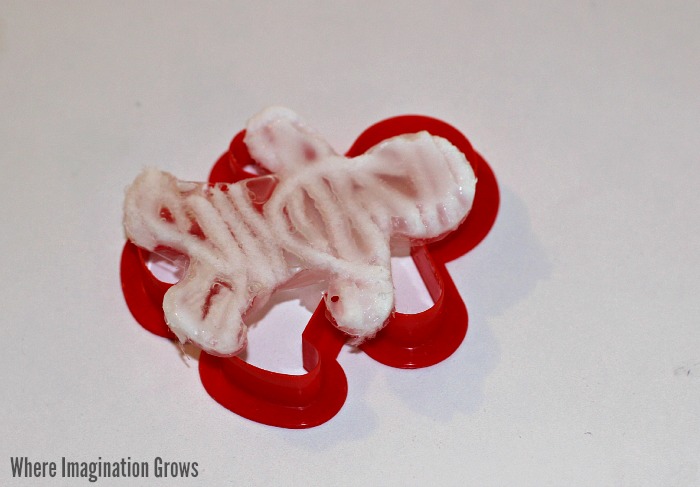 After a few days, when they are no longer sticky to the touch, you can slowly pop them out. I just use my thumb and slowly go around the edges of the mummies, applying light pressure and they generally pop right out.
Your last step is to add some googly eyes and use them to decorate your house!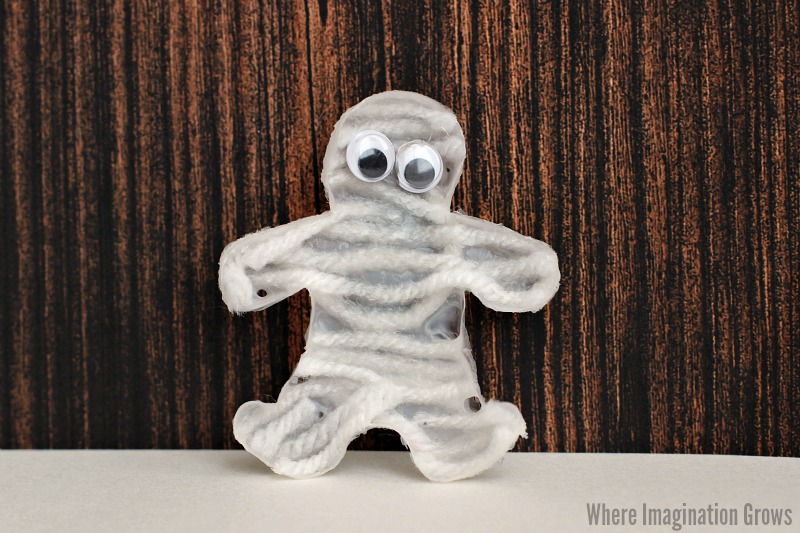 Ta-da! Super cute mummies!
TIPS FOR USING GLUE & COOKIE CUTTERS (FAQs):
These projects take several days to dry, be prepared.  I have sped up the process by putting them in the oven on a very low temperature (175 degrees) but if you are using a plastic cookie cutter I wouldn't recommend it.
Make sure you do this on a flat surface where it can sit for several days or on a cookie sheet, like we did, so that you can move it to a location where it will not get disturbed without having to move the cookie cutter.
Place heavy objects (I use phone books) on top on the cookie cutter to prevent glue from leaking out when drying.
Check your cookie cutter first, make sure it sits flat on the table and there are no large gaps. If there are your glue will leak out.
There will be some glue seeping under the cookie cutters. Don't worry. As you can see in our photos it started to slowly leak out but it wasn't very fast and the kids had plenty of time to add their yarn.  As soon as the kids were done I put a heavy object on the top and it stopped the leakage. You can cut off the excess when it dries.
Use Elmer's glue. This is the only glue I use for these projects because it is thicker than some of the other brands in my experience.
Some people have found it helpful to run a strip of hot glue around the inner edge of the cookie cutter before adding the white glue. This helps prevent leaking.
Remove from cookie cutters as soon as the project is no longer sticky to the touch. The longer you let it sit the firmer it gets and some people have reported it is harder to get out if you let glue get too firm.
Add any tips you have by leaving a comment below!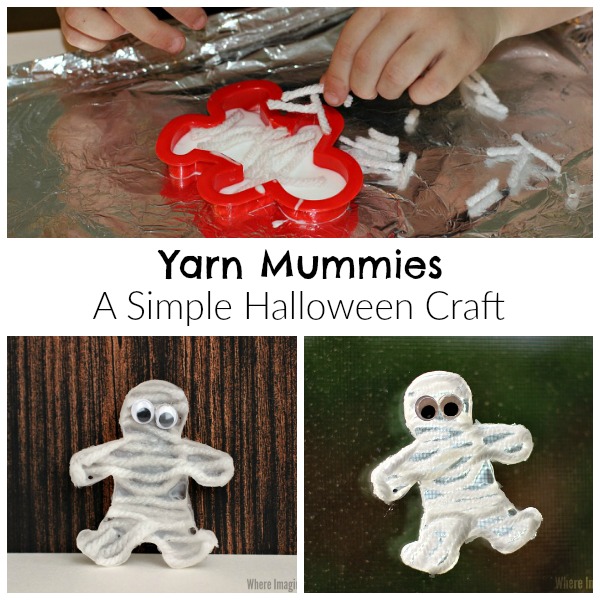 What are your favorite Halloween crafts for kids?
Looking for more crafts and activities? Check out our index for 100+ plus kids activities! Find activities by theme, materials, skills, age and much more!