Running a daycare in your home has a whole unique set of challenges. While it's a rewarding career for most, just like any job there are a few things in this career that can drive a daycare provider crazy or drive them to get burnt out.  Below you will find ten common pet peeves that I frequently hear other providers complaining about. I'm sure there are more, or maybe some of these don't bother you, but these 10 are the most frequently listed pet peeves.
A word to parents: Please know I'm not saying *you* specifically do these things, because if you're reading this then I'm guessing you care about the relationship with your provider and respect what they do for your child. Unfortunately not all clients respect their providers. If you've done these things once or twice, don't stress. This list is of pet peeves is more about the repeat offenders. Once or twice is understandable, no one is perfect.

When I talk about pet peeves I mean the smaller things that may annoy you as a provider but these are not the issues that you would terminate for, like bringing sick kids or not paying on time.  Generally these aren't issues that you, the provider, will have clauses for in your contracts and some you many not even discuss it with a client unless it becomes habitual and a major problem.
10 Common Pet Peeves of Home Daycare Providers
(in no particular order)
10. Letting children run through non-daycare areas at pick up or drop off.  Yes, choosing to be a daycare provider does mean that a provider is opening her home to the families she provides care for.  This however doesn't mean that the provider's whole house is at the client's disposal at any time.  Letting children run off down hallways and/or into personal living areas not used by the daycare is not acceptable and frustrates daycare providers. A provider has already given up a huge chuck of their home and privacy to her clients and letting children run off into the other areas is invading that last bit of privacy a provider has in their own home.
9. Asking a provider to lie on assistance or reimbursement forms. Some parents get assistance in the form of reimbursement for child care fees from their employer or other assistance programs.  These programs are great for parents but please do not ask your provider to lie about how much you paid or how many hours their child attended.  It's fraud and illegal.  Plus most of these programs require your provider's EIN or SSN number and they may report that income to the IRS as well so if you tell them your provider charged you $1000/mo but your provider only claimed $500/mo then that can create a huge financial liability for the provider. Please don't ask your provider to put themselves in this position.
8. Not sending appropriate clothing. When a child doesn't have appropriate clothing or shoes it can make a provider's job more difficult and it can affect the rest of the kids.  If it's cold out and you send your child in shorts and a t-shirt with no coat then all the kids will have to stay inside. Most states require your provider to provide outside time and there are often kids that need that gross motor time so it's not something providers like to cut from their day.  Also clothing that is too big or small makes it hard for the child to participate in everyday activities which can upset them. Leave an extra set of seasonally appropriate clothing at your provider's house in case you're having a hectic morning or you're child isn't cooperating with your clothing picks.
7. Being told a child will be picked up early only to have them picked up at the usual time with no word from parents.  Providers stick to their word about schedules and want parents to do the same.  If a parent tells their provider they will pick their child up early then a provider expects them to do it or let them know as soon as possible if it changes. Especially if the child is usually the last one to be picked up. When you tell your provider of schedule changes it can affect her schedule for that day and it's possible that she may make plans for her family based on the verbal commitment to pick up early you made.  If you end up not picking up when you said and don't communicate with her it will then make your provider frustrated and upset. She'll have changed her schedule and gotten your child ready to go only to have you not arrive at the time you said. That leaves her to deal with the fallout of an upset child and the effects changing her schedule has on the other kids.
6. Children arriving with overnight diapers on.  We all know how hectic mornings can be but please find two minutes to change your child before they arrive.  Most providers assume (some even have policies) that children will arrive with clean diapers and don't immediately change them.  This means that if your child is still wearing their overnight diaper then the likelihood of a diaper leak is high.  It also increases your child's chances of diaper rash and infections. Plus, lets be honest, it's pretty gross to have a child arrive at 8:00 am in a soaked diaper that happens to be the same diaper they were put in twelve hours before.
5. Texts/calls during vacation or time off.  Due to the personal nature of this business parents can sometimes feel that they have a more personal than business relationship with their daycare provider.  This leads many to think the normal rules of a business relationship do not apply. A provider doesn't want to get texts from parents wondering if they need to bring diapers after the break or asking if little Jimmy's shoes are still at daycare when she is trying to enjoy her vacation and family time.
4. Clients that complain about fees and then flaunt extravagant purchases.  Although child care is not a glamorous job in most people's eyes it is necessary and it is a vital career field.  When a family continually complains about their provider's fees to her, or constantly tires to negotiate because she charges "too much," but then turns around and flaunts extravagant purchases it makes the provider feel like she isn't respected for what she is doing.  Spend your money however you want, but leave your provider out of it and don't complain about her fees.  You picked that provider for a reason, if you're not happy move on.  Certainly don't make your provider feel like she's taking you to the cleaners and then turn around a brag about your vacations.
3. When parents say their child has a food allergy but then feeds the restricted food to the child.  Providers have no problem avoiding foods for kids with allergies.  There is a difference between a true allergy  and a personal preference. Nothing is more frustrating that having a parent tell you that little Susie is allergic to peanut butter only to have mom send Susie with peanut butter toast every morning. Allergies and medical issues are taken very seriously by providers, many spend more on alternatives and ban certain foods entirely from their homes. So when a parent says their child has a allergy and then disregards that claim it makes your provider skeptical of anything that you say is an issue. If it's a personal preference, not a confirmed medical issue or allergy, then please be honest with your provider. Communication and trust are key to a success parent/provider relationship.
2. Kids that are regularly in care open to close when parents are off.   This irks so many child care providers and I hear this complaint from other providers so often.  I'm not talking about kids that occasionally come on days when mom isn't feeling well and called in sick but still brought the child or if dad has the day off but drops his child at the providers house for a few hours so he can run some errands.  These are the kids that come from open to close every single day, not the child who's parents occasionally need to study, run errands, or have appointments. Providers choose to work with kids for a reason, we love children and want to spend time with ours so much that we seek out a career field that allows us to have them at work with us.  That nurturing characteristic makes it hard for many providers to understand why these kids are at daycare when mom or dad has a chance to be with them and that's why it bothers so many providers in my opinion.
1. Parents that linger at pick up and want to talk for long periods of time.  This is one of those pet peeves that tends to upset parents when they hear it.  They take it to mean that their provider doesn't like them and doesn't want to talk to them.  The truth is it has nothing to do with the parent and/or how the provider feels about them.  I love my daycare parents and wouldn't trade any of them but 9 times out of 10 I have things I need to get done too and don't have time to chat. A quick conversation? Sure! Plus they get a rundown of their child's day and a daily report but that's about all the time I have to chat because I need to be doing other tasks with the kids still in care.  The last hour or so of the day can be hectic. Providers are trying to get kids ready to go, clean up, and make sure everyone has all their stuff together. Even if your child is the last one to be picked up your provider still has her own family to deal with and most likely has dinner to get started.  A provider's day isn't over simply because you have picked up your child, if you want more time to chat with your provider ask about scheduling a time outside daycare hours with her.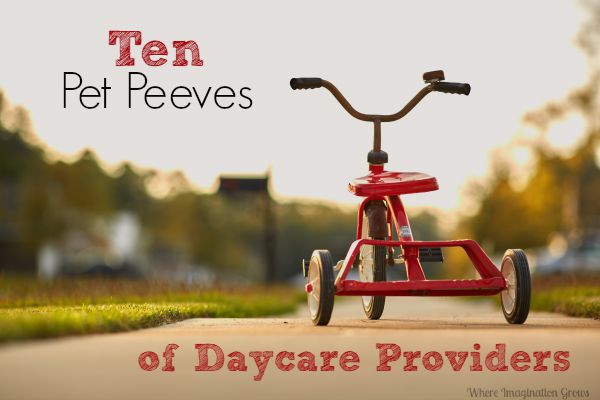 Are you a provider? What are your pet peeves?
Looking for more post about running a daycare? Check out my daycare page to learn about starting or running an in-home daycare or shop our ebooks and forms in our store.