This is one of our favorite fall alphabet games! Tracing letters on the light table with loose parts! It's so easy and can be adapted to fit many different preschool themes by just changing the loose parts. For us we use this ABC tracing game in the fall and winter months so we generally use acorns as loose parts to trace the ABCs with but you can all kinds of things!
Don't have a light table? Don't fret, this activity is also fun OFF the light table and provides just as much hands-on learning. However we had a great time with it on the light table.  Really we'll find any excuse to use our light table, something on it.  My daughter and the daycare girls are in love with it.
 Post contains affiliate links, please see my disclosure for more info.
Light Table Letter Tracing Alphabet Games for Fall
Learning letters and easy alphabet games have been high on our list lately with my preschoolers.  This letter tracing game is actually based on our letter recognition with rocks activity but with a light table twist. It's simple to set up and you can use any light table loose parts that you may already have on hand.
Materials:
Acorn table scatter (I found ours at Target in the $1 area)
Printed Letter Cards (see below)
Laminator
You can download our free printable ABC letters below.  Once you have them downloaded you just need to print and cut. Add some acorn gems and you are ready to go! It's one of those super easy alphabet games to get up. I laminated out letter cards when I was done cutting them out so that they would last longer, plus I love my laminatior so I'll take any chance to use it.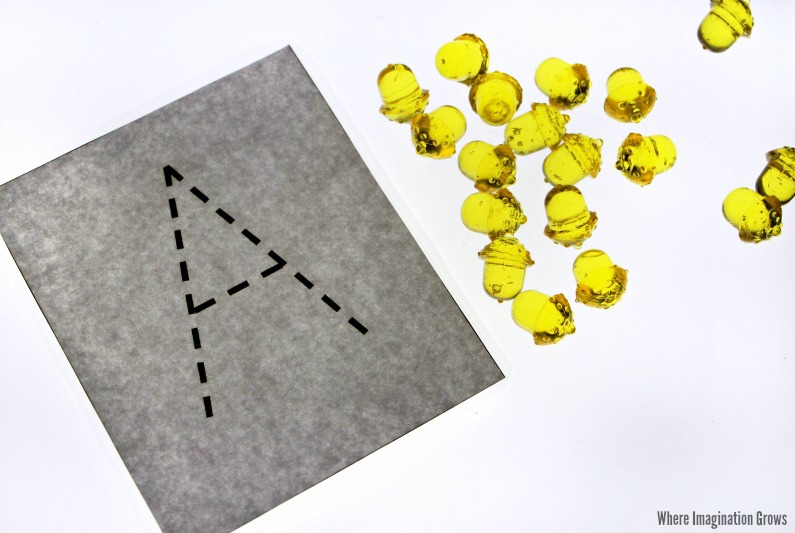 Place the letter cards and the acorns on your light table and you are set up. Kids can use the acorns to trace each letter. Use all the letter cards for large groups or only use a few at a time to reinforce letter recognition with toddlers and preschoolers. Just remember if you are using these with young children you should be keeping a close eye to make sure the loose parts don't end up in their mouth.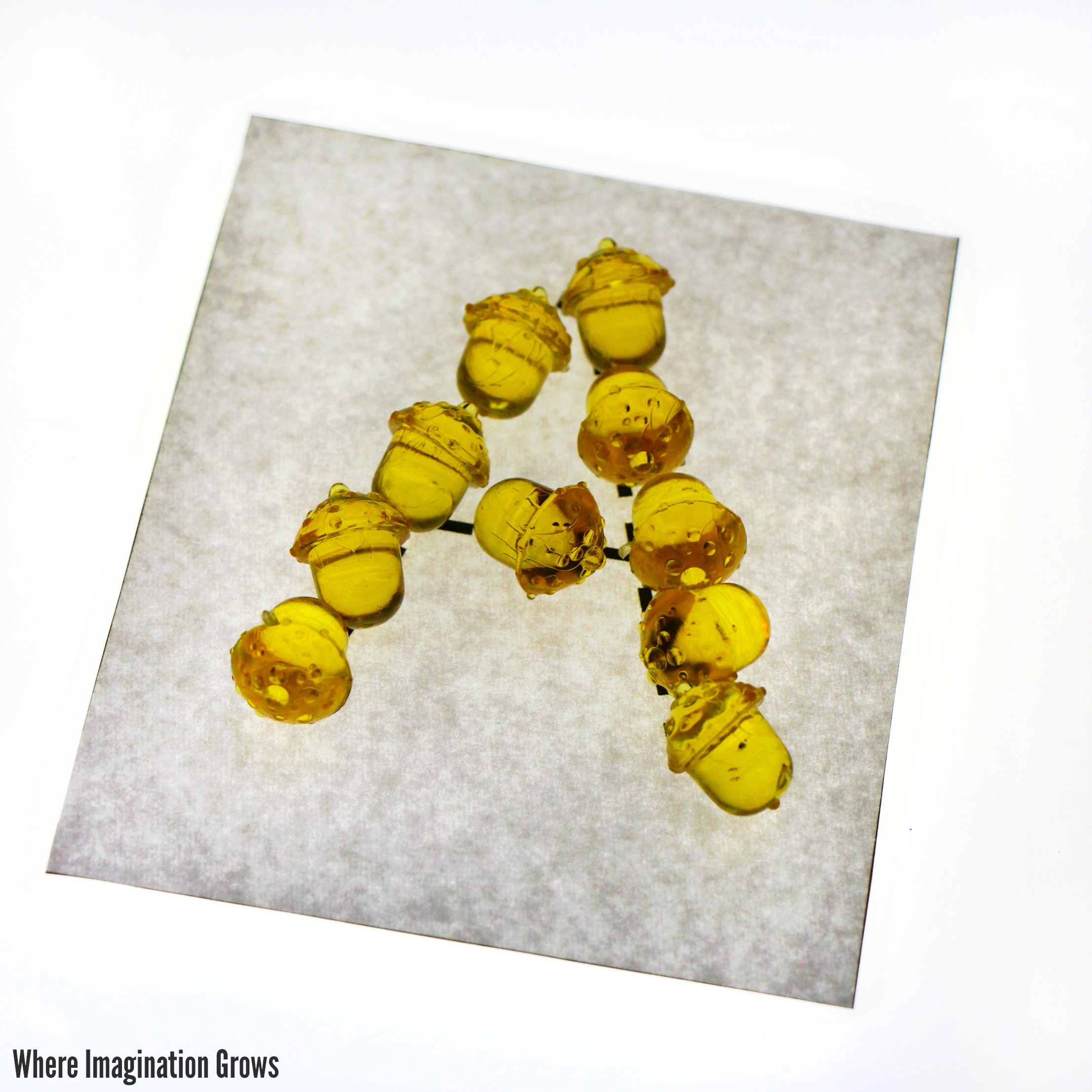 There is lots of learning going on here! Kids are learning to recognize and form letters and doing some fine motor work. Manipulating those small acorns can be tricky for small hands but it's a simple way to strengthen those small motor muscles needed for learning to write in the future.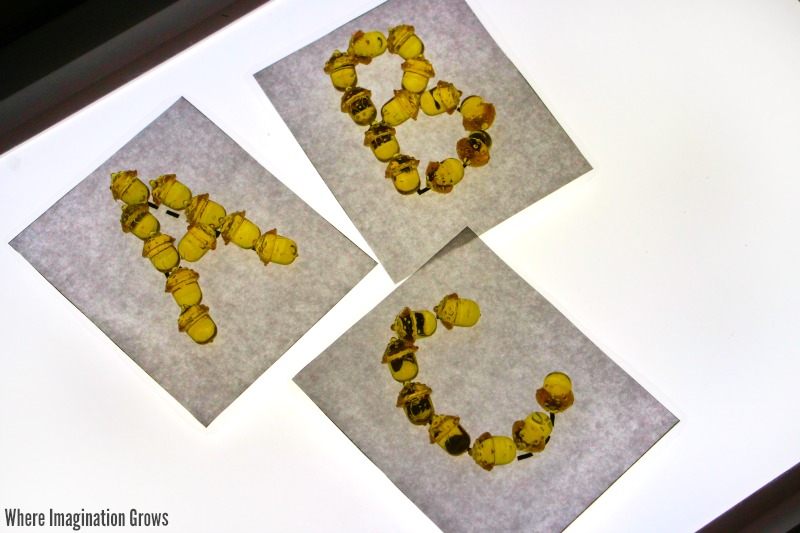 My older kids, Kindergarten aged, also used this to practice sight words.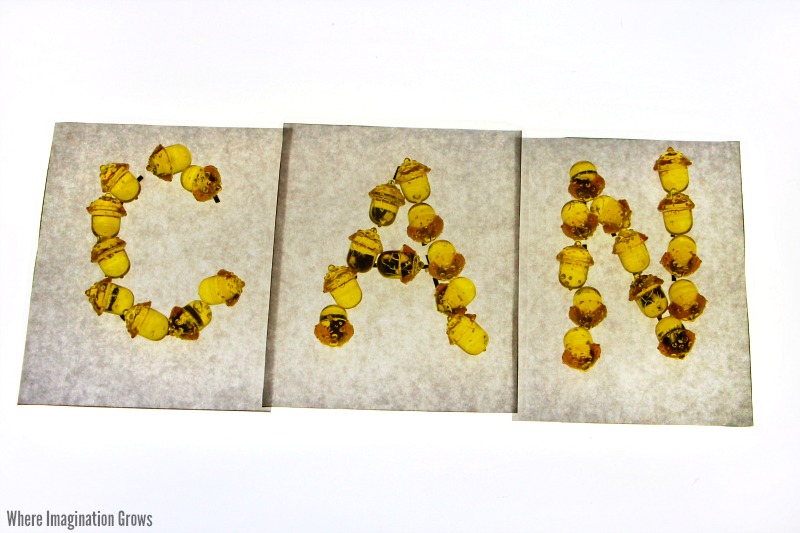 There are so many adaptations you can do with these! Turn on your light table and play these easy alphabet games today!
–> Click and download our free (uppercase) A to Z letter cards today <–
Looking for more crafts and activities? Check out our index for 100+ plus kids activities! Find activities by theme, materials, skills, age and much more!