Simple butterfly craft alert!
Does your little one love butterflies? Are you doing a spring or butterfly unit with your preschoolers? If so, then you have to try this simple butterfly craft for kids! They are super easy and provide hours of fun pretend play when dry. Plus check out how adorable they look!

Post contains affiliate links for your convenience, please see disclosure for more info.
 Bow Tie Pasta Butterfly Craft for Kids
This is a fun craft that my girls loved!  It's simple to make and once the paint dries they are ready to be played with! Use them in your spring themed lesson plans or when learning about bugs and butterflies. It's sure to be a hit with your kids.
Materials used for butterfly craft:
*Our pipe cleaners were provided to us by CraftProjectIdeas.com for free to use in our projects! Check out their website for great products and fun craft ideas!
This butterfly craft is super easy!  I gave the girls some paint and several pieces of pasta each.  They picked out their colors and painted as many pasta pieces as they wanted.  We now have an army of butterflies currently decorating the playroom.
After they dried we wrapped a pipe cleaner around the center, twisting the top to create the antennae, then used our hot glue gun and attached the butterfly to the skewer sticks and voila: Butterflies!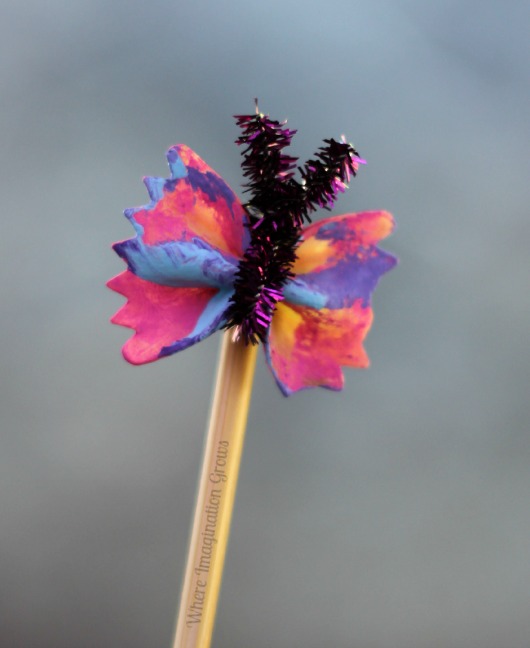 Fluttering butterflies for your little ones to play with! Ours have been used as shadow puppets, in puppet theater shows, and even as wands. There are many ways for kids to play with these adorable little butterflies when you are done. If they don't want to play with them then hang them up. We have several hanging from the ceiling and they add a fun bursts of color to our playroom.