Time for some fun pretend play activities!
Do your kids like dress up and dramatic play activities? My kids love them so we're excited to be participating in the Dramatic Play A to Z series from Happy Brown House! I picked letter "C" and put together this fun coffee shop pretend play prompt for the the kids.
Coffee is something this mama loves so it wasn't a stretch for us to put this activity together.  My daughter is familiar with coffee shops and so are her friends, they were so excited to get to have one of their own!
Dramatic Play Coffee Shop for Kids
Affiliate links provided for your convenience, see my disclosure for more info
This was so easy to set up and the girls had a blast!
Materials used:
Table
Coffee Mugs and/or to-go cups
Free printables (See Below)
Laminator (optional)
Coffee maker
Recycled sugar/spice/creamer containers
Any other items you want! (stir straws, tea packets, open sign, apron…)
Most of the stuff that we used was recycled from our kitchen and playroom.  I saved old spice containers and coffee creamer containers, plus we used mugs and the coffee maker from our kitchen.  The styrofoam coffee cups and our open/closed sign I got from the Dollar Tree.  All our tables are ones from around the playroom we just moved them, I think they are all ones I've acquired from IKEA over the years.
The girls really wanted real coffee and coffee beans but in our house coffee is key to mom's survival so there was no way I was parting with my coffee beans (mean I know!), instead we used black construction paper inside the coffee pot to look like it had coffee in it.  We also don't have tea bags but I did have instant coffee ones so we used that in our teapot (shhh!).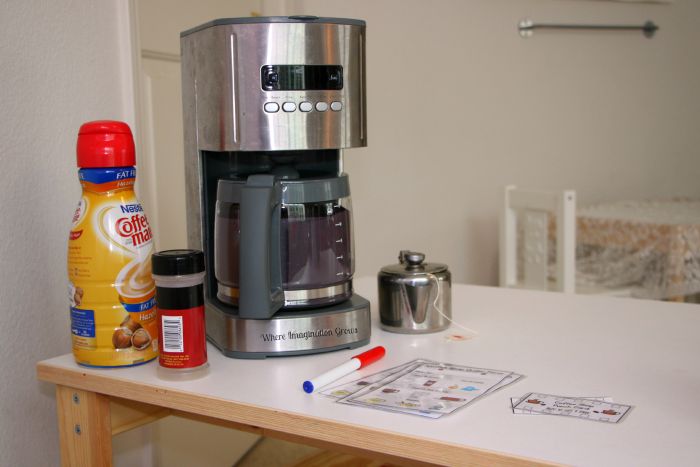 My two non-nappers helped me get it all set up and ready during nap time. They played by themselves all nap time and kept asking me to wake up the napping kids so they could have more coffee shop patrons.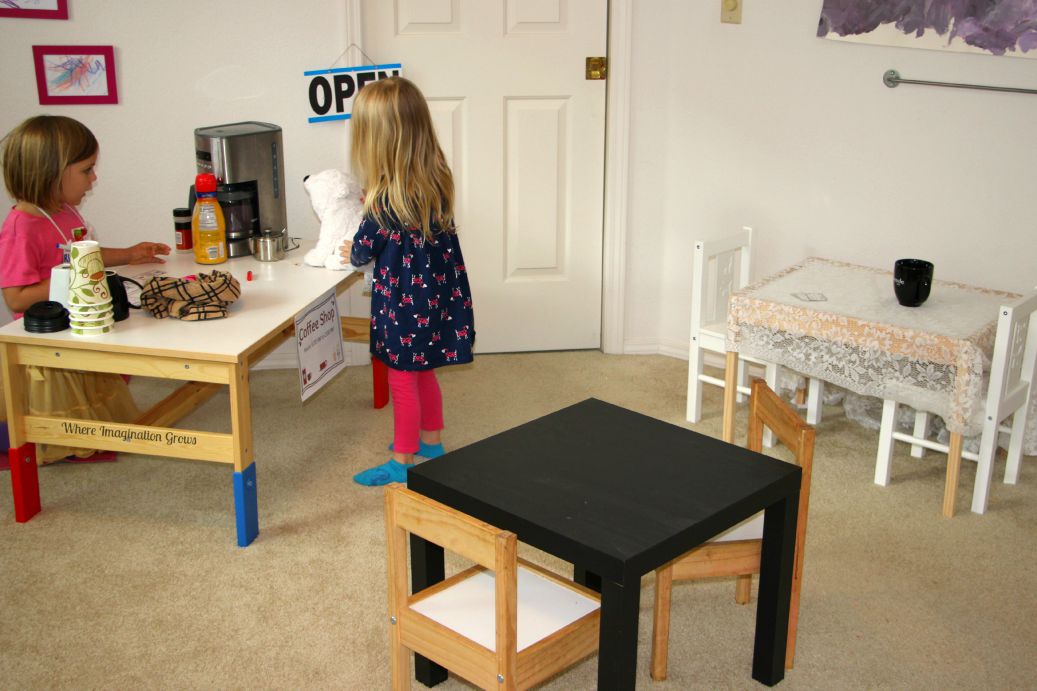 To go with the coffee shop I made these Coffee Shop Pretend Play Printables [<-Free Download] that include an order form, name tag, credit cards, punch cards, and coffee shop sign.  I laminated ours and they used with dry erase markers so we could use them over and over.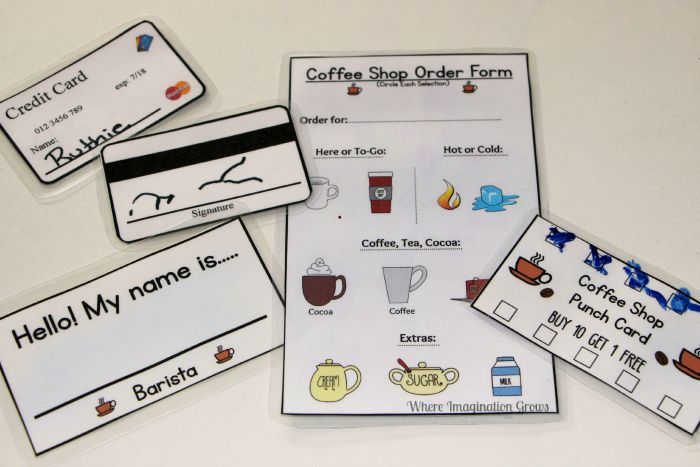 They were a major hit, the girls loved taking orders from customers!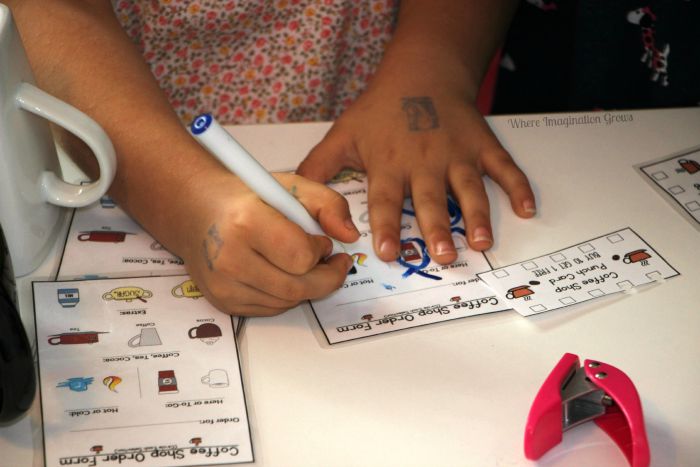 They spent hours playing coffee shop, making coffee, tea, and even a few fruit smoothies.  We've done both a spaghetti shop and camping themed pretend play prompts recently that were so much fun but this one has by far become the favorite pretend play activity.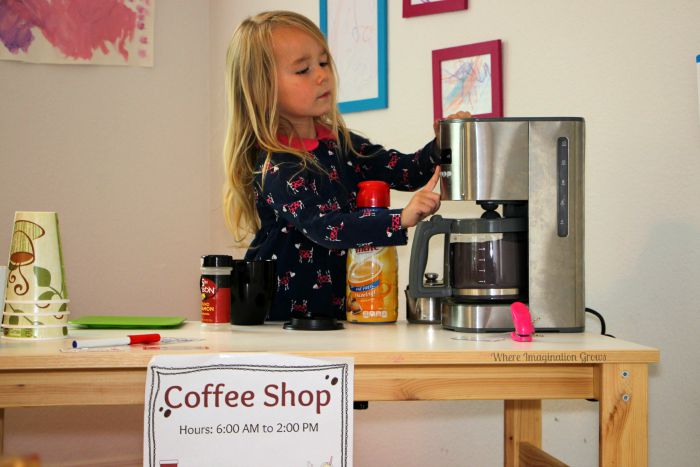 We've been playing with this all week.  It's such fun to watch them "go to work" as little baristas!
What are your favorite dramatic play prompts?
Ready for more dramatic play ideas? Check out the rest of the series by clicking the image below!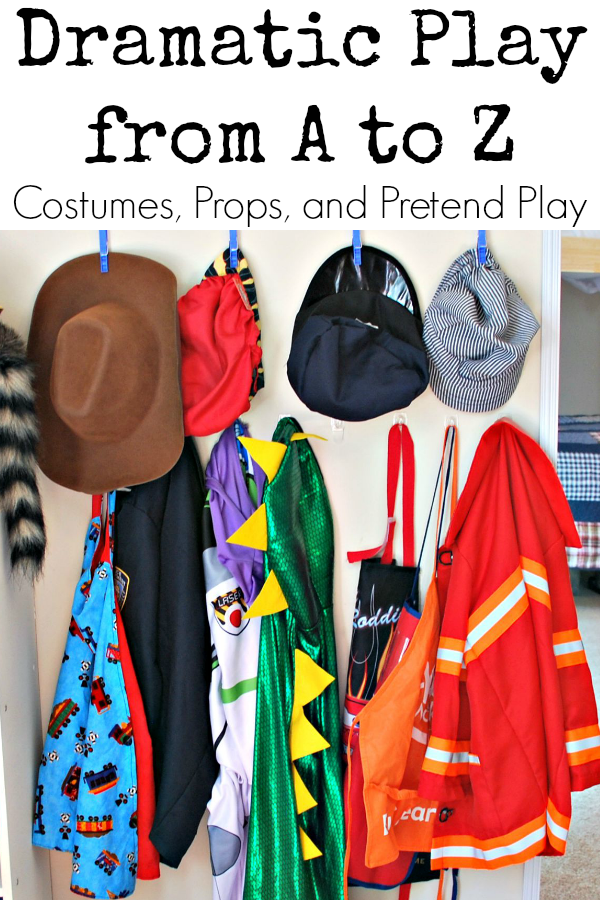 Looking for more crafts and activities? Check out our index for 100+ plus kids activities! Find activities by theme, materials, skills, age and much more!