ERASER by Anna Kang, illustrated by Christopher Weyant, is a fun and witty new book from the creators of some of our favorite preschool picture books: That's (Not) Mine and You Are (Not) Small.
When it's time to go back to school we think of pens, pencils, markers, glue and more but what about the erasers?! This new book is a fun read about one eraser that's tired of cleaning up mistakes made by others. It's a great book for preschoolers and early elementary kids that gets them thinking about working together and making mistakes.
There's a giveaway below too!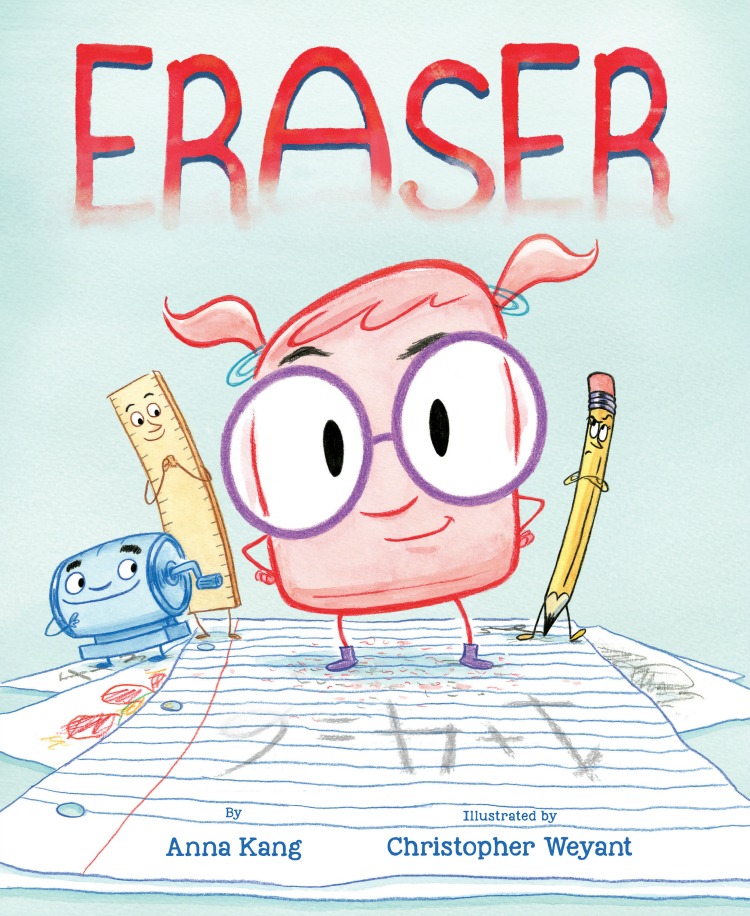 Post contains affiliate links for your convenience. See full disclosure policy here.
We are huge fans of Anna Kang and Christoper Weyant. They have a style of creating stories that speak to children in ways they can easily understand and pairing the story with bold illustrations. This new book is a bit different from their other books but still a must read for any preschool classroom. And I love all the puns!
ERASER by Anna Kang, Illustrated Christopher Weyant

Eraser is always cleaning up everyone else's mistakes. Except for Ruler and Pencil Sharpener, none of the other school supplies seem to appreciate her. They all love how sharp Pencil is and how Tape and Glue help everyone stick together. Eraser wants to create so that she can shine like the others. She decides to give it a try, but it's not until the rubber meets the road that Eraser begins to understand a whole lot about herself.
Children's Book Review: ERASER By Anna Kang
At some point in their lives everyone feels like little Eraser does. They feel like they are doing all the work but getting no recognition for any of it. It's a great way to open conversations about working together and being respectful of others when they help us. Even if it is something small! If someone helps you build a tower of blocks (or fixes your math mistakes, like Eraser) then you should say "Thank you." You should share that their help was valuable when people compliment your block tower (or your math homework).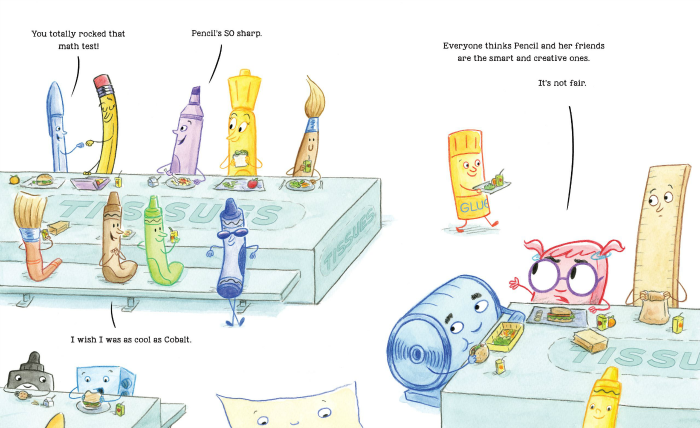 There is a lot of pressure to be perfect these days but ERASER reminds us that it's ok to make mistakes. That it is ok to ask for assistance from friends or teachers.
To us the book was also about taking responsibility of our work. Pencil did not worry about doing his work correctly because Eraser would be there to clean it up and help him fix it before the teacher saw. My kids talked about how Pencil probably wasn't really learning anything. That he wasn't working hard to make sure his math was right, that he was just having Eraser fix it for him. We talked about how Pencil needed to take charge of his own work instead of depending on Eraser because little Eraser wanted to do her own things. Friends are always there to help us but they shouldn't have to do things for us that we can do themselves, especially if it means they can't do what they want.  The kids thought it wasn't fair to poor Eraser and were excited to see her take off on her own adventure.
By the end of the book all of the characters learn that everyone is important in their own way and that you don't have to be perfect. They worked together and the end result is awesome! Teamwork, my friends!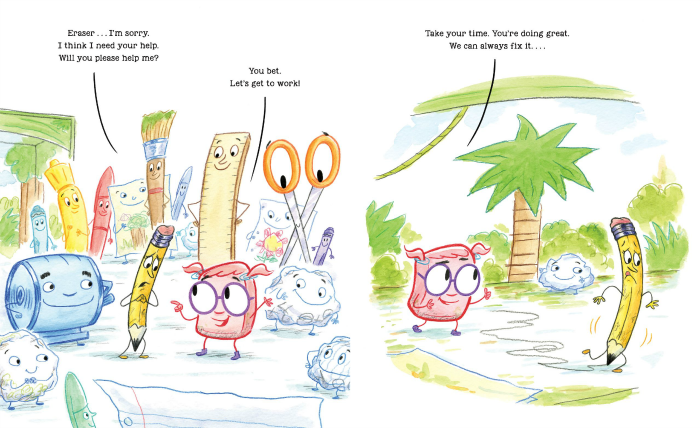 The illustrations really bring life to the characters. They are adorable and human-like, each with their own little personalities. The facial expressions are detailed and expressive, they really helped my kids understand how Eraser, or the other characters, are feeling in the moment.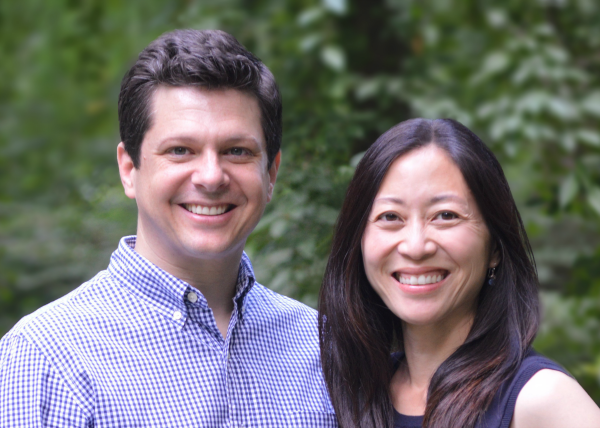 Anna Kang and Christopher Weyant are the creators of Theodor Seuss Geisel Award winner You Are (Not) Small and its follow-ups That's (Not) Mine and I Am (Not) Scared. Christopher's work can be seen routinely in The New Yorker magazine and his cartoons are syndicated worldwide. As an author, Anna regularly goes through first, second, and third drafts. Chris wears down many erasers while making his art. This husband-and-wife team lives in New Jersey with their two daughters and their rescue dog. Visit them at www.annakang.com and www.christopherweyant.com
Already have the book or waiting for it to be delivered? Check out this free activity kit!  Just download and print today! Visit annakang.com to download or click the image below.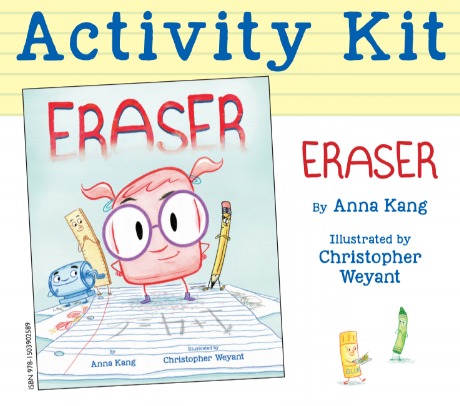 Buy it now –> Hardcover or Kindle (<–it's on Kindle Unlimited!)
It's giveaway time! Enter below for a chance to win a copy of ERASER by Anna Kang plus get a 7-piece school supply kit courtesy of Two Lions! Open to US residents 18 years and older.
I received a complimentary copy of this book to review. All thoughts and opinions are 100% my own. See full disclosure policy here.