Every once in a while we come across a children's book that really speaks to my daughter and the daycare kids, a book that shadows life in a fun way and teaches them better ways to handle situations that they find frustrating.  That's (Not) Mine is that book for the girls right now.
We were so excited when we got the opportunity to get our hands on a copy of this new book from Anna Kang so that we could bring you this fun book review.  Our high expectations for this book were not at all disappointed. It's quickly become one of our favorites.
I received a complimentary copy of this book for review. All thoughts and opinions are 100% my own. Affiliate links included for your convenience.  See full disclosure policy here.
That's (Not) Mine is a new book by Anna Kang, the author of You Are (Not) Small, that features two cute bear-like creatures that both want to sit in the same chair.  They get increasingly upset with each other over who gets the chair and even find sneaky ways to get the other one out of the chair.
That's Not Mine by Anna Kang (author) and Christopher Weyan (illustrator)
Synopsis: Two fuzzy creatures both want to sit in the same comfy chair. The trouble is, they can't agree who it belongs to. They get madder and madder, until…

With expressive illustrations and simple text, this giggle-inducing tale about (not) sharing and (not) being a good friend features the endearing characters from Theodor Seuss Geisel Award winner You Are (Not) Small.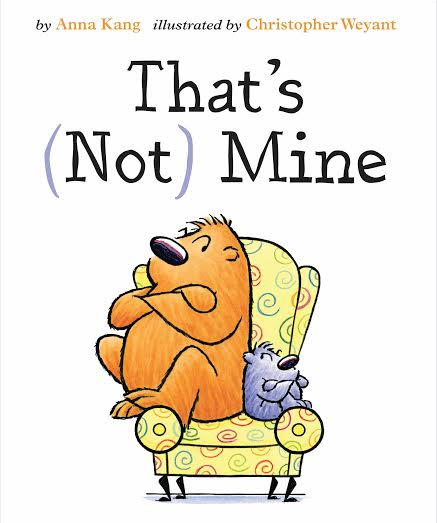 Reading this book was like watching my kids in action, especially two of my preschoolers. It's déjà vu I tell you! The issue of sharing and taking turns is a big one for us right now because for toddlers and preschoolers everything is "mine" and it's so very hard to wait their turn when they really want something.
The girls loved this book, they were laughing all the way through. The story is simple but the context of it and the wording used paired with the bold illustrations makes for a very engaging children's book.  The girls easily understood what was going on and stayed engaged in the story the whole time. Plus it opened up a whole conversation about how we behave in similar situations and what better choices can be made.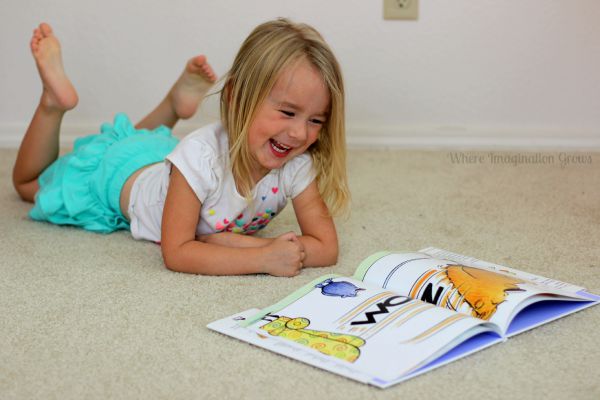 The illustrations in this book are awesome. The simple images are bold, detailed, and colorful.  They draw the kids into the story and keep them captivated.
Not only is this a fun read that my preschoolers have loved listening too but it's also perfect for emergent readers. The text is simple and matches the descriptive images so it's easy for beginning readers to try to read.  My oldest daycare child is just learning to read but she was able read this herself and to her younger friends. She was very proud of herself for that accomplishment.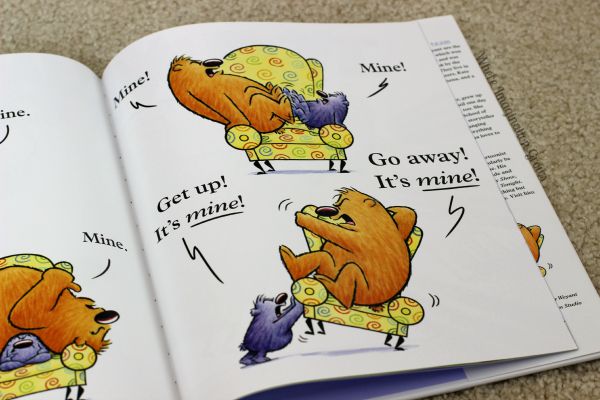 Cute, right? If you have preschoolers at home I highly recommend you add this book to your reading list. Even toddlers and early elementary aged kids will get a kick out of it.
<<< Bonus! You can extend the learning with this FREE curriculum guide. >>>
Order your copy today!  Kindle or hardcover are both available now!!
About the Author & Illustrator
Husband-and-wife team Anna Kang and Christopher Weyant are the creators of You Are (Not) Small, which won the Theodor Seuss Geisel Award and was named a Notable Children's Book by the American Library Association. They live in New Jersey with their two daughters, Kate and Lily, a guinea pig named Athena, and a hermit crab named Olaf.
Anna, a native New Yorker, grew up believing everything was hers until one day she realized it was her brother's, too. She received a master's degree in fine arts from the USC School of Cinematic Arts, where the visual storyteller in her was awakened, forever changing the way she saw art, life, and everything in between. In addition to writing, Anna loves to read, travel, laugh, eat, and nap. Visit her online at www.annakang.com or follow on Twitter.
Christopher is a cartoonist and illustrator. His work can regularly be seen in the New Yorker. His cartoons are syndicated worldwide and have been featured on the Today Show, Meet the Press, and World News Tonight. Christopher likes to share everything but his personal space on the subway. Visit him online at www.christopherweyant.com or follow him on Twitter.