Looking for fun children's books about trees for your preschoolers?  Look no further! Below you will find some of our favorite children's books that help preschoolers learn about forests and different types of trees. From tree life cycles to animal life within a tree and even conservation there's tons of books below for you to explore with your children!
 Children's Books About Trees for Preschoolers
Affiliate links provided for your convenience, see my disclosure for more. Thank you!
These children's books about trees are some of our current favorites based on what's available at our library and I only included books that we have actually read.  There are many great books out there and I know we missed some amazing books about trees so if you don't see your favorite please leave it in the comments! We'll add it to our must read list!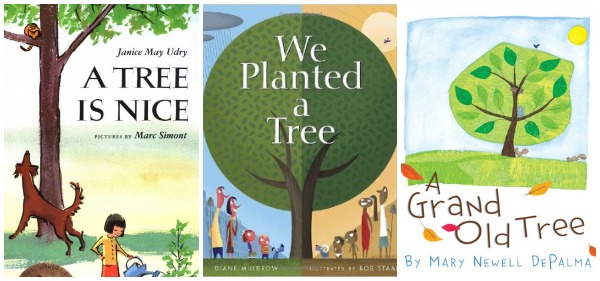 A Tree Is Nice by Janice May Udry– Love this book! It's a simple book for kids that is beautifully illustrated.  It easily expresses all the great things about trees in a way that my preschoolers can easily relate to and understand. This book is also a Caldecott award-winning book!
We Planted a Tree by Diane Muldrow– Another brilliantly illustrated book that teaches children about the benefits of tress and educates them about the growing process of trees. I love that it shows different cultures and different trees but how they all grow the same. It's a fun read that will teach your little ones the importance of trees in our lives and environment.
A Grand Old Tree by Mary Newell Depalma– A sweet children's book that introduces preschoolers to the tree life cycle.  The illustrations in this book were some of my children's favorites, the simple text and use of color with white space caught their attention and kept them engaged.  I like that it also gently talks about the end of a tree's life cycle, how it's footprint in the world continues after it's life cycle has ended.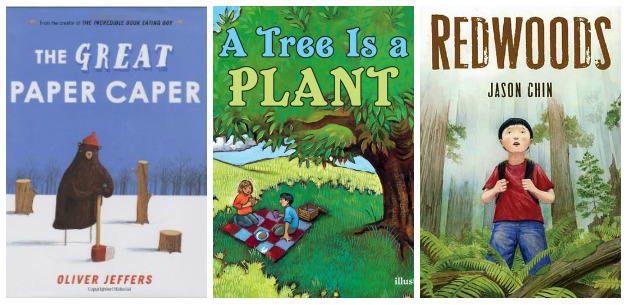 The Great Paper Caper by Oliver Jeffers– We love this book! It's an engaging story about disappearing trees and how the animals get the the bottom of the situation from Oliver Jeffers, illustrator of The Day the Crayons Quit.  While it seems like a fun (and amazingly illustrated book) it also has a lot to teach preschoolers about how important tress are to the animals in the forest as well as teaching them about conservation and recycling.  This is one of our current favorites.  You have to check it out, the illustrations are awesome!
A Tree Is a Plant by Clyde Robert Bulla– This is an easy to follow book that teaches preschoolers about the life cycle of trees.  It focuses on apple trees but touches on others and encourages children to look at the trees around them.  The book also helps children understand the changes that trees go through each season.  If you're teaching tree science or plant life this is a perfect book to include.
Redwoods by Jason Chin– What's not to love about the redwoods?  This book is a great adventure into the redwood forest for kids.  The illustrations are eye catching and the book is full of true facts about the redwood forest.  The book follows a little boy as his imagination takes him from the subway to a forest of redwoods.  He learns about their impressive size, seedlings, how they grow, and even dangers facing their survival. There's so much to learn, even I learned a few things about the redwoods too! It's the kind of book that even older kids can enjoy.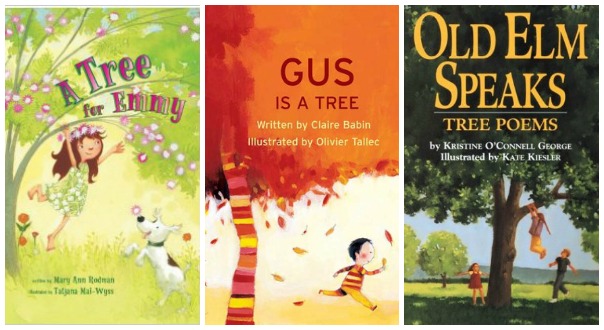 A Tree for Emmy by Mary Ann Rodman– Beautiful story about a little girl named Emmy that loves trees.  The story follows her adventures to find a special Mimosa tree just like the one at grandma's house. It's an engaging book that my preschoolers love to read over and over. It teaches children about different types of trees and how trees grow.
Gus is a Tree by Claire Babin– Love this book! This one is my favorites for illustration and story. I love the colors and the pictures are very well done.  The kids love the story because in addition to learning about trees it's also a sensory experience.  The author teaches kids about the textures, colors, and sounds of the tree and environment around the tree in a fun and engaging way.  The story follows a a boy named Gus (this book is part of the Gus series) as he finds himself transformed into a tree.  The girls thought it was such a fun book.
Old Elm Speaks: Tree Poems by Kristine O'Connell George– This book is a collection a poems that center around a tree. Poems about animals that inhabit the tree, how trees grow, and what the tree thinks when people engage with it.  The poems are simple and entertaining while teaching the kids about trees.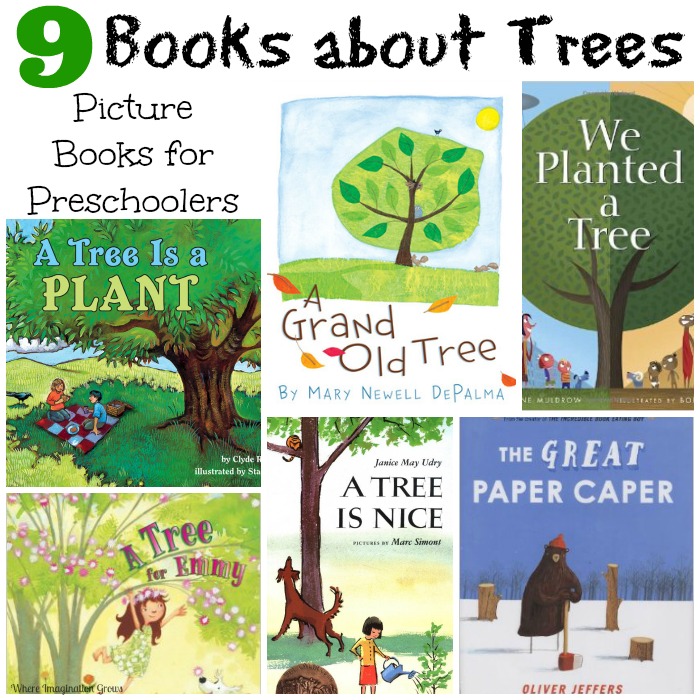 What books would you add? Don't forget to check out our tree crafts to go along with these great children's books!


Looking for more crafts and activities? Check out our index for 100+ plus kids activities! Find activities by theme, materials, skills, age and much more!