We've been reading lots of books about community helpers and careers recently in preparation for this month's Poppins Book Nook theme of "What Will I Be When I Grow Up."  If you're not familiar with this series, it is a virtual book club featuring numerous great bloggers connecting books with learning activities for kids of all ages.  From Pirates to Folktales we've been exploring books with fun activities all year! Check our all our other Poppins Book Nook Activities too!
Of all the books and careers we've been reading lately about the girls are most in love with the garbage/recycling ones!!
Post contains affiliate links for your convenience, please see below post or my disclosure for more info. Thank you!
Our favorite community helpers and career themed book about garbage men and trash removal was hard to pick! The girls loved multiple but it seems that Trashy Town by Andrea Zimmerman was the top contender so after reading it (for the millionth time!) we set out to creating a fun activity that connected to the book.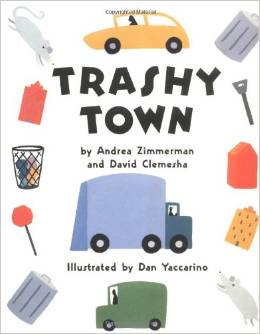 We loved Trashy Town and as I started planning this activity I wanted to focus on the garbage man but it ended up being the recycle activity.   Our garbage man comes early in the morning, before MB is a awake or any of the daycare children arrive, so on trash day we missed the garbage man but got to see the recycle truck in action and talk to the recycle truck driver.  Our recycle man was kind enough to stop and give the kids an overview of the truck and what items are allowed in the recycle can vs the garbage can. Thanks Mr. Recycle!  After that we ended up gravitating more towards the recycle man and his truck so our activity reflects recycling a bit more a a result.
Materials used in community helpers sensory bin:
Matchbox Garbage/Recycle Truck (ours are from Fred Meyer/Kroger; I paid $1 each for them)
Dried Black Beans
Small Plastic Cups
Recycled Plastic Cups (cut into small pieces)
Newspaper
I filled our sensory bin with dried black beans and added the trucks and garbage.  For the recyclables to sort I used acrylic ice rocks for glass, cup up a plastic cup for plastic, and crumpled some scraps of newspaper for paper.
Next I added small plastic cups that were labeled for each recyclable (glass, plastic, paper) and tweezers next to the bin so the kids could sort them into cups, giving a fun fine motor twist to this activity.
With the tweezers and trucks in hand the kids were off! They love cars and truck to begin with but with the added play of the sensory and sorting elements with them the girls were in heaven.  They loved this activity!
The recycle man in action!  Busy taking that paper to the "recycle bins" (aka the cups).
The tweezers worked perfect for the little recyclables and the girls loved this.  This activity has definitely been a favorite, it's right up there with our Spaghetti Shop Pretend Play activity, as one of the most loved! The girls can't get enough! Yay!
Check out what the other co-hosts of the Poppins Book Nook did with our "What Will I Be When I Grow Up" theme:
Loading InLinkz ...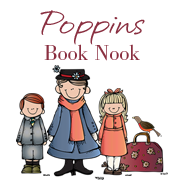 Co-Hosts:
Enchanted Homeschooling Mom ~ 3 Dinosaurs ~ To the Moon and Back ~ Planet Smarty Pants ~ Farm Fresh Adventures ~ Growing in God's Grace ~ Chestnut Grove Academy ~ Faith and Good Works ~ Learning and Growing the Piwi Way ~ The Usual Mayhem~ Preschool Powol Packets ~ Monsters Ed Homeschool Academy ~ Adventures in Mommydom ~ Teach Beside Me ~ Life with Moore Babies ~ Kathy's Cluttered Mind ~ Are We There Yet? ~ Our Crafts N Things ~ Hopkins Homeschool ~ ABC Creative Learning ~ Joy Focused Learning ~ P is for Preschooler ~ Laugh and Learn ~ A Mommy's Adventures ~ Inspiring 2 New Hampshire Children ~ World for Learning ~ The Kennedy Adventures ~ Ever After in the Woods ~ Golden Grasses ~ Our Simple Kinda Life ~ A glimpse of our life ~ Journey to Excellence ~ Happy Little Homemaker ~ Little Homeschool Blessings ~ Simplicity Breeds Happiness ~ Raventhreads ~ Water on the Floor ~ Learning Fundamentals ~ Tots and Me ~ As We Walk Along The Road ~ Stir the Wonder ~ For This Season ~ Where Imagination Grows ~ Lextin Academy ~ The Canadian Homeschooler ~ School Time Snippets ~ Peakle Pie ~ Mom's Heart ~ A Moment in our World ~ Every Bed of Roses ~ Finchnwren ~ At Home Where Life Happens ~ Suncoast Momma ~ The Library Adventure ~ Embracing Destiny ~ Day by Day in our World ~ Our Homeschool Studio ~ A "Peace" of Mind ~ Thou Shall Not Whine ~ SAHM I am ~ eLeMeNo-P Kids ~ Simple Living Mama