There are so many amazing picture books for kids out there and as a daycare provider I think that all daycare homes should have a healthy supply of books for kids. When we looked into preschool for my daughter books were the first thing I zeroed in on when we toured schools because reading with kids is so important! I don't think I can say it enough times.
As a parent and daycare provider I probably read 3-5 children's books a day, everyday. It doesn't matter if we've read these stories for kids 500 times, the kids can find and learn something new each time and it's amazing to watch them begin to be able to read them on their own.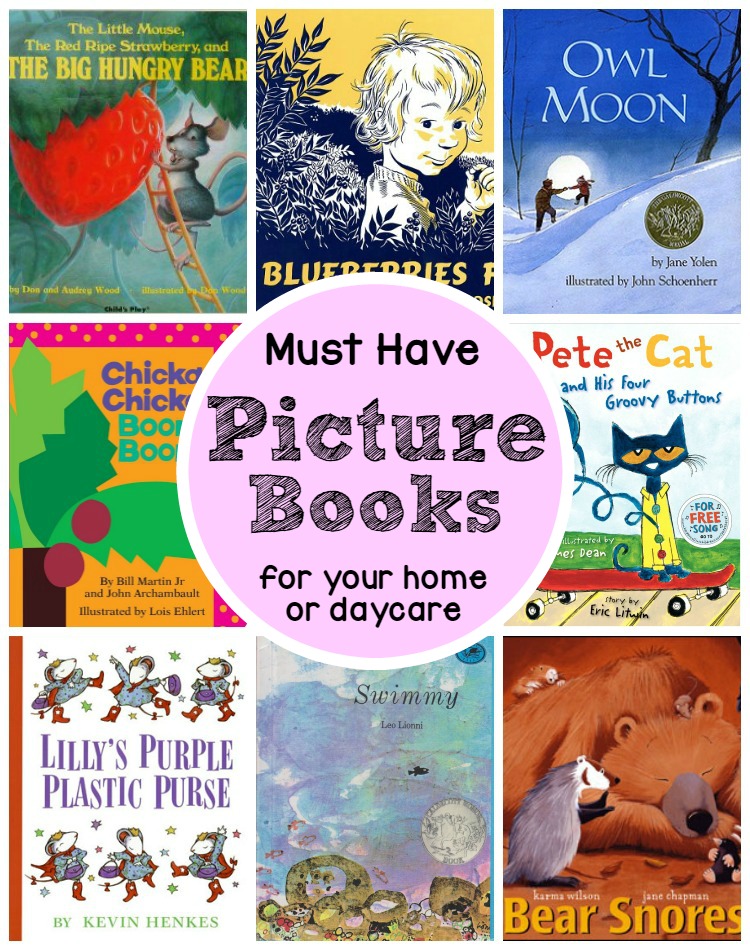 Affiliate links provided for your convenience, see my disclosure for more info.
Picture Books for Kids Every Home Daycare Needs
Everyone has their favorites but in my experience with kids there tends to be a common tread among certain books that often wind up on a lot of children's favorite lists. It's hard to pick just 15! I tried to avoid some super common books that many of you may already have but really they are classics for a reason. Kids love them! Below you will find 15 of our favorite picture books for kids! Books that have maintained their favorite status over the years as my daycare group has changed and my daughter has grown.
Picture Books for Kids
1. Chicka Chicka Boom Boom by Bill Martin Jr & John Archambault – One of those classic stories for kids that never get old to them. This book is a fun rhyming story that focuses on the alphabet. Kids love to learn letters with this fun story. It's catchy and fun. I've read it so many times I know it by heart but it's still fun to read.
2. Pete the Cat Series by Eric Litwin, illustrated by James Dean – These books are always a hit. Something about that laid back and silly cat really speaks to the kids. Any book in this series is a hit but our favorite is Pete the Cat and His Four Groovy Buttons.
3. My Many Colored Days by Dr. Seuss – Don't hate me for this but if I'm totally honest I have to say overall I'm not really a Dr Seuss fan. That said, I do however love this particular book by Dr Seuss. It's a great way to explore colors and feelings in one small package. Little ones love the imagery and older kids are engaged by both the images and the text. It's a book that all my daycare kids, from infants to preschool, enjoy.
4. Blueberries for Sal by Robert McCloskey – This is one that is actually fairly new to our library, although it's been around for a long time. I'm not sure how I managed to miss it until recently. It's a fun read that's follows the  adventures of a little girl and a baby bear while hunting for blueberries with their mothers.
5. The Little Mouse, the Red Ripe Strawberry, and the Big Hungry Bear by Don & Audrey Wood – This story follows a little mouse's attempt to keep his strawberry safe from a big hungry bear.  It's a fun book that engages the kids and I've yet to have a kid that didn't love reading this book! I've had to replace this book twice over the years because it's so well loved in my daycare.
6. Where the Wild Things Are by Maurice Sendak – Love this book. Max goes on a magical adventure into the land of the wild things and mischief. The wild things are scary without actually being scary though. It's another classic book that kids of all ages love to read.
7. Swimmy by Leo Lionni – The illustrations in the book are beautiful and I love the story. It's about a little fish that helps some new friends find a way to camouflage themselves from danger.  It's a great read, I highly recommend it.
8. Lilly's Purple Plastic Purse by Kevin Henkes – My daughter and the daycare kids all love this book. The book is about a little mouse who brings her favorite purse to school and the mishaps that ensue. It offers advice for apologizing to a friend and resolving a conflict.
9. Owl Moon by Jane Yolen, illustrated by John Schoenherr – Another beautifully illustrated book! The story follows a little girl and her father who go owling on a winter night. It explores the relationships between father and child between humans and the natural world.
10. Bear Snores On by Karma Wilson, illustrated by Jane Chapman – I can't stress how much my kids love the bear series from Karma Wilson. There are several books but Bear Snores On and Bear Feels Scared are their favorite. They all offer a fun rhyming story that speaks to kids and shares the value of friendship between bear and his furry friends.
11. Old Tracks, New Tricks by Jessica Petersen – This is simply an amazing book! All kids love trains and this story fit right in with what children are interested in and going through! The images are very vibrant and the text is short and sweet (but not too short that older kids will lose interest). This book works for broad age groups so your little ones will love the images but your older kids will enjoy the story as well! Don't forget to check out the back, it holds ideas for some fun new ways to play with trains!
Non-Fiction Books for Kids
Don't forget the non-fiction books! Non-fiction stories for kids should be in every daycare library. There are many options for every topic you can think of. I've found non-fiction books about nature and animals are always a hit. Below are the books that over the years have been the most read and well loved non-fiction books by the children.
 12. A Butterfly is Patient by Dianna Aston, illustrated by Sylvia Long –  A beautifully illustrated book that is an amazing introduction to the world of butterflies. It features an incredible variety of butterflies and what kid doesn't love butterflies?
13. Hippos Are Huge! by by Jonathan London – This non-fiction book about hippos is packed full of information about the large animals. The illustrations are bold and engaging. The kids love (love!) reading this story. It's one of my favorite non-fiction stories for kids.
14. National Geographic Little Kids First Big Book of Animals – These animal almanacs should be a staple in all home libraries in my opinion. Children of all ages are fascinated with creatures big and small and this book features so many. We use it a reference for activities and even just for learning about animals at story time.
15. Creature Features by Steve Jenkins & Robin Page – This book features twenty-five animals that explain why they look the way they do. It's images are bold and colorful. I love how it gives facts about each animals and explains the survival need behind each animal's appearance in a kid-friendly way.
16. Growing Vegetable Soup by Lois Ehlert – A bright, bold picture book about vegetable gardening for the young children. Kids love to learn about how things work and how things grow. This book is the perfect way to learn about plant life, gardening, and making a meal.
Take a peek at these recommendations from other experienced child care providers and teachers:
10 Books that Every Preschooler Should Have from Play to Learn Preschool
Every Toddler Needs These 10 Board Books from Stay At Home Educator
Top 10 Board Book for Kids from House of Faucis
Top 10 Must Have Books for Kids from Little Sprouts Learning
10 Favorite Children's Books from Healthy Playful Learning
Now it's your turn. What's in your library?
Looking for more crafts and activities? Check out our index for 100+ plus kids activities! Find activities by theme, materials, skills, age and much more!