We love dress up and pretend play activities!  We especially enjoy them when they involve crafts we make ourselves, like our recent mask craft, and this crown craft for kids has been no exception.
 Easy DIY Crown Craft for Kids with Paper Plates
Post contains affiliate links for your convenience, see disclosure for more info.
 Materials Needed Make the Crown Craft:
Paper Plates

Glue

Paint

Sequins
(We received our jewels for free from CraftProjectIdeas.com but you can buy these same ones online or at your local Wal-Mart store. They are well made craft supplies and we love them!)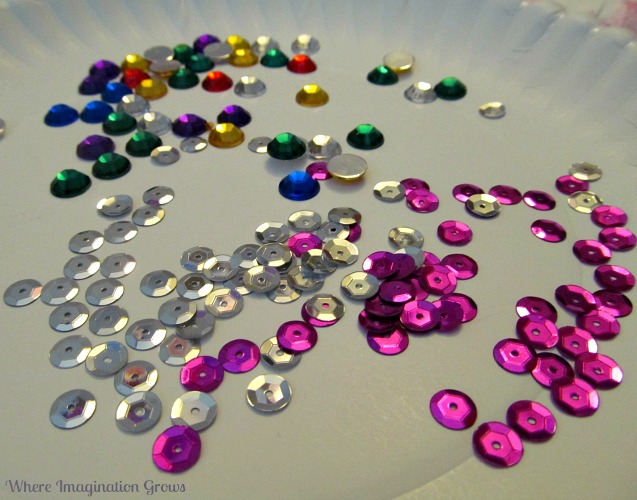 How to Make a Crown:
Bend paper plate in half
Cut vertically up middle (3/4 of the way to the edge) of plate
Unbend paper plate and cut horizontally across cut you just made (essentially creating a + in the center of the paper plate)
Cut diagonally between each cut you just made (creating a 8 triangular slices in the center)

After I cut the paper plate I mixed up some sticky paint by simply pouring some glue into a dish and adding a few drops of paint (watercolor works too) to the glue.  If your kids are older they could easily paint the crowns first and later use glue to put their jewels on but my toddlers still struggle with glue bottles a bit.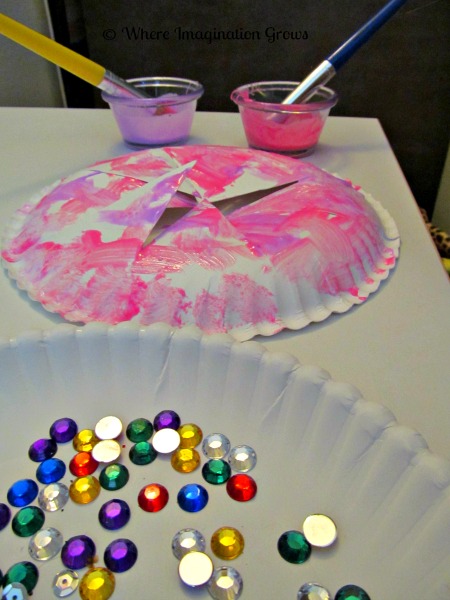 Drying Tip: If your kids go heavy on the sticky paint I recommend as the crowns are drying you check on them regularly and move the areas you cut around a bit  to prevent the triangular sections from getting stuck together as they are drying.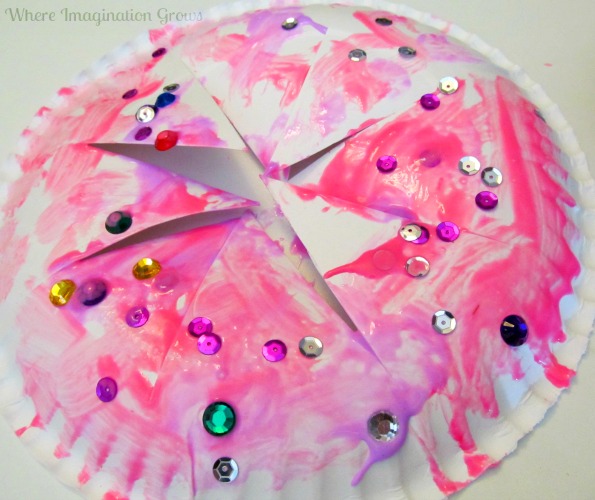 When they are dry just bend up your triangle pieces and you have a beautiful crown to wear!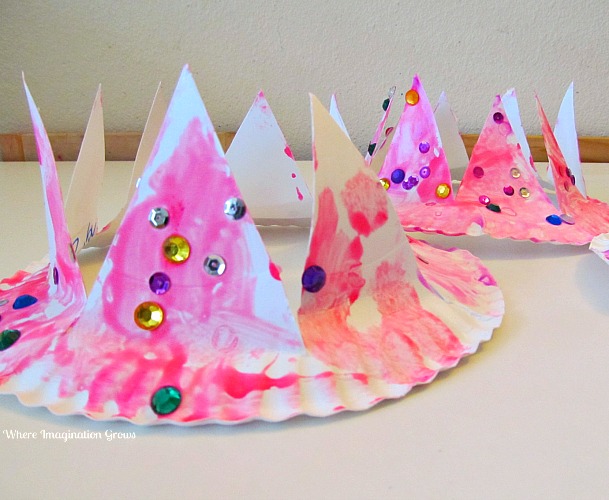 MB and the daycare girls have been having a grand old time with their crowns! They've had princess "snack parties" together and they just had to wear them to the park to show their park friends, plus the crowns have sparked endless hours of imaginative play.
MB always wants to wear hers with her special Princess Tinker (aka Tinkerbell) sunglasses and "special princess hair" (3 pony tails)
Looking for more crown activities? Check out the beautiful princess crowns for kids over at Happily Ever Mom!