Are your kids fans of the new Disney-Pixar movie Finding Dory?
My daughter couldn't wait to see it and is obsessed with all things Dory. She even wants to turn her room into an underwater world so she can "live under the sea like Dory." Dory's Adventure Poster-A-Page book was perfect for her relive the movie and decorate her room with! Plus she learned a lot about the different types of fish in the movie.
Keep reading to find out more about the Finding Dory poster book and enter to win a free copy below!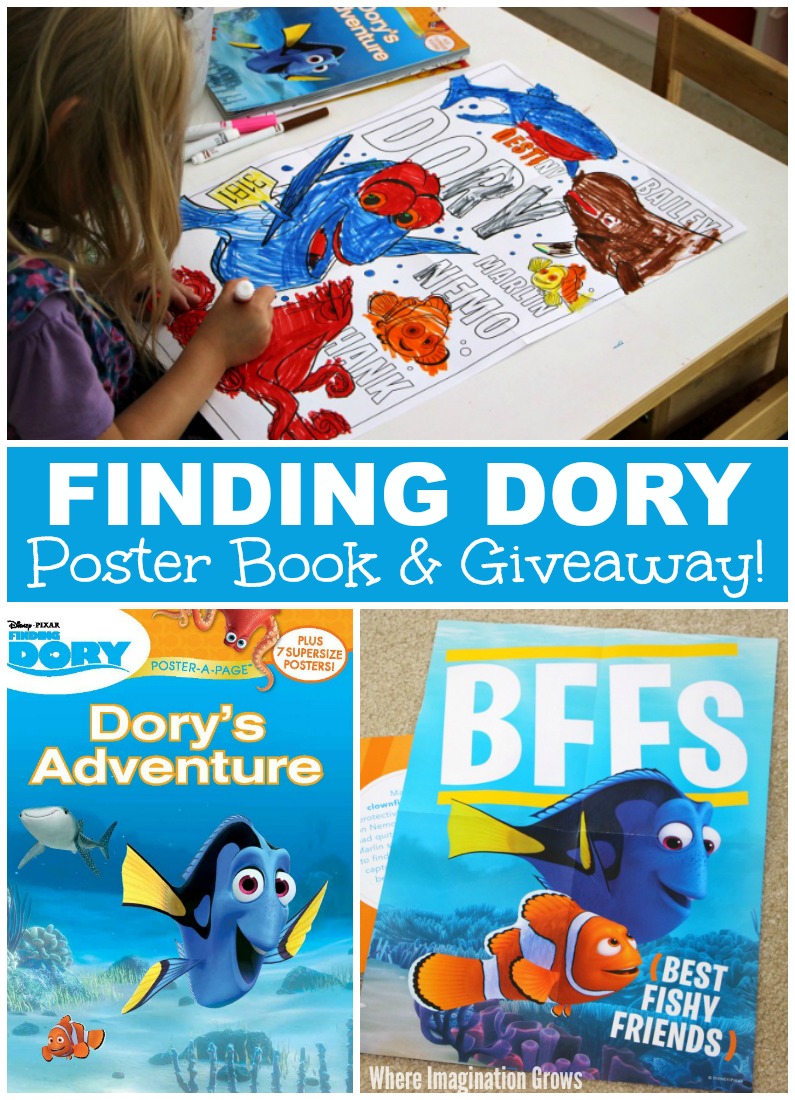 I received a complimentary copy of this book to review. All thoughts and opinions are 100% my own. See full disclosure policy here. Post contains affiliate links for your convenience. 
Disney/Pixar's Finding Dory Poster-a-Page Book
My daughter was so excited when this book came in the mail. She grabbed it out of the package and took off to read through it with her friends. The kids spent a good ten minutes oohing and ahhing over the pictures of all their favorite characters from Finding Dory (and Finding Nemo too!).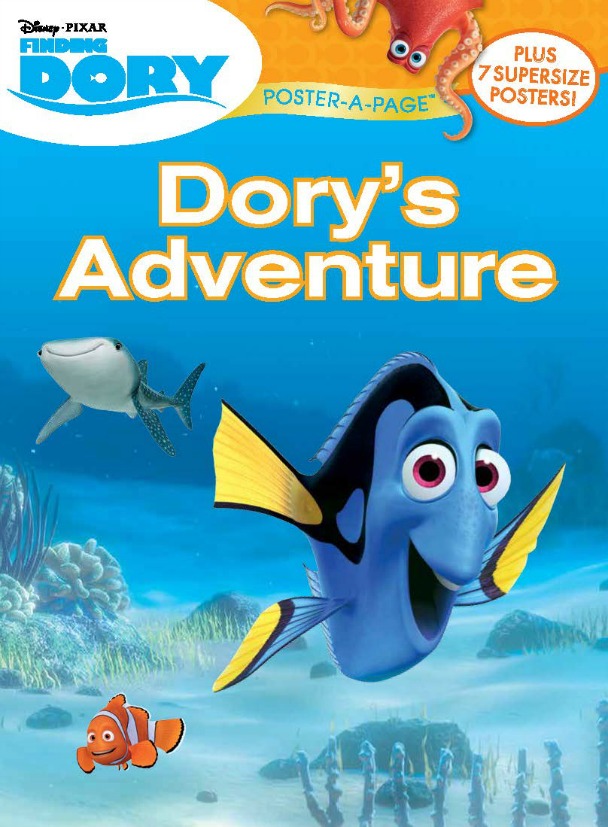 Finding Dory: Dory's Adventure Poster-A-Page
Every page is a poster in the Finding Dory Poster-A-Page book featuring beloved Disney characters from Dory and Marlin to Bruce the Shark. Finding Nemo fans can relive the underwater adventure, learn a few new things about the meaning of family, and decorate their walls with seven supersized, pull-out posters of their favorite images from Disney-Pixar's new movie, Finding Dory!
The book is full of bright and entertaining images that can be used as posters! There are also 7 large fold out posters that kids remove and hang in their rooms.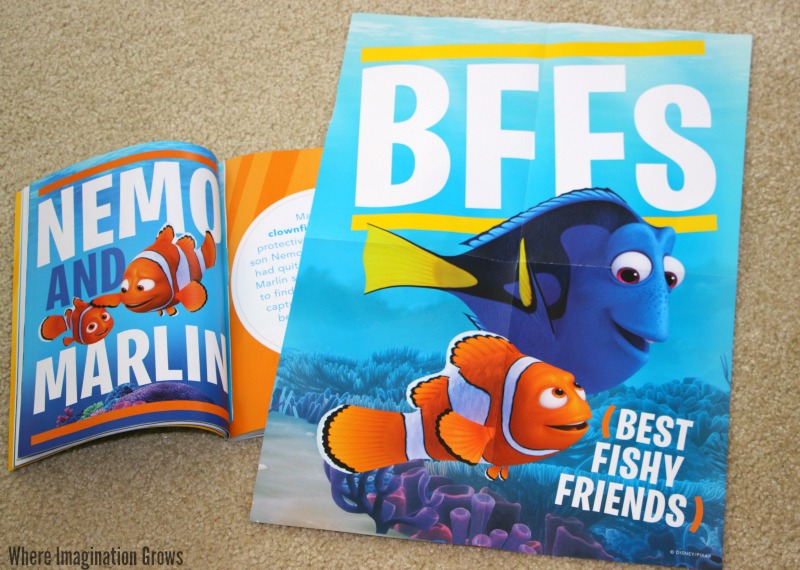 This book is more than just posters too. It offers pages of fun facts about the creatures found in the book too. My daughter learned a lot about the creatures featured in the movies. She especially liked the pages about the blue tang fish and the octopus.
One of our most favorite of all the the posters is the coloring page poster. My daughter worked on hers for a few days (it's a lot to color!) until she finally got it just how she wanted it.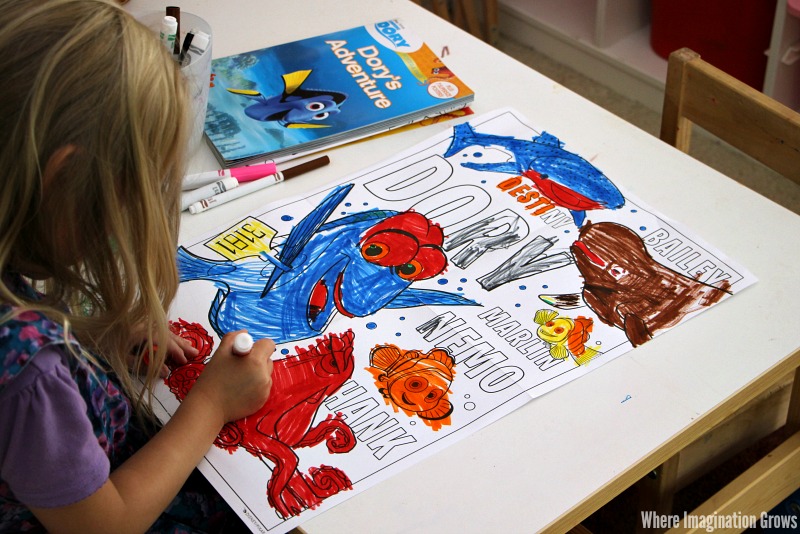 We hung the large posters in her room and then I let her pull out the poster pages that she wanted and hang them too. She ended up with two walls full of Finding Dory posters! Below you can see her favorites all on one wall by her bed, there is another wall also covered that's not pictured. Like I said there are a lot of poster pictures to pull out and hang up!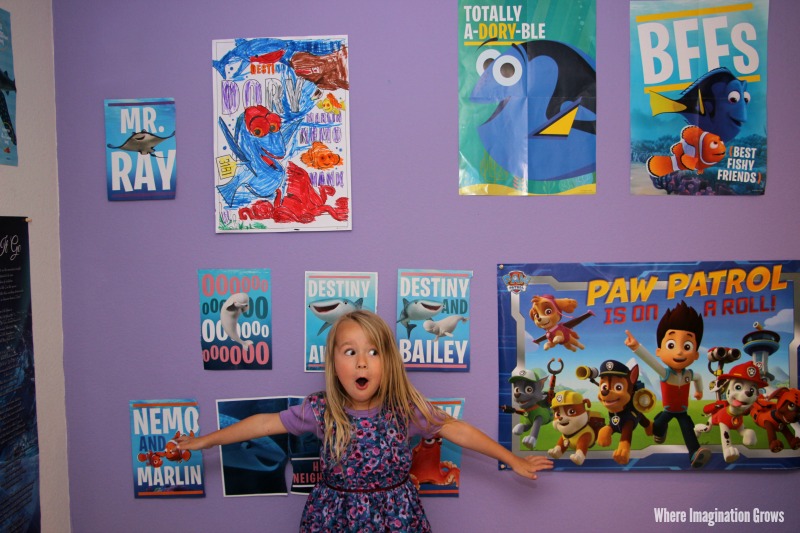 She loves her "Dory room" and when she wants to change it up she heads back over to her poster book and pulls out a new page to display on her walls. It's perfect for any Finding Dory fan!
Want a copy for your child? Buy it now 
Need more books? Check out these amazing non-fiction animal books for kids!
Looking for more crafts and activities? Check out our index for 100+ plus kids activities! Find activities by theme, materials, skills, age and much more!