Simple open-ended art activities are some of my favorite activities to do with MB.  She loves to create and art is definitely her thing! This time we added a new twist on her favorite painting activity by using a black light! We've had lots of fun with our black light in the past and this was no exception!
Glow in the Dark Painting with a Black Light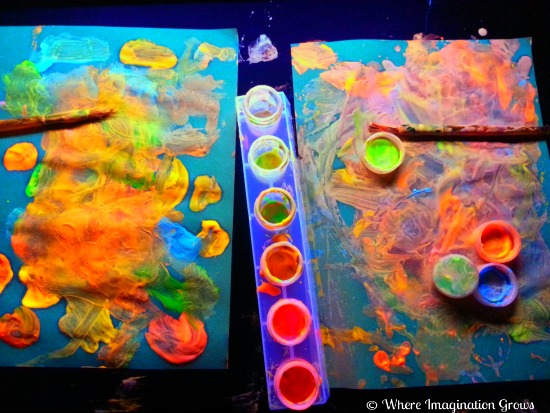 Post contains affiliate links for your convenience. See my disclosure or below post for more info. Thanks!
All you need  is a black light, florescent paint, paper, and some fun loving kids!  I set the paint out on the table, turned on the light and off they went creating their art projects!
I like the florescent paint because it looks awesome when it glows in the dark but even in the regular light, when the pictures dry, they still have bright vibrate colors to them!
Ready for some more black light fun? Check out our Glow in the Dark Shaving Cream or our Glowing crystals!