Are your kids interested in learning about maps?
Mapping My Day is a great way to begin teaching map skills to younger children.  It's an easy to understand picture book for kids that introduces them to map reading and understanding where things are located in relation to other landmarks. My preschoolers loved the story and have a better understanding of how maps work now.
Below you will find our review of this great book plus free printables to help your child learn about maps with this book and a giveaway!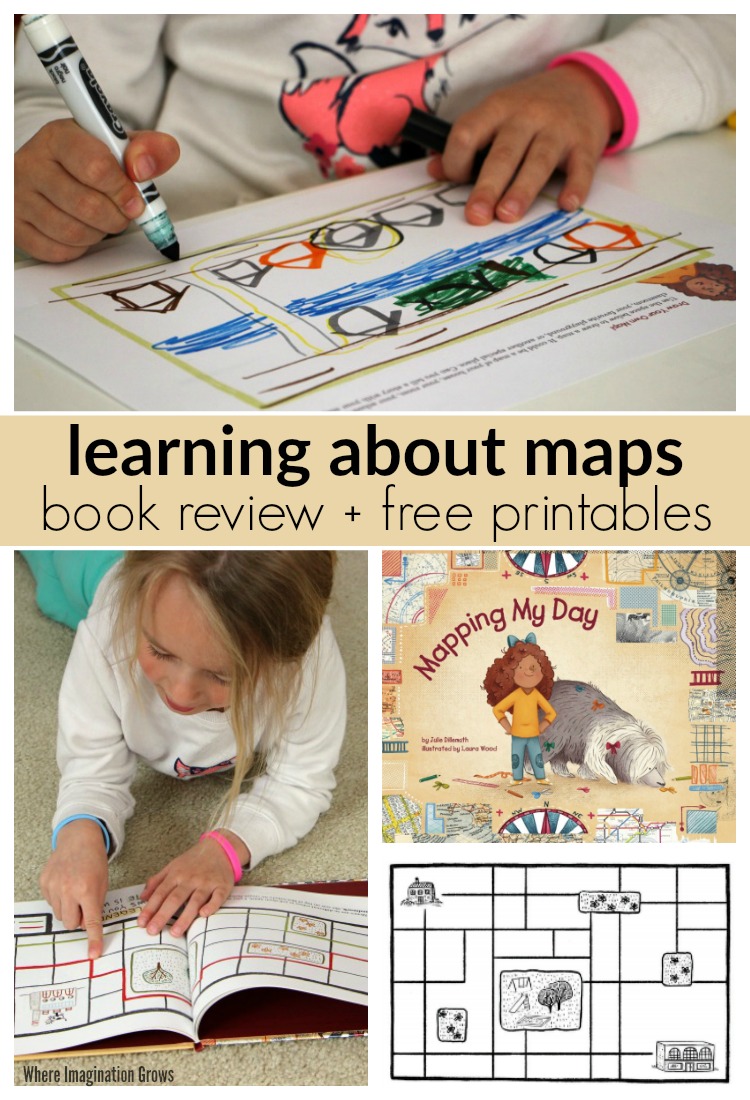 Post contains affiliate links for your convenience. See full disclosure policy here.
I'm excited to share this book with you today! It's the perfect book for budding adventurists and fun way for kids to learn about map reading.  It encourages them to examine the world around them and interpret what they see into directional observations.
Mapping My Day by Julie Dillemuth, illustrated by Laura Wood

Flora loves drawing maps and uses them to tell us about her life! Mapping My Day introduces spatial relationships and representation: where things and places are in relation to other things. This book intends to show readers how maps can convey information, inspire children to draw their own maps, and introduce basic map concepts and vocabulary. Spatial thinking is how we use concepts of space for problem solving and is shown to be a key skill in science, technology, engineering, and math. Includes a "Note to Parents and Caregivers" with extra mapping activities.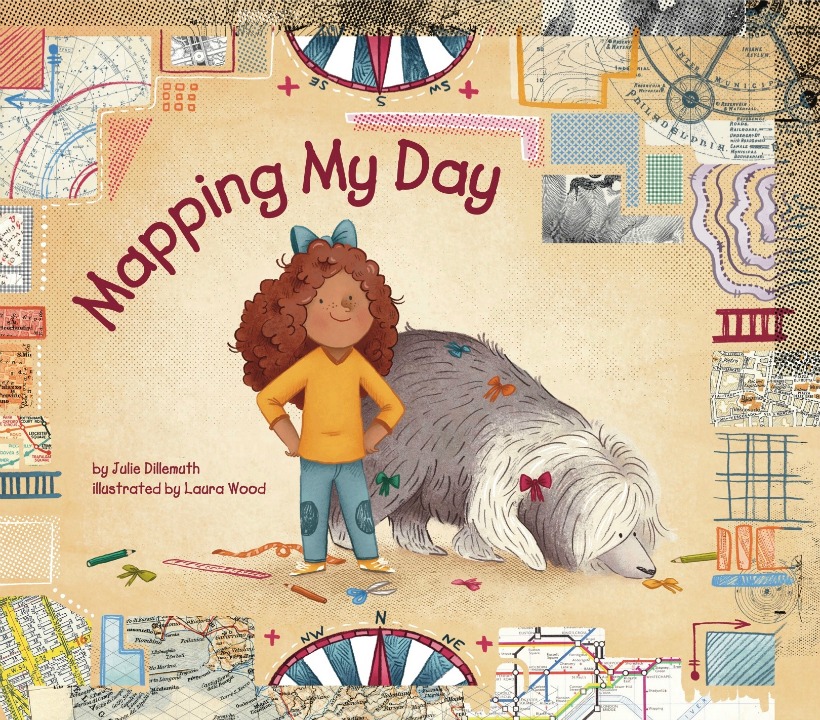 Mapping My Day focuses on locations kids are familiar with, like bedrooms, school, or parks . The information is presented in a clear and easy way that my preschoolers could easily understand. My daughter (5) started this book with a very minimal knowledge of how maps work. Now she understands to look for the legends and how to use them to identify things within a map.  She also understands how to use maps to make routes to places we go and she's paying more attention to the landmarks around our neighborhood and her school.  I've also found that she is noticing how changes in our route affect how long it takes us to get to school or home more than she did before reading this.
The book is fun and interactive. It gets kids thinking and learning but it's presented in a story that is fun for them to read. I like that it has a section for parents and caregivers in the back that offers helpful advice on teaching map skills to kids.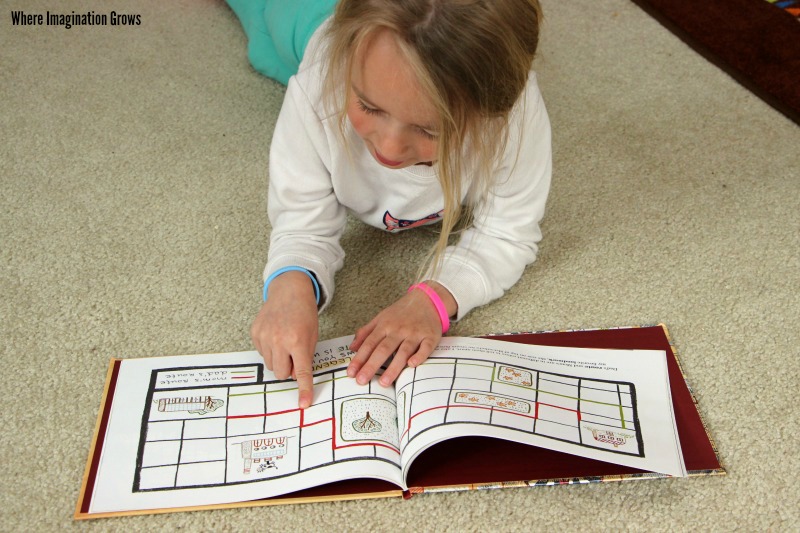 The book also offers a great chance to talk to kids about emergency plans for your family. Use the free printables (see below) to make a map of your neighborhood together.  Talk about where your family would meet if it was unsafe to be in the house, like in cases of fire or a natural disaster. Is there a park nearby? A neighbor you trust? Draw your map and then have your child trace out the route they would take to get to the meeting spot.
>>> Download the free map learning printables for this book now <<<
Great right? Every homeschool or preschool classroom could greatly benefit from having this book in their library. Even your personal home library needs this. Great STEM book for kids!
About the Author:
Julie Dillemuth was mystified by maps until she figured out how to read them and make them, and it was a particularly difficult map that inspired her to become a spatial cognition geographer. She lives with her family and writes children's books in Santa Barbara, California, where the west coast faces south. Visit her at her website: http://juliedillemuth.com.
> Buy your copy Mapping My Day by Julie Dillemuth today <
Giveaway!
Here's your chance to win a copy of this book. Contest open to adults 18 years and older with US addresses. Sorry no PO Boxes.
Looking for more crafts and activities? Check out our index for 100+ plus kids activities! Find activities by theme, materials, skills, age and much more!
*I received a complimentary copy of this book to review. All thoughts and opinions are 100% my own. See full disclosure policy here.*