Need a quick and easy activity that works those fine motor skills or helps your little one learn colors?  Then you're in the right spot! This simple light table activity took me less than five minutes to set up and the girls loved it! I kept hearing "Let's do it again!" over and over! And even if you don't have a light table it's still a fun kids activity to pull out when you need a few minutes to get things done!

Post contains affiliate links for your convenience, see my disclosure for more info!
Learning Colors & Fine Motor Skills with Tubes & Beads
This activity was inspired by our counting with pompoms and tubes activity that we did awhile back. It was one of my daughter's favorite counting activities so I decided to tweak it a little for color sorting and fine motor skills development.
Materials used:
I set out a small container with pony beads on the light table with some neon tubes and tweezers for my preschoolers to sort and work with. The opening of the neon tubes is narrow so they make a perfect instrument for working on fine motor skills and hand-eye coordination for preschoolers.  Have a toddler? Scroll down to see how we modified this for toddler hands.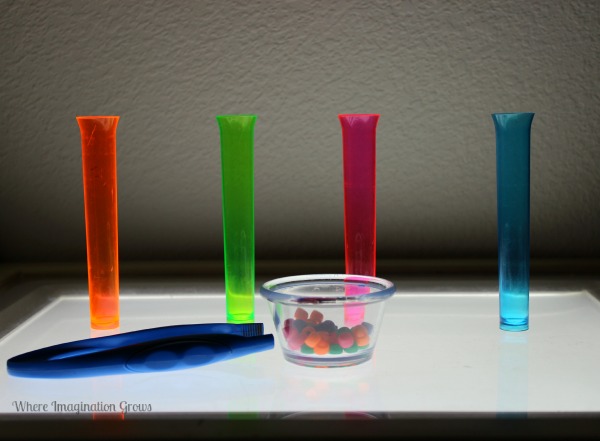 It looks so inviting on the light able! Plus it was perfect for after nap because the kids were so engrossed by using the tweezers and sorting colors it made this an easy quiet time activity too!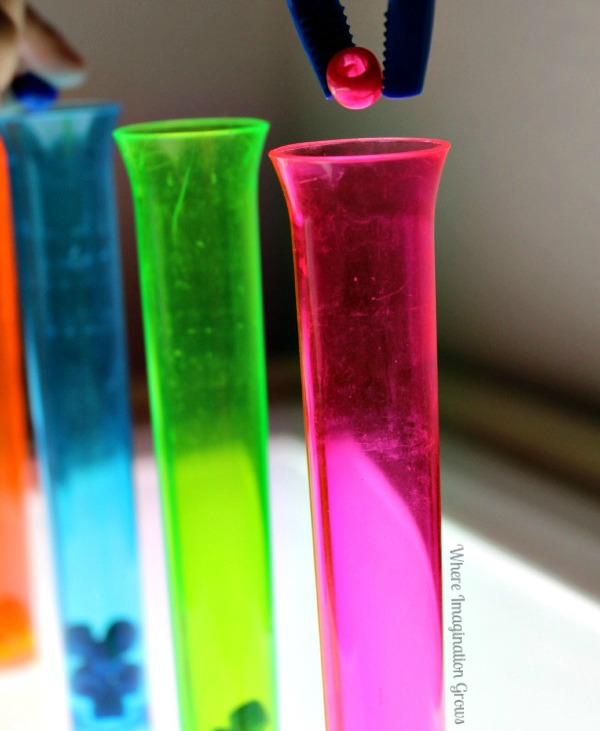 The tweezers pictured are from our Learning Resources Explorer's Set BUT after a bit of frustration we ended up switching to the Gater Tweezers because they grip the beads better.   The explorer set ones work great with bigger objects but my preschoolers have a hard time with them when we use smaller objects (like beads) because of the way the tips are made.  The ends have a slight angle to them so it's harder to get traction on small beads and they kept slipping from the tweezers, the gater tweezers don't have this issue.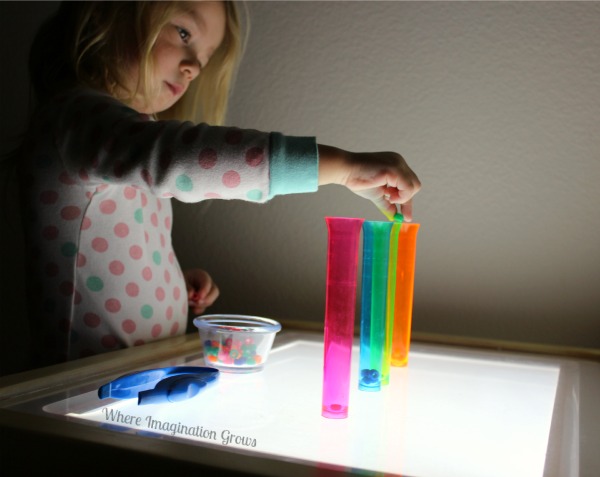 My youngest toddler (20 months) did a slightly modified version of this.  We used these neon shot glasses because they have a wider opening than the tubes and were easier for her to manipulate. She thought it was so fun to work those fine motor skills like the older kids! (Remember, like always, supervision is must and if your toddler still puts everything in their mouth you may want to try the pompom version)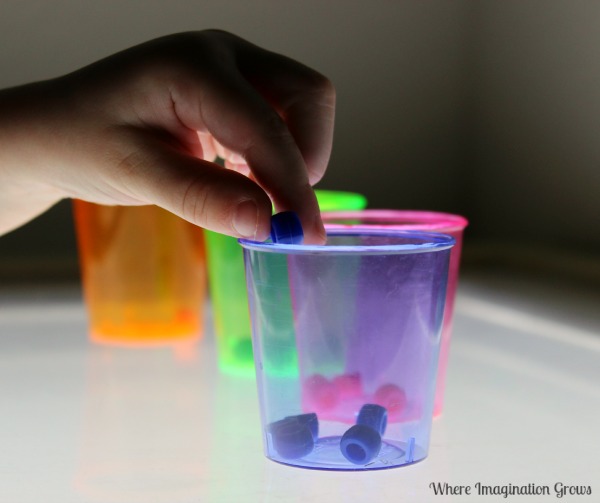 Fun right? Don't forget to check out the pompom counting activity that inspired this one or find more color learning activities!
Looking for more crafts and activities? Check out our index for 100+ plus kids activities! Find activities by theme, materials, skills, age and much more!