I love simple Easter ideas for toddlers. I don't typically dye or decorate real eggs with my toddlers, mainly because I have a large group of toddlers and just me. Those dye kits aren't great at coming out of carpet and clothes so instead I like to find fun ways for them to create Easter eggs with paint or other materials. When I found a set faux eggs at the store I figured they were perfect for me Easter ideas!
Easy Toddler Easter Ideas: Marbleized Eggs
Affiliate links provided for your convenience, see my disclosure for more. 
We did this the same as any marble painting activity but instead of marbles we used the fake eggs. It turned out to be one of my favorite Easter ideas. Although our Easter egg rice craft was lots of fun too!
Materials:
Faux Eggs (I got at ours at local Walmart for $2; Most craft stores carry wooden ones as well)
Paint (we used acrylic)
Container
Squirt some paint into the container, add eggs, and shake! We added some paper to the bottom of our container and we ended up with some beautiful pictures too! It's LOTS of fun for little ones! One of my best Easter ideas.
My little egg shakers only had one egg pop out of the container and go flying across the room so I consider this a success!  Our's are a plastic material ones were very light but if you opted for the wooden ones (or a deeper container) I doubt you'd have an issue.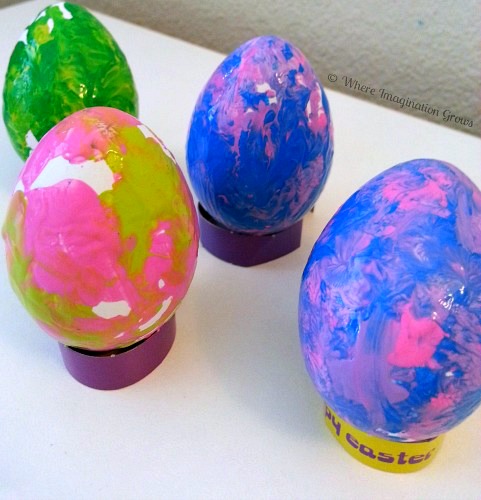 Our faux Easter eggs came with the cardboard stands pictured above, I think most dye kits also come with these too. Like when you dye regular eggs, these stands are helpful in allowing the eggs to dry. I used them to hold the eggs while they were drying.  I did re-position ours a few times as they were drying to prevent the paint from sticking to the cardboard egg stands.
I love how these turned out! We have a beautiful bunch of eggs already and more to come because it was so much fun the kids want to do it again!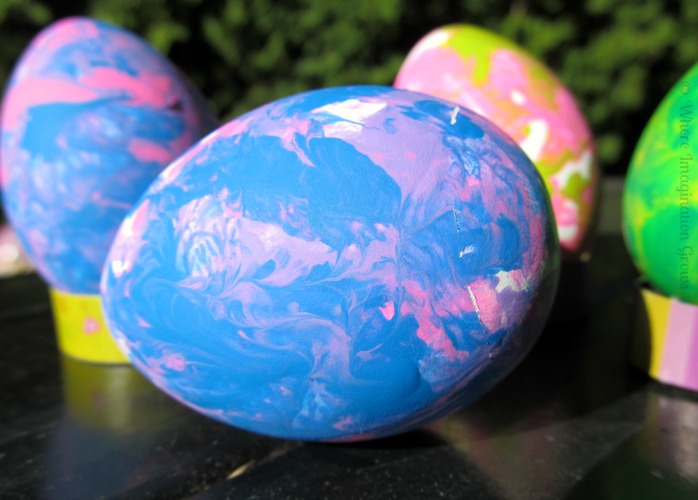 What are you doing with Easter eggs this year?