I've been making meditation jars (aka mind jars, calm down jars, & time out jars) since first learning about them years ago in a college psychology class and we usually have at least one large meditation/mind jar available during the day when my daughter is having a hard time.
Mind jars are fairly easy to make and are a great sensory experience for kids.  The idea behind a mind jar is that the glitter represents your feelings.  When shaken you are feeling agitated and upset but as the glitter settles so do your emotions.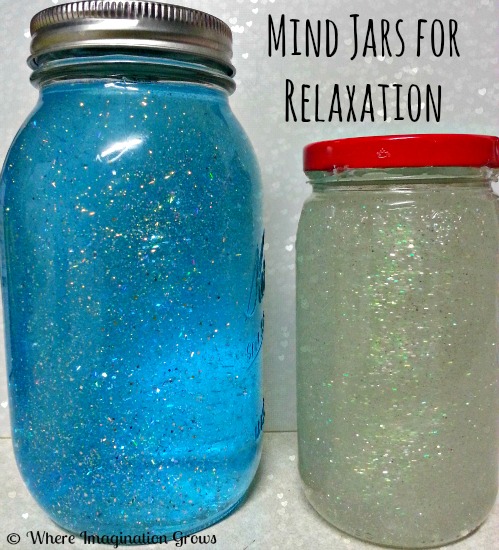 This post contains affiliate links for your convenience. 
I generally make these one of two ways, with regular clear glue and glitter or with just colored glitter glue.  Honestly colored glitter glue is much easier so it's my preferred method (glitter and I aren't friends generally) but it really just depends on what I have in my supply closet at the moment, both are easy enough to make though. I made the mini mind jars (below) with glitter, glue and water while the larger ones are simply glitter glue and water.
Calm Down Jars For Kids
Supplies:
Fill jar then pour glitter glue into hot water and stir until glue is dissolved.  Boiling water isn't necessary but you do want it hot so that the glue will dissolve rather than just clumping.
When using colored glitter glue just as as much as you want.  To fill my dollar store mason jar I used half a bottle in of blue glitter glue.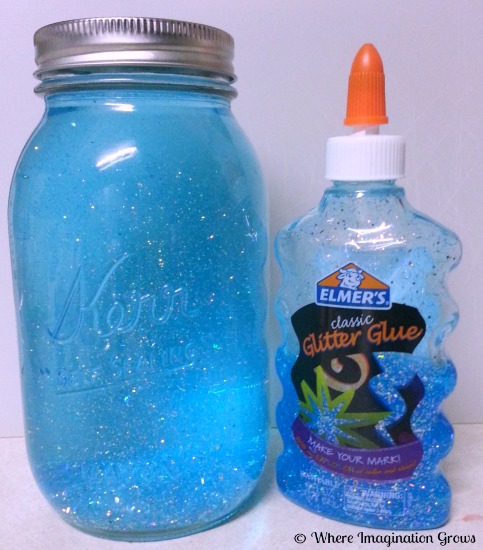 I also used nearly a whole (small) bottle of our pearl glitter glue. Because the glue is not colored I did add several pinches of silver glitter to it to give it some extra sparkle power.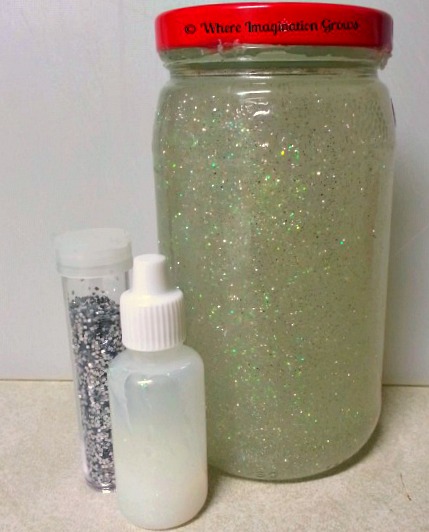 When you achieve the look you want glue the lid onto the jar with hot glue or super glue so that your kids can't open it. I'm guessing that it wouldn't be very fun to have to clean colored glitter water out of your carpet so make sure you don't skip this step!
Both of my mind jars above take about four or five minutes to fully settle after shaken.
Mini Mind Jars for Kids!
I recently made up a few mini mind jars for my daughter to use when she's upset and needs something to help refocus her frustration at bedtime.  My daughter has been struggling with bedtime and I made these little ones for her to use during those moment of frustration.  I should note that when making mind jars I generally stay away from using the color red, but my daughter really wanted a red one so I did make one of the mini ones red.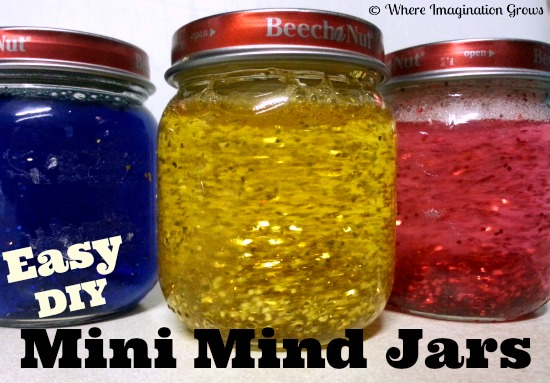 Supplies:
Baby food jars
Hot water
Glitter (ours is from CraftProjectIdeas.com)

Liquid watercolors or food 

coloring

Super glue
Just like with the bigger jars you want to make sure you are using warm/hot water. Next add about 1/4 bottle of clear glue & stir until glue is dissolved. Simply shake in as much glitter as you want then glue on lid and your done.
The more glue you add and the finer the glitter the slower it stops swirling. With the smaller jars I struggled to get the hot glue to secure tightly so I switched to, and recommend, using super glue. 

Our daughter keeps a flashlight next to her bed and uses it with the jars when she gets frustrated about bedtime. It's a way for her to settle down and relax before falling asleep. She generally puts them back onto her table prior to falling asleep but I always check on her (regardless if she has the jars or not) and remove them if needed.

In addition to being a great tool for regulation of emotions they can also be a fun sensory play activity! We often put ours on the light table (somehow the counting bears always end up there too.) and the kids will play with them for a long time.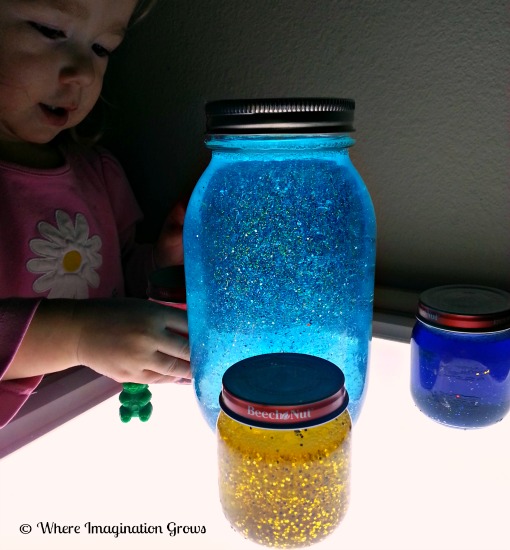 **Note: Please understand I am in no way recommending you hand a glass jar to child that is extremely upset and prone throwing things. I also do not recommend just handing one to a child without any explanation or supervision.  My daughter is very familiar with mind jars and handling glass jars in general (we do not buy plastic bottles) but if she is extremely upset or throwing things in frustration I would never hand one to her.**
Have you ever used a meditation/mind jar? 
Disclosure: Some of the items above where given to us for free by CraftProjectIdeas.com to use and create with. Check out their site for great ideas and inspiration!