I often get emails and messages from people who are in the process of starting a home daycare and are wondering what toys I recommend getting first.  There are all kinds of toys and games for kids out there so its easy to get overwhelmed or to end up buying a huge amount of toys, some of which your kids may never play with.  Over the years of doing daycare I've found certain types of toys to be more essential and more worth your money than others.  So today I've decided to put together this list of the must have toys to look for when you are ready to begin fill your home daycare area!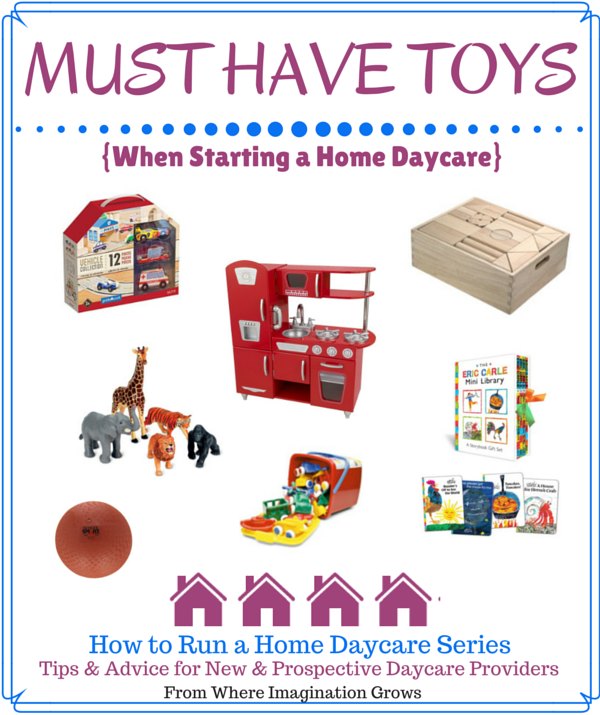 Affiliate links provided for your convenience, please see my disclosure for more info, Thank you!
Most of these toys listed below are open-ended toys that allow for a variety of play and span multiple ages.  I don't feel that a large quantity of toys is completely necessary, I personally feel like less is more especially if they are well made and easily adaptable toys. My house has never been packed corner to corner with toys and it's never been an issue for current or potential clients.  Also this is just my list of toys that have worked well with my groups of daycare kids, in no way are these the only toys or the 'best' toys.  These are my recommendations for simple toys to get you started.
Remember secondhand stores, garage sales, and craigslist are great places to start looking.  Not everything has to be brand new but make sure it's in good shape and will last you at least a year.  Buying secondhand doesn't save you anything if you have to replace them in a few months.
Must Have Toys When Starting a Home Daycare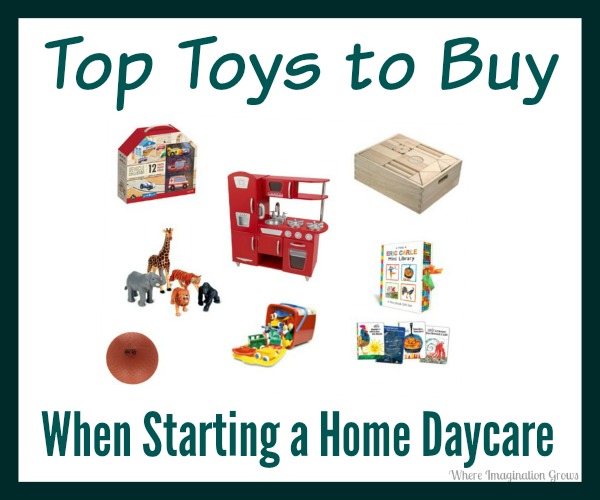 Blocks: Personally I think blocks are the best investment you can make when buying toys.  I highly recommend a set of unit wooden blocks but even smaller wooden block sets or Lego Duplo sets work great when you're first starting out.  I generally stick with the Lego Duplo sets because they are large enough for small toddlers but still engaging enough that 4-5 year olds still enjoy them, which I've found not to be the case with the larger Mega-Bloks.
Dramatic Play: Pretend play activities are the ultimate open-ended play activities, they offer infinite ways to play because it's all based on whatever the kids can dream up!  When starting a home daycare I recommend at least a pretend kitchen and a food set or hats and dress up clothes.  In time I think it's important to have all kinds of dramatic play items (kitchen, food, dress up, tools…) but I'd recommend starting with a kitchen set and a basic food/dishes set. I love our wooden one and it's stood up to constant use (I recently did a post reviewing our kitchen set) but get what fits your budget and space needs. Check craigslist! If you'd prefer to get dress up first I always check Goodwill and secondhand stores for hats, scarves, shoes, purses… I also stock up after Halloween when most stores offer clearance prices on costumes!
Vehicles: Cars and vehicles are a hit with all ages and genders. Plus they can be combined with other toys to extend the play. I have this Guidecraft wooden vehicles set (got on craigslist for $7!) but recently I picked up a bunch of similar ones at the Dollar Tree and I saw Target had some in their train section for $2 each. My kids use these by themselves but more often then not they end up in the block area. Another popular set that we have is the Viking Chubbies set of vehicles.  They are perfect for younger kids and very durable, mine have lasted 3+ years and are still in great shape.
Dolls: Both girls and boys like to play with dolls and I always keep the dolls available to them. They are a great way to teach nurturing and caring.  Basic dolls (I don't get ones that make noise, eat, or do anything crazy) are easy to find and you can pair them with a simple basket and a blanket if you don't want to get baby doll cribs and accessories. Even smaller dollhouse sized people are a hit with kids and encourage op-ended pretend play.
Animals: Plastic animals are some of the most used toys in my house. I keep a basket of jumbo animals (Zoo, Farm, & Jungle) out at all times and the kids LOVE them! Little people animals are great too! Animals encourage imaginative play and can be combined with other toys extend the play. Ours often end up in sensory tables, playdough, and the block area.
Books: Seriously a must have. I have stacks and stacks of books from scholastic (I signed my daycare up for their book club program) and secondhand stores that we rotate through all year long.  You can find amazing deals on books at used children's stores and goodwill. Always be sure to check for coloring and ripped out pages.  Also a small cheap rug, a wicker basket, and a pillow or two make a perfect reading space! If you are mainly working with smaller children the 0-18 months age group) you may want to focus on board books and Indestructibles.
Balls: Playground balls are perfect for encouraging gross motor play! There are so many games and ways you can play with balls and they never fail to please kids!  They love to play with them! You can start small with one or two playground balls but if you have a larger group of kids I recommend buying a set (maybe even some cheap cones!) so there are enough to go around.
Art Supplies: Grab a pack of the basics: Construction paper, crayons, kids scissors, glue, and paint.  The best time to stock up on theses is during back-to-school season when all the supplies are on sale.  I usually buy all my glue, markers, and crayons during back-to-school sales.  I get kid scissors and construction paper at the dollar tree.  If you have a Micheal or Jo-Ann Fabrics near by they sell art supplies and if you have a smart phone there are apps for these stores that offer coupons that can save you 25-50%!
Your turn! What toys would you add to this list?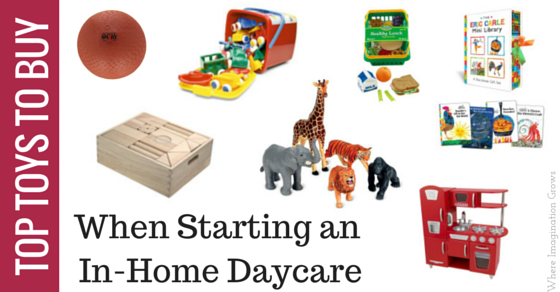 Thinking of starting a home daycare? Check out the rest of my posts in my How to Run a Home Daycare Series or pick up my ebook for even more in-depth help on starting your home daycare:
Available in downloadable ebook and Kindle format! Also check out our daycare forms and full daycare contract template in our store!  Shop Now!