Are you looking for ways to preserve your child's artwork? These handmade keepsakes are an amazing way to turn your child's art or handwriting into a stunning piece of jewelry that can last a lifetime!
Our kids grow up so fast! Their drawings and handwriting changes a little bit every day as they grow and develop. Now you can preserve a those little creations that they make as amazing personalized jewelry, handmade in Canada.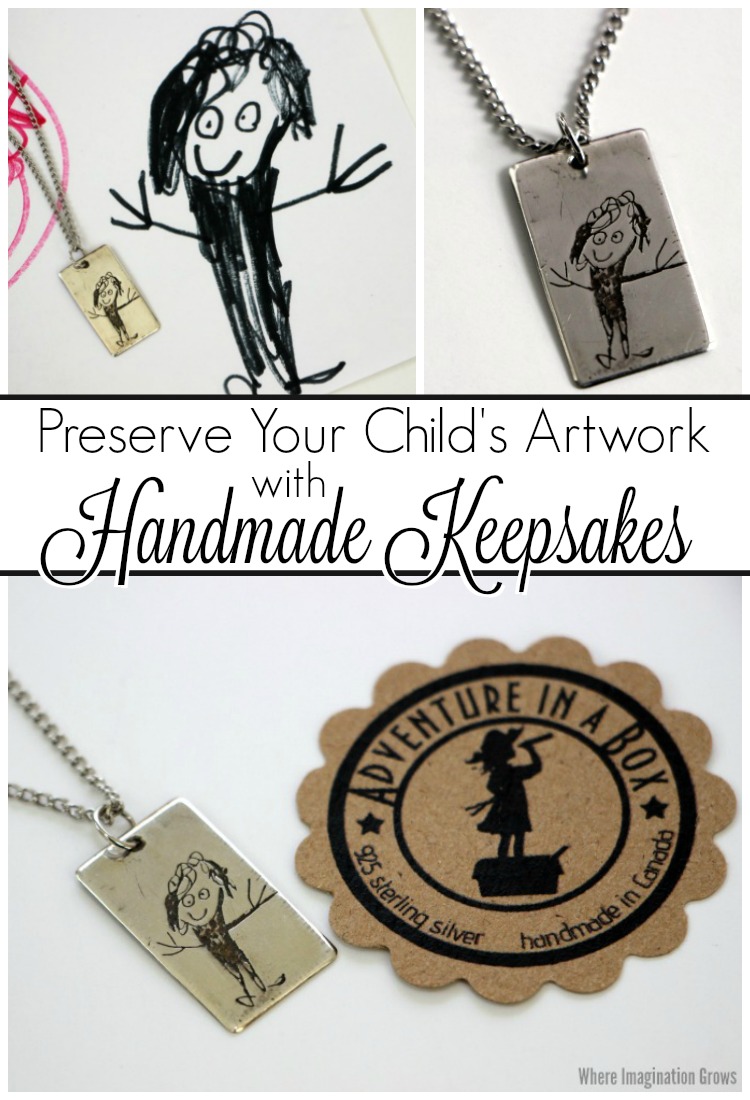 This post is sponsored by Adventure in a Box. All thoughts and opinions are 100% my own. See full disclosure policy here. Post contains affiliate links for your convenience.
Finding a creative way to preserve my daughter's artwork has been on my list forever!
I've seen kids art turned into jewelry before but wasn't sure how well it would work with my daughter's current style of art.  She's in a cover every inch of the paper stage, she rarely colors a single image (I tried for this project too!) with lots of color and images from edge to edge.
However I was impressed to find that Liska from Adventure in a Box didn't have any issues with my daughter's art being to chaotic. She was able to easily use the image that we sent to create this awesome kids art jewelry keepsake.
Preserve Your Child's Artwork with Handmade Keepsakes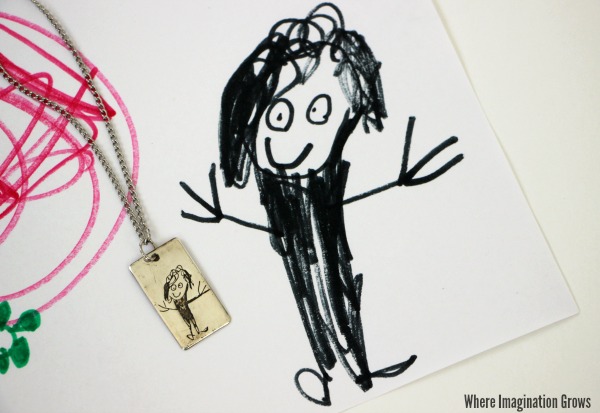 It's an amazing likeness, right?
I'll warn you! The hardest part of this whole process is picking one image! There were so many that I wanted to choose but I love my daughter's drawings of people and this one was my favorite. It's "Princess Mom."  Once you do manage to select your image you simply take a photo of it and email it off to Liska at Adventure in a Box. That's it!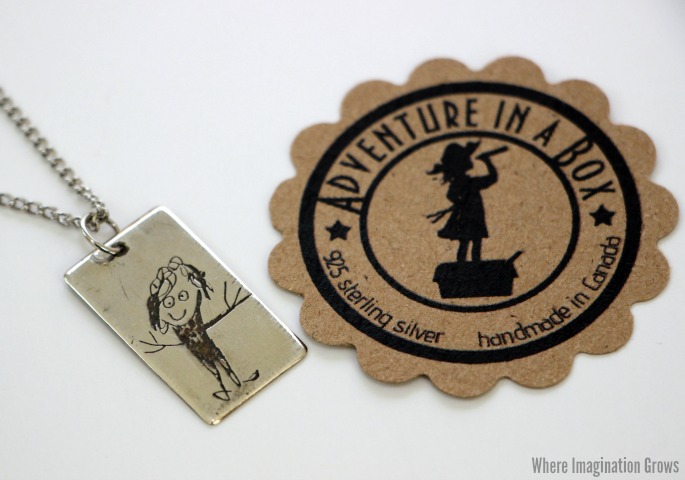 It turned out amazing! I love my necklace so much. It's seriously one of my most favorite possessions. Adventure in a Box did an awesome job turning her art into this fabulous handmade keepsake! Its a snapshot of her childhood that I can treasure forever!
There are several different styles of pendents available for your child's artwork to be displayed on.  Check out the amazing, two sided pendant that my friend Katie from Preschool Inspirations had made from Adventure in a Box. Its adorable! No matter what you end up with you can be sure that Liska will produce a stunning piece of kids art jewelry.
Want one of your own? Have a grandparent or mom that needs a great gift? Hop on over to Adventure in a Box and turn your child's artwork into a handmade keepsakes. It will be the best present she receives!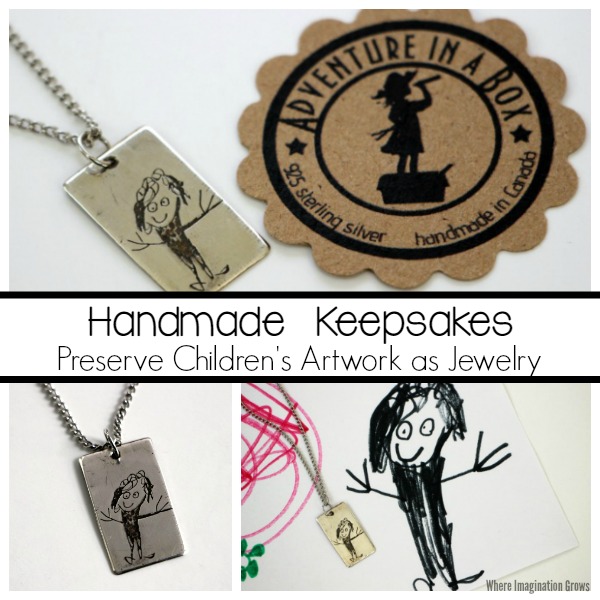 Adventure in a Box offers more than just kids art jewelry. In addition to an amazing blog, you can also purchase high quality wooden toys and incredibly detailed shadow puppets for kids.
Looking for more crafts and activities? Check out our index for 100+ plus kids activities! Find activities by theme, materials, skills, age and much more!