Summer is getting hot and that means ice and water play!
Today I'm teaming up with the other awesome bloggers from All Things Kids Activities to bring you some summer fun activities with water play! Check below to see all the fun water play activities & if you are a blogger link up yours!
Glittery Frozen Water Balloons

 Post contains affiliate links for your convenience. See disclosure for more info. Thank you!!
What screams summer fun more than water balloons?  Since I have some little ones that are into putting things into their mouths still I decided to give freezing them a try so I didn't end up with tiny water balloon pieces all over the yard.
Materials:
I chose to use regular balloons vs the smaller/thinner water balloons because I didn't want to risk glitter filled balloons bursting in my freezer.    We also received our glitter free from CraftProjectIdeas.com but you can find their products at your local Walmart (worth it! Check them out!).
How to Make Glittery Frozen Water Balloons:
I used a funnel to first add glitter, sequins, and a squirt of watercolor to each balloon then I attached it to the faucet and filled them with as much water as I wanted.   After that it was off to the freezer they went!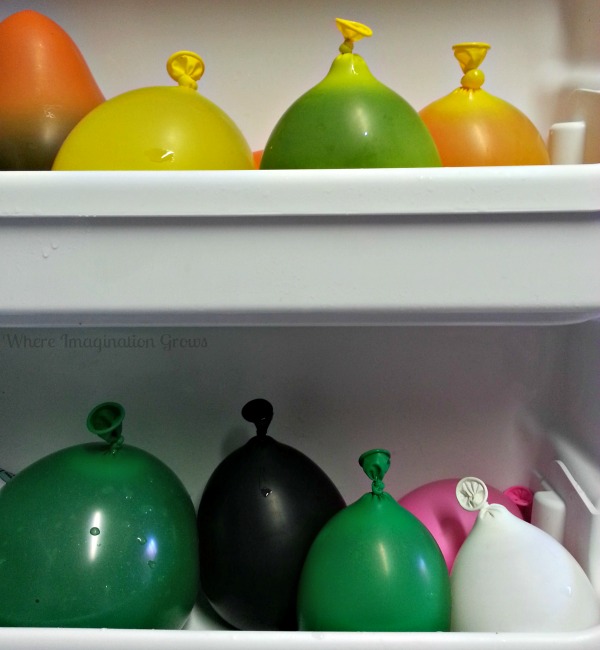 I ended up with a freezer full of water balloons for a day or so before we did this activity.  The smaller ones I filled were ready in a few hours but I made a few big ones so I gave them all a good 24 hours to make sure they were frozen solid.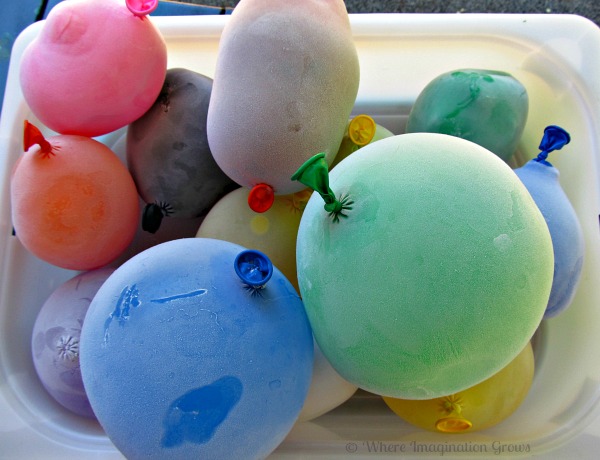 When they were completely frozen I used a knife to cut off the balloons.  I cut the top and then just peeled off the remaining balloon pieces.  If it's a bit hard to pull off just dunk it in some water or under a faucet real quick and it pulls off much easier that way.
Then we dropped them into our water table!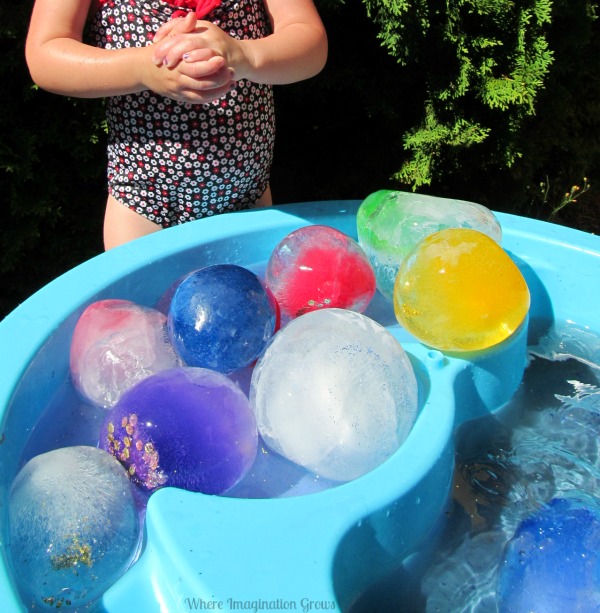 Not only is this ice activity fun but its great for talking about temperature, solids vs liquids, and color mixing!
The girls and I tried to find ways to get the glitter out of the ice by figuring out how to make the ice melt or trying to wash them til the ice melted.  I used this to ask them questions about what was happening.  Does it melt faster if we put it in the sun or shade? We also talked about what happens as the frozen water balloons melted: Does the water change colors? Is there more or less water in the water table than when we started?
The girls decided they needed more water to make "sparkly water & ice soup" so they dumped the water from our DIY water wall buckets into the water table.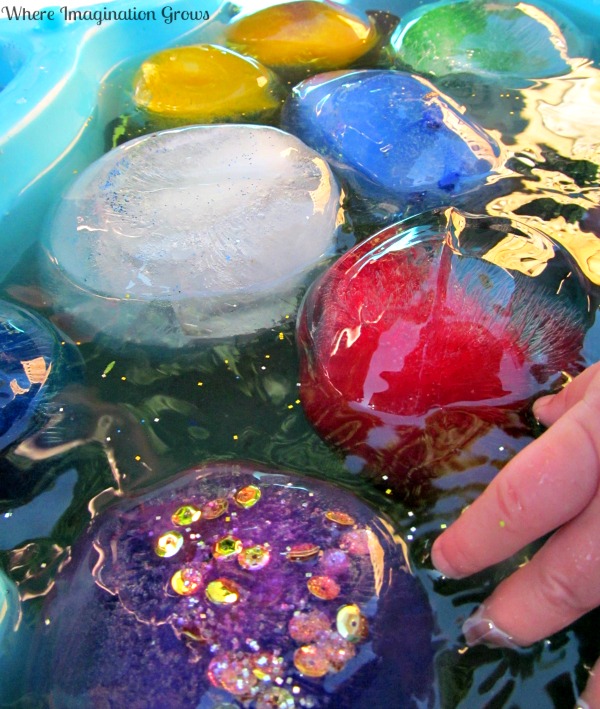 Hours of fun! We played with ours until it became one big glittery soup!  If you know me of have been following this blog long then you know I'm generally not a glitter fan but I'm breaking out of my comfort zone here and doing more glitter activities lately! Eek!
Now hop over and find lots of fun ideas on our All Things Kids G+ Community or stop by the All Things Kids Blog.
Follow the links below to find more fun water play activities!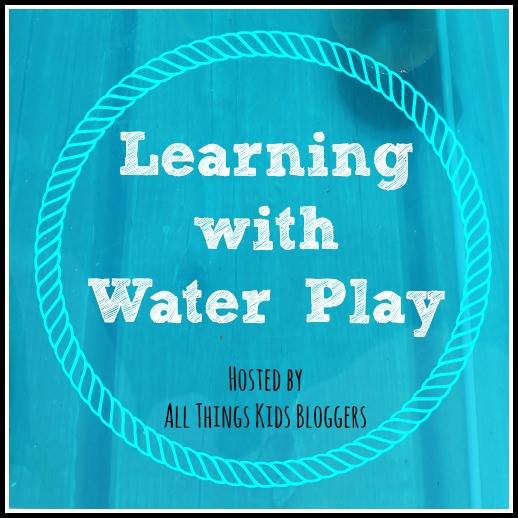 Simple Addition Water Play from All Things Kids Activities
14 Scented Water Play Activities from Fun-A-Day
10 Water Play Ideas for Babies and Toddlers from House of Burke
Monochromatic Water Bin Color Play from Sugar Aunts
Easy Experiments: Measuring with Water from JDaniel4's Mom
Rubber Ducky Letter Learning from Mamas Like Me
Loading InLinkz ...