This shop has been compensated by Collective Bias, Inc. and its advertiser. All opinions are mine alone. #PlayNGrow #CollectiveBias
Teaching emotions through play is an important way to expand your child's emotional intelligence.  For young children emotions can be overwhelming and even a bit scary at times.  They don't always have the correct language to express what they are feeling and as a result they may act out in negative ways.
Hands-on kids activities can be simple ways to help children learn the emotional language they need to properly express their emotions.  Acting out emotions and behavioral responses in a safe environment gives them the tools they need to handle "big" emotions when they arise.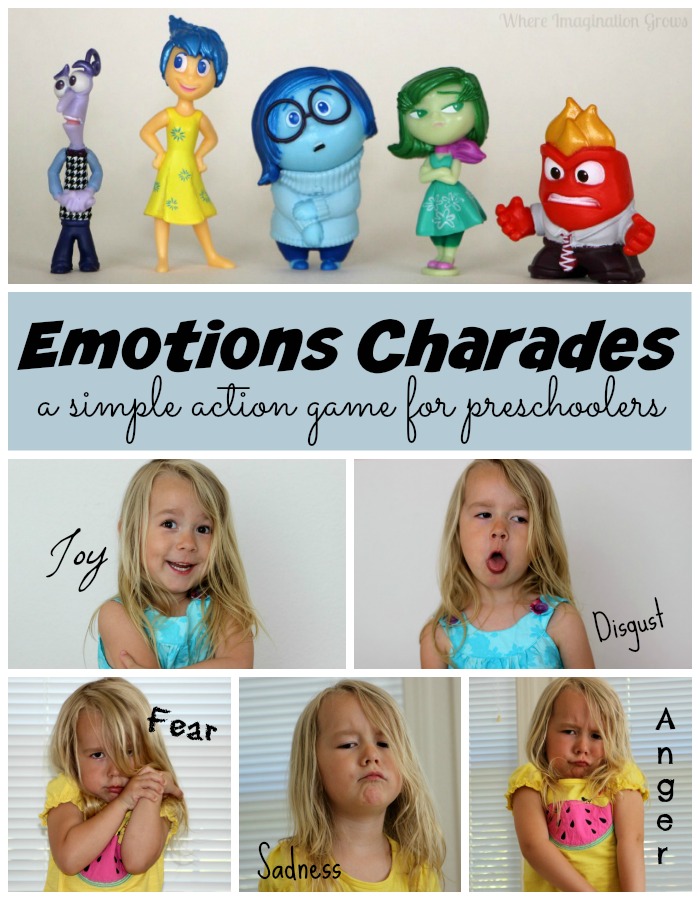 Giving children opportunities to explore their emotions safely through play rather than waiting until they are in the midst of an emotional upheaval is very important.  Trying to discuss emotions and behavioral responses is much harder for children when they in the middle of experiencing a big emotion.  It can lead to frustration for the both parent and the child.
To explore our emotions we created a fun (and simple!) charades game using Disney's Inside Out Emotions.
Emotions Charades: Teaching Feelings Through Play
For this game we headed to Toys "R" Us and picked up these super cute emotion toys from the new movie, Inside Out.  Each one of the characters represents an emotion (Joy, Anger, Fear, Sadness, & Disgust) and we used each of them in our game. I found them located just inside the front doors with the other popular toys.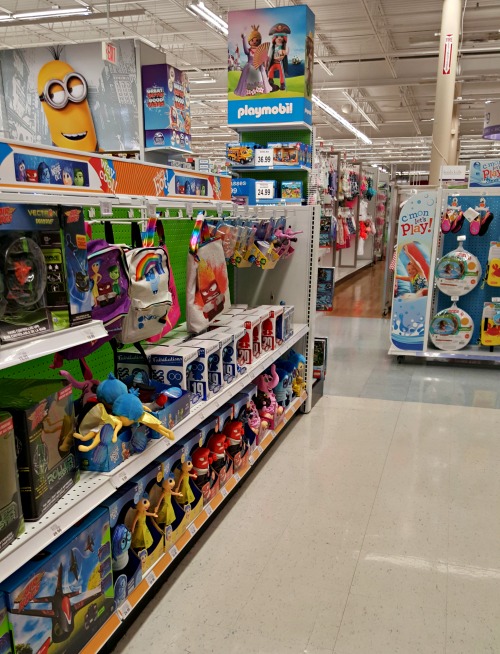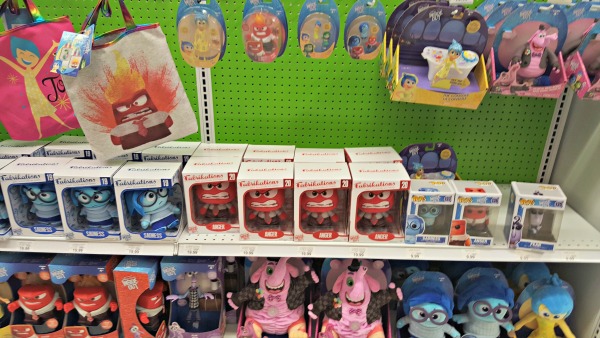 I like Toys "R" Us because I earn points on my purchases with their free rewards program which makes my dollar stretch further.  Plus I can have my receipts emailed to me and I don't have to worry about misplacing the ones I need to save for my daycare records.
When we got home I used the pictures on the Inside Out packaging to create emotion cards that that the girls would draw from a basket. To make them I just cut the character's image out and glued it to an index card.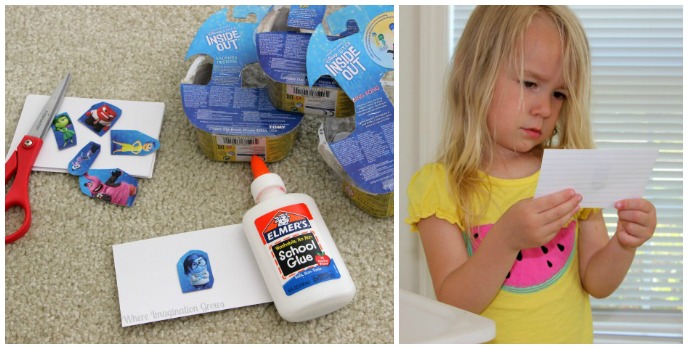 Each of the girls took turns being the "performer." This person got to pick a card from the bucket and then they had to act out that Emotion in front of their friends.  The kids that were watching then had to guess what character (aka emotion) the performer was imitating.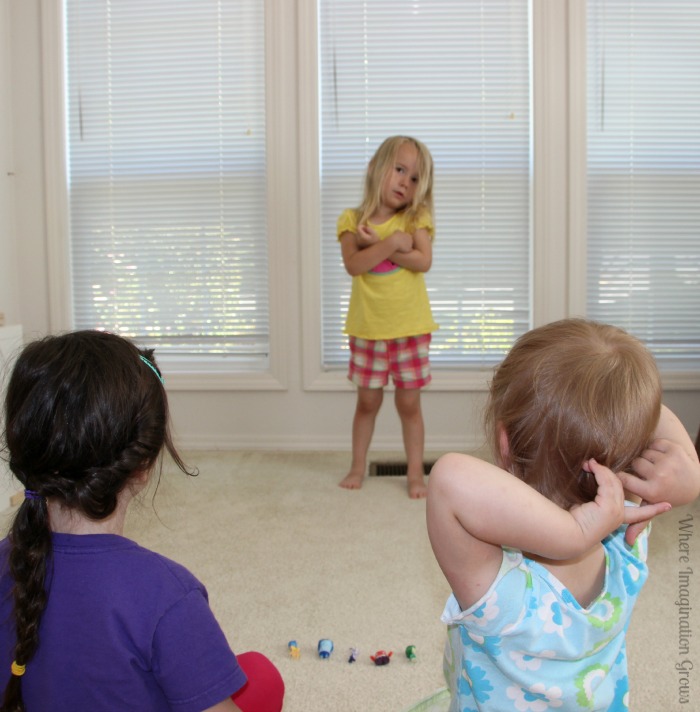 We set the Inside Out characters (Joy, Sadness, Anger, Fear, & Disgust) in front of the kids that were guessing and the performer got to work acting out the emotion on their selected card.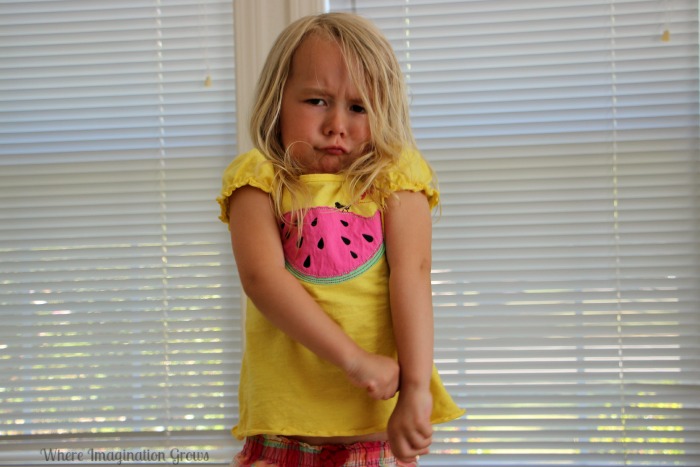 When the kids knew which of the Emotions was being portrayed they grabbed the character from the floor and held it up. The actor would then tell them if they were right or not.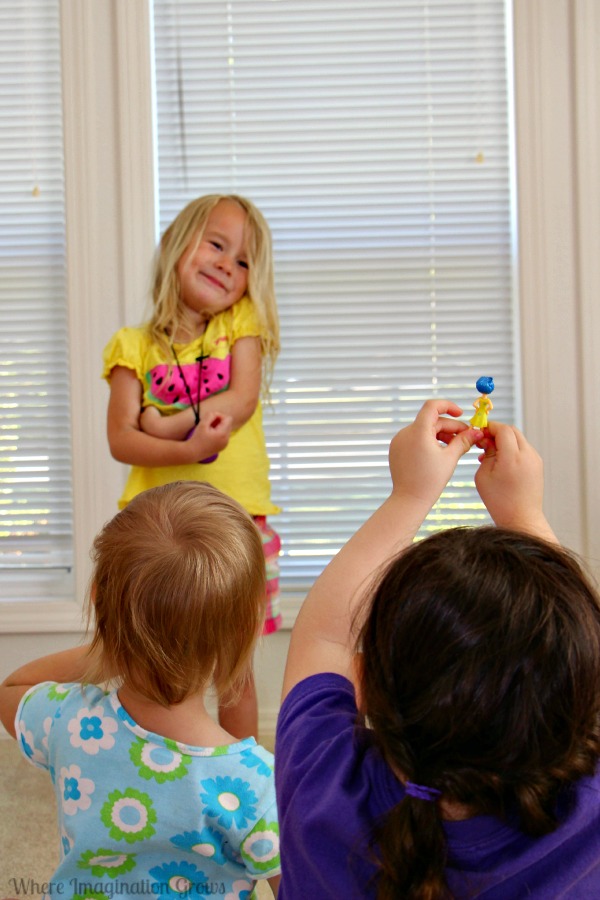 "Yes! I'm Joy!"
Once the Emotion was identified we continued teaching emotions and emotional language by discussing how each child would handle that particular emotion.
"Is there something that makes you feel better if you're sad?"

"I see that you are acting like Anger. What could you say to someone if they've done something that makes you feel angry?"

"What might help you feel safer?"

"How do our feelings affect people around us?"
The kids then suggested and modeled how they could handle their behaviors with each emotion.
The child that was acting out like Anger chose to tell her friends "I'm angry. I need some space and I want to play by myself."  My daughter thought that cuddling with her special blanket in bed was a good way to help her feel better when she was feeling fearful.
They all thought a hug from a friend was the best way to feel better when you were feeling sad.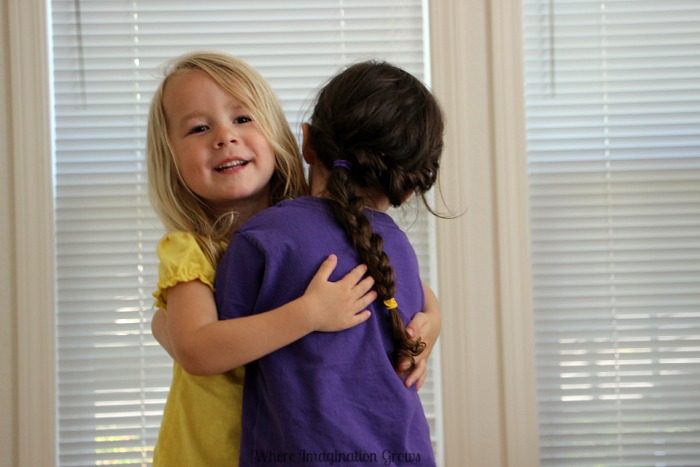 The girls love this game! We play it several times a week now!  The Inside Out characters are perfect for giving emotions a voice and helping kids learn how to express their feelings! Are you going to see Inside Out when it comes out June 19th?
Now it's you're turn…
How do you teach your children about big emotions? Share with us your tips for teaching children how to manage emotions below.