Thanksgiving is one of my favorite holidays (just behind Halloween) because it's the time when most of my family gets together and because all the decorations are fall themed, fall is my favorite time of year!  The thing I hate is that retailers around here always seem to skip Thanksgiving and go from Halloween to Christmas decorations even before Halloween is over. So in order to have some fun Thanksgiving decorations we decided to so some toilet paper roll crafts and use recycled materials we always have on hand!
Easy Thanksgiving Turkey Craft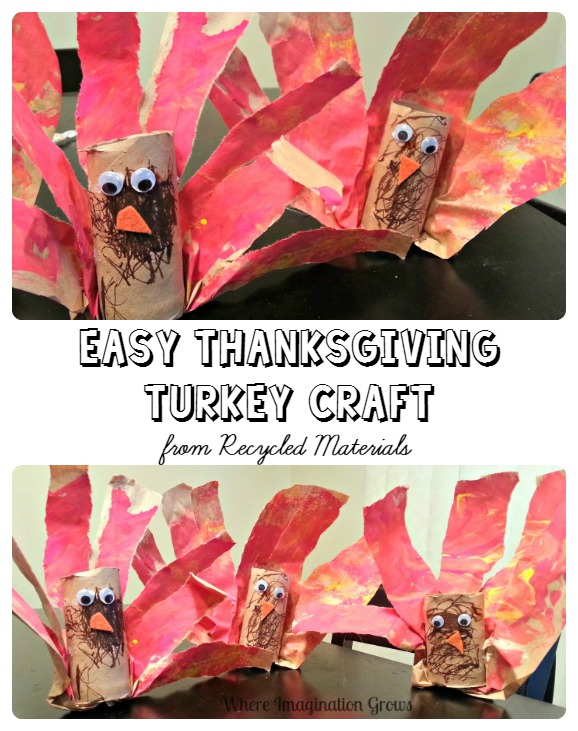 In order to liven up our table we made this easy turkey craft from toilet paper rolls and paper lunch bags! The kids really enjoyed making them and they look sooo cute on our Thanksgiving table!
Materials Used:
Paper lunch bag (or cut a smaller section from any paper bag)
Toilet paper roll (or paper towel roll cut into pieces)
Glue
Scissors
Paint
Googly Eyes
Marker
Small piece of orange paper or felt
I started by cutting the bags in half at the seam on the side and laying each piece out flat.  I then folded the bottom 1/3 of the paper underneath so the girls had a flat rectangular area to paint on.
Now have fun painting!! 🙂
When the paint dried the kids ripped strips in the part that they had painted, we ripped each strip about 1/3 of the way down the bag. After they ripped the paper bag we twisted the bottom, unpainted, portion of the paper bag & stuffed it into the toilet paper roll.  Then just bend the toilet paper roll upward:
The girls colored the toilet rolls with a brown marker and then added eyes and a beak with glue to complete their turkeys!
I did add a spot of hot glue to the back to keep the "feathers" upright and it helped stabilize the turkeys a bit more.
These toilet paper roll crafts are the perfect Thanksgiving table decorations!!
Connect with us on social media! We're on Facebook, Google+, Pinterest & Twitter too! To receive our posts by email check the sidebar and subscribe!